Blue make-up for women of colour
Dija Ayodele, facialist and beauty for darker skintones columnist, dives into blue make-up and concludes there's a shade for everyone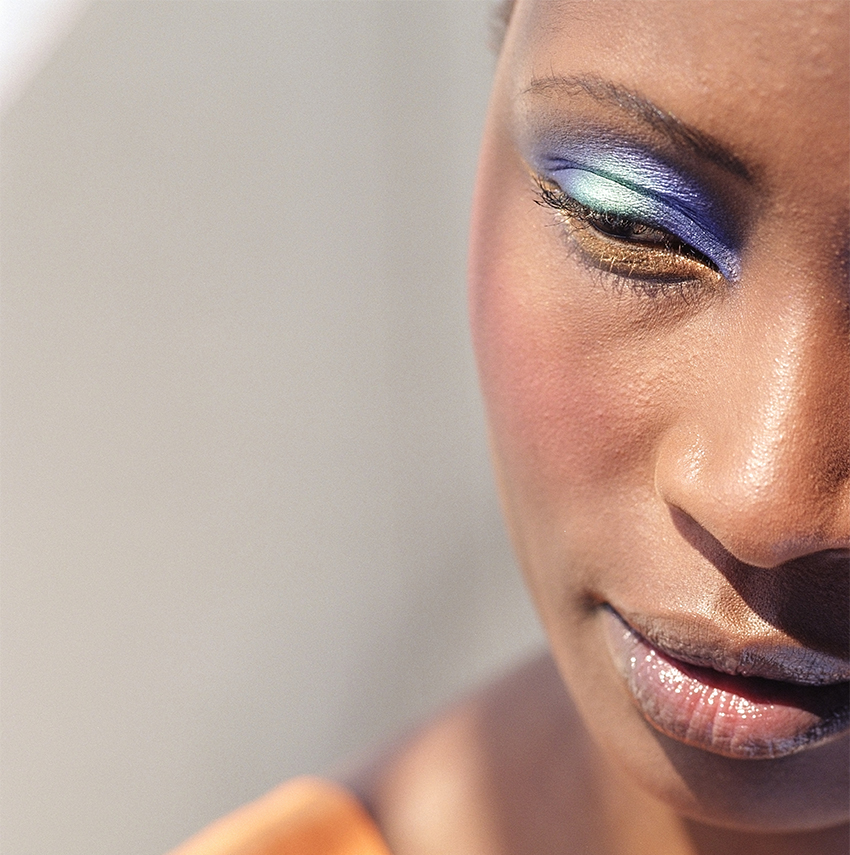 For me, blue is synonymous with summer as red is with Christmas; it has a carefree feel to it, reminiscent of the great outdoors – it's the colour of the sea and sky after all. Blue make-up can be equally carefree and even a little daring, depending on the shade.
Just as wearing colourful clothing has been proven to help boost mood so too can a wash of colour on the face. This month, wearing blue has left me feeling anything but – bold hues have been instant mood-enhancers as well as conversation-starters, and whatever tone you go for, there really is one for everyone.
Start small if blue is out of your comfort zone. Nail polish is risk-free and I'm currently sporting two coats of pastel grey/blue Nailberry Polish in Lush, £14.50. I can't get enough of it, but that's no bad thing as it's a free-from-nasties formula that doesn't work like a barrier, restricting moisture from penetrating my nail beneath. I've also experimented with inky blue too. Usually the reserve of cold winters, I personally think it's a shade that works all year round. Jacava London Nail Polish in Saville Row, £15.50 is a strong midnight blue that transcends seasons and actively nourishes nails with argan oil, jojoba oil and vitamin E.
Once you've become comfortable with the idea of wearing blue, start pushing the boundaries a little. If your love affair with black eyeliner runs deep (like mine), I implore you try Chanel Ligne Graphique in Dream Blue, £26. It's a fast drying navy blue liquid eyeliner that can be both smart and fun, even on the most chocolate skin tones. It may well sound like a small change but it's made a huge difference to my look, cleverly making my eyes more of a focus.
For something even more eye-grabbing, Sisley Phyto-Eye Twist Lagoon, £29, is a tropical island type of turquoise blue. An eyeshadow that works well as a liner on the bottom lash line too this has become my holiday must-have.
And after all my experimenting I started to get a little bored of my everyday neutral brown shadows, so I've given them a revamp by dusting a sheer layer of metallic silver blue Bobbi Brown Eyeshadow in Lapis, £17.50, over the top. This looks beautiful, especially when the metallic elements sparkle in the light, not just on my dark, coffee-coloured skin but even on honey shades and yellow-toned oriental skin.
Aside from eyes, lips are an option when it comes to blue. Although blue lipstick is undeniably striking, I'm not brave enough to wear it out of the house! Lipstick Queen Lipgloss in Hello Sailor, £22, is making me waver on my behind-closed-doors rules. Blue but not blue, the wand appears to be topaz in colour, but on application it enhances the pink undertones in your lips. The more layers you add, the deeper the illusion of pink. Like a lot of women of colour, my lips are two different colours and it balances them out surprisingly well. The added blue pearl shimmer is an advantage for those of us who are cool toned. Either way, it's a gentle introduction to blue lipstick!
So it seems after pushing my boundaries and experimenting a little, blue has become one of my favourite shades for darker skin and I for one shall be wearing it all year round.
Photograph: Corbis