Supercharge your life with an attitude of gratitude
Nowadays, it can be hard to remember the good things in life. Put things in perspective by focusing on what makes you smile and brings you comfort. Appreciation is about what's going on inside your head and heart, as you decide what to focus on.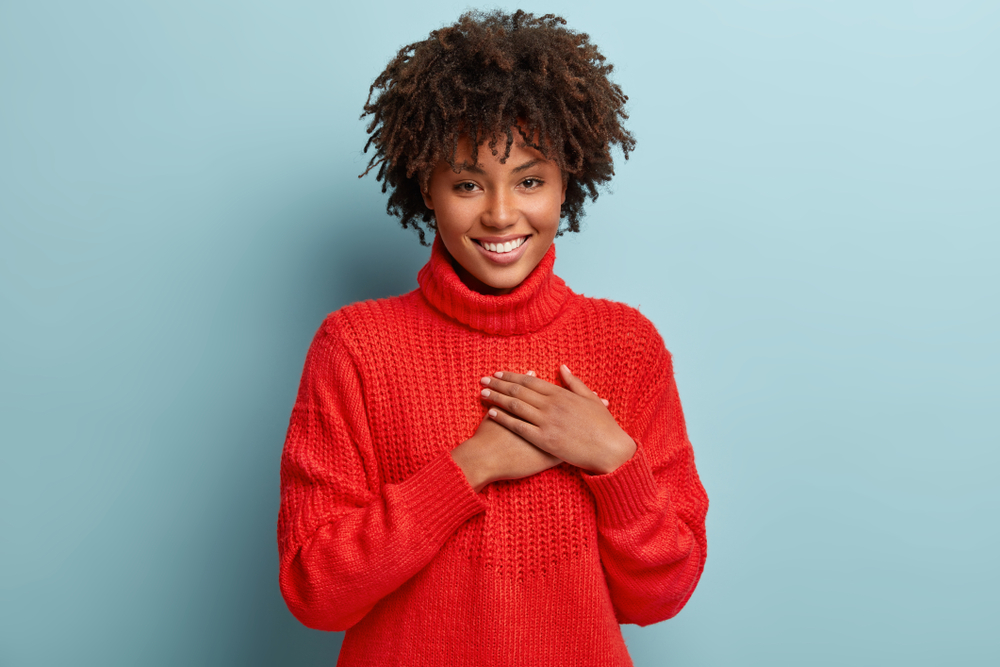 Research on mood and mental health show that gratitude is one of the character strengths that is most connected with happiness. However, because the human brain is designed to seek novelty and the stimulation of new things, positive emotions wear off quickly. We get used to situations and forget how great it was to obtain, for example, that work promotion or get a new car or begin a new friendship. Soon we find our attention is drawn to what isn't working rather than what is going well. Then we can become discontented and unhappy. Social media can magnify this feeling due to the constant comparisons to what appears to be the 'perfect' lifestyle or physical appearance of someone else.
How can you counteract this?
When you are going through a difficult time, attending to what is right in your life can shift your perspective and decrease negative emotions. Robert A. Emmons, PhD, is the world's leading scientific expert on gratitude. He is a psychology professor at the University of California, Davis and author of the book, Thanks! How the New Science of Gratitude Can Make You Happier. Professor Emmons says that the practice of 'gratitude makes us appreciate the value of something, and when we appreciate the value of something, we extract more benefits from it; we're less likely to take it for granted.'
According to a study of over 800 descriptive trait words, "grateful" was rated in the top four per cent in terms of likeability (Watkins et al., 2003). So being someone who expresses appreciation and savours the positive things in life has the likely additional benefit of making you more engaging to be around.
"Be thankful for what you have, you'll end up having more. If you concentrate on what you don't have, you will never ever have enough." – Oprah Winfrey
You can boost your strength of gratitude by incorporating into your life an activity called Three Good Things.
Here's how to do it.
At the end of your day, think back on the good things that occurred. If you are finding it hard, consider these three prompts:
1. What has gone well for me?
2. What am I grateful for in my life?
3. Who am I thankful for in my life?
Now write down three things come to mind and what you appreciate about them. Read what you have written and pause for a few minutes to notice the feelings that arise. What do you observe about your mood? Try this exercise every day for a week and consider how you felt before and after. You might also choose to do this exercise with a friend or your family. Consider incorporating this practice of gratitude several times a week to gain the benefit of developing an appreciative gaze.
Why it works.
According to Penn University and other research studies, this Three Good Things exercise can help you savour the good things in your life and increase the meaning in them. When you slow down to look at the details, you have a greater appreciation for the small things that matter. However, it can be hard to remember the good things in life when the news is so grim. Put things in perspective by focusing on what makes you smile and brings you comfort.
Appreciation is about what's going on inside your head and heart, as you decide what to focus on. Additionally, when you write things down, it gives them more emotional impact. There are many small moments to savour in everyday life – the smell of coffee, the feel of the warm shower on your back, the sound of your favourite music track, a laugh exchanged with a friend and so on. When you stop to take in these moments, rather than let them rush by on automatic pilot, you are giving your brain a chance to process the pleasure, which boosts your serotonin – the feel-good neurotransmitter that helps elevate your mood and make you feel calm.
"Gratitude is the healthiest of all human emotions." – Zig Ziglar
Here's a great tip from Professor Sonja Lyubomirsky, a psychologist and author of the bestseller: The How of Happiness. When you're washing your hands, use those 20 seconds to think of three things you are grateful for. Taking this time to reflect on what you're thankful for will help you meet NHS guidelines for lowering your risk of viral infection while reinforcing a more positive mindset. Plus, research shows that expressing gratitude can lessen feelings of anxiety.

Show appreciation to others can also lift their mood as much as yours. You can feel happier and nurture your relationship with another person by writing them a thank-you note for their positive impact on your life. It can also boost well-being just to think about someone who has done something nice for you and mentally thank them.
Try this: Bring to mind the face of someone you appreciate. What are some of the things that person has given to you? Take a sheet of paper or a card. Spend five minutes writing some words of appreciation to the person you have in mind. Give specifics about how that person helped you and why you value them. Decide how you wish to share it with the person you had in mind when you wrote it. For example, you might post it. Or give it to them in person, if you are able. Or you might phone them and talk it out. It is up to you.
One of the terrific things about being human is that we are highly adaptable. This phenomenon makes our species successful in dealing with life's challenges. The downside is that we also adapt quickly to favourable life circumstances. Developing a habit of gratitude allows us to savour what is good in life, promoting a happier state of mind. Focusing on what is going well also helps strengthen resilience and enable us to deal with the things that are not working more effectively.
If you'd like to receive my monthly newsletter for tips and strategies for navigating modern life more successfully, you can subscribe via this link: https://www.beverlylandais.co.uk/blog
Sources:
Watkins, P., Woodward, K., Stone, T. and Kolts, R. (2003). Gratitude and Happiness: Development of a measure of gratitude, and relationships with subjective well-being. Social Behavior and Personality: an international journal, 31(5), pp.431-451.
Sheldon, K. M & Lyubomirsky, S. (2006). How to increase and sustain positive emotion: The effects of expressing gratitude and visualizing best possible selves. The Journal of Positive Psychology, 1, 73 – 82.
Emmons, R. A., & Crumpler, C. A. (2000). Gratitude as a human strength: Appraising the evidence. Journal of Social and Clinical Psychology, 19, 56 – 69. https://doi.org/10.1521/jscp.2000.19.1.56
Beverly Landais PCC
Certified Personal & Team Coach: enabling people to be at their resourceful best
We live in an ever-changing dynamic world. At best, this can be exhilarating and provide excellent opportunities for personal growth. At worst, it can be exhausting and stressful as you try to do it all, which can lead to the feeling that you are doing nothing well. Maybe you are in such a situation? Perhaps you have reached a point where you long to create the life that you want rather than the one that is happening? If so, I may be the right coach to support you. My purpose is simple. I work with people to help them be at their resourceful best. I bring all of my expertise to the service of my clients. My skill set includes 30 years of experience in business, including board level. As a Professional Certified Coach and Positive Psychology Practitioner, I can help you to think your options through, make better choices and do the things that promote wellbeing, bring personal as well as professional satisfaction and make you happy. I am particularly skilled in supporting those who are at a crossroads in their life. My coaching approach can help you gain a clear understanding of your values, motivators, drivers, strengths and consider the impact of blind spots – and what you can do to mitigate these. I work via video calls, by phone and email. Should you wish to arrange a 30-minute complimentary discovery session, please contact me via connect@beverlylandais.co.uk