Releasing self from the chains of the Past
I share the story of "Baby Elephant Syndrome" with my clients and in my workshops, as when I first heard of it I felt a sense of sadness within, but also it fuelled a deeper thought process in me, and an awareness about the possibility that I may be also limited by my own past in some way.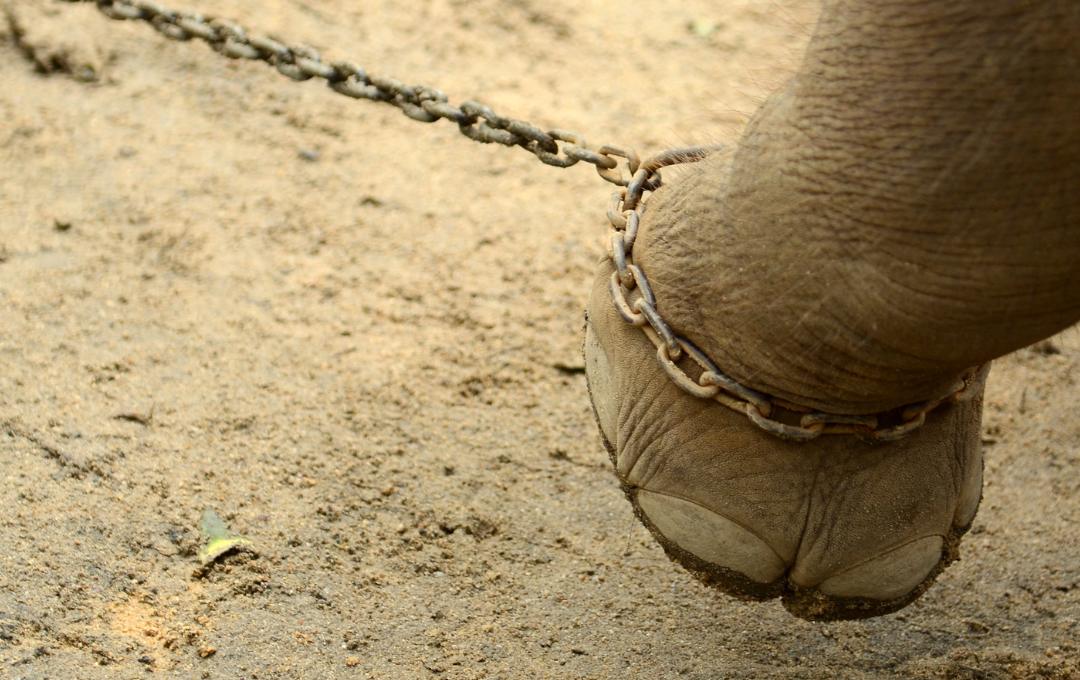 Baby Elephant Syndrome explains how baby elephants held in captivity are trained. The baby elephant is tied to a tree every night. Initially of course the baby elephant tries to break free of its constraints and it continues to do so over a period of time but after many failed attempts at breaking free it eventually gives up.
But here for me is the sad part… it stops trying from that moment on, as it completely gives up on its quest for freedom believing freedom is no longer possible ever, and therefore it never attempts to break free again for the rest of its life.
So even when the elephant is fully grown, and physically really strong so it could break free, it doesn't even try, as in its mind it has conditioned itself to a belief of impossibility – so thinks what's the point in even trying?
Basically, it limits its present abilities by the limitations from a past experience and to the elephant its limitation is set in stone.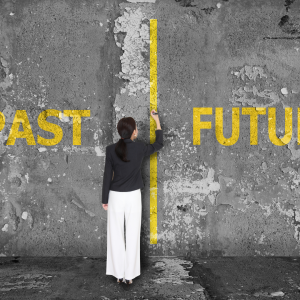 The human condition and experience can be so similar to that of the baby elephant, except for the fact that I now believe that if we become aware and build on and use our emotional and positive intelligence within, we have the option to free ourselves from our past, at any time we can choose not to accept the false limitations of our past. They do not have to be set in stone so that our negative experiences confine and hinder us in our present and into our future. We can choose to learn from our past so it can serve us in some way.
Supporting this is a wonderful empowering quote from Napolean Hill "Whatever the mind of man can conceive and believe, it can achieve".
I'm glad I came to a time in my life when I chose to work on moving beyond the limitations of my past. My journey as a Personal Development and Mental Fitness Coach helped me achieve this path to self-worth, self-value, self-belief, I continue to work on this every day and it has brought with it a feeling of peace and inner freedom.
My passion is now helping clients with their self-enquiry and exploration of self, with a system of awareness and understanding, learning about limiting beliefs/assumptions, and their individual self-sabotage patterns of behaviours so they can rise above these to new insights, perspectives, options and choices which empowers them to be the best they can be, to realise their unique potential and to find inner freedom.
Mental fitness has changed my life.
Let's start today to turn impossible into "I'm possible"
Believe in you
Believe in your inner personal power to let go and release
and believe in beginning your journey from the inside out so you can enhance your life experience, mental fitness can help you get there
Learn to love yourself enough to free yourself from the chains of negative past experiences.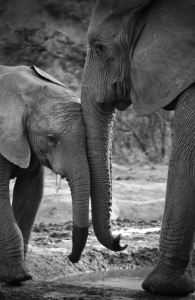 If you would like to know more about me, my practice or workshops I run, please do get in touch.
Patricia Ahern
Mental Fitness and Self Love Coach
About me and my self love journey I love creativity I Love writing I love singing I love curiosity, wonder and awe I Love my inner child, who reminds me how wonderful life is I Love my wise elder self, who spurs me on into my dream future I Love working on my mental fitness and positive emotional intelligence which I have learnt is the essence of a successful, happy and fulfilled life. I grew into my self love – I created it, and I have to build on it every day with mindfulness, meditation, positive affirmations, creative writing, my story is a life commitment and a work in progress and always will be but it is an enjoyable and rewarding one. I love helping young professional women write their story, growing and nurturing their creativity to live their best lives, being the best version of themselves they wish to me, growing from a deeper sense of self-love within. Do you feel like your life is a roller coaster of emotions? Currently, your inner judge/self-critic, beats you up, and you wake in the middle of the night worrying about what happened, and what may happen tomorrow, with a sense of overwhelm, fear and unease, have you lost yourself in the depths of your busy noisy life….. Do you feel you are living a life story with old beliefs and thoughts patterns creating the same patterns of negative behaviour and problems in your life? Perhaps with tendencies like for perfectionism, people pleasing, imposter syndrome? Now…. Imagine a path of ease and flow, with a sense of calm in your life, where you are in control of your emotions and emotional responses, you're resourceful, you're positive, solution focused, with complete clarity for action, with a positive mindset and attitude, mentally fit and resilient and prepared for whatever life throws at you. Do you long for this type of ease and flow life? Are you ready to take positive control and ownership of your life and start writing your own story? I help facilitate the creating of this path for women in their 30's to 40's who feel they are ready to find that path back to their true authentic self, with a true deep sense of self-worth, self-value, and most of all self-love. I do this by helping you to build on skills, most of us don't learn in school or in our younger life; with emotional and positive intelligence for transformational sustainable change with Mental Fitness. If you are ready, I am ready and able to help you, write and live your story. Get in touch if you want to find out more about Mental Fitness and positive intelligence and how it can help you achieve the life you want and write your story in which you are the main character, the love of your life, the heroine. It would be a pleasure to help you