Five Ways to Elevate Your Next Presentation
Making a presentation can leave the best of us weak-kneed. However, making a positive impact and getting your message heard is a skill, not a talent. In this article, certified coach Beverly Landais shares five pointers that will help you deliver a stand-out presentation and enjoy the experience.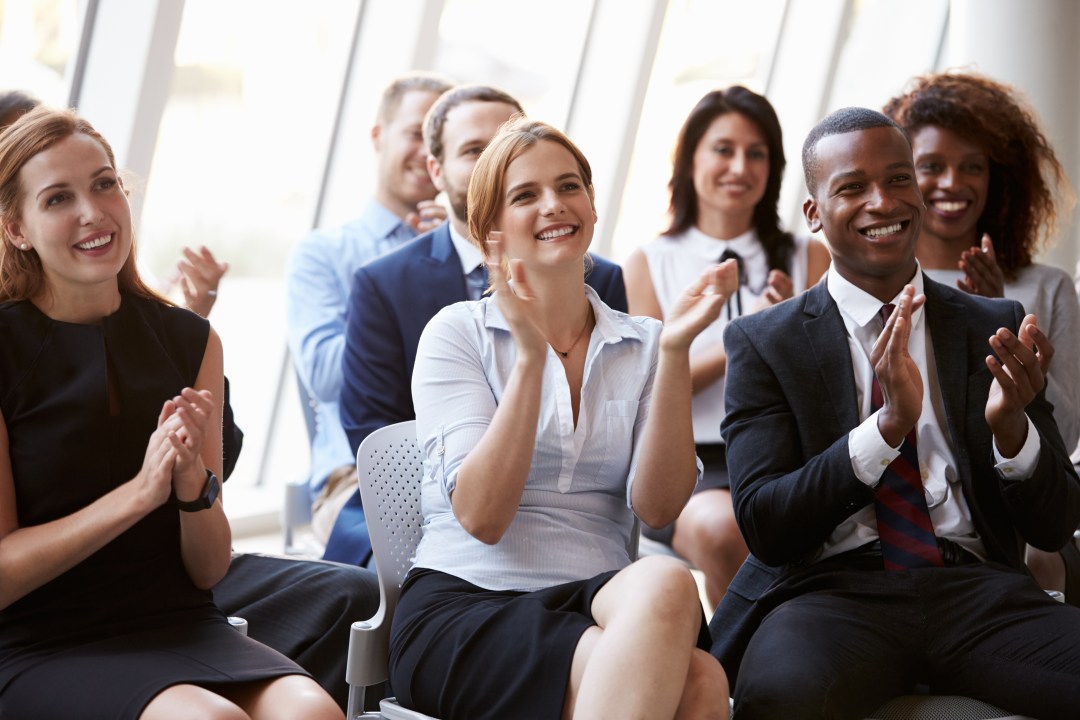 How can you make a good presentation even more effective? According to TED Studio's Chris Anderson, the number one task of any speaker is to transfer an idea to the audience. So how do you best get this across? First, remember that making a positive impact and getting your message heard is a skill, not a talent. Anyone can learn how to deliver an excellent presentation. It takes four things: structure, process, passion and practice.
This article draws on advice from expert presenters worldwide, which will help take your presentations from merely 'good' to 'great'. Whether you are an experienced presenter or just starting, there should be ideas here to help you to improve.
Let's begin by understanding the Rhetorical Triangle. Rhetoric is the ancient art of using language to inform, stimulate interest and garner support. If you use it well, your audience will easily understand what you're saying and will more likely be influenced by it. The Rhetorical Triangle relates directly to the three classic appeals you should consider when communicating. These are:
Ethos:

People look for signs that you understand them and have credibility as a speaker. Communicating who you are, what you stand for and why what you say has value will help build a connection with your audience. This aspect is the most persuasive element when getting your point across.

Pathos: Audiences need to feel something. Nothing is worse than leaving an audience feeling ambivalent towards you, your subject and your performance. The question for you to consider is which emotions you wish to stir in your audience. Connecting with your audience through pathos is a powerful means of gaining support.
Logos: Provide proof that your viewpoint is well-researched and evidenced with facts that stand up to scrutiny. Try including relevant case studies, compelling examples and supporting statistics. Be careful not to overload your talk with dry facts. Choose a few that add value to your argument to avoid it becoming overbearing or boring.
The best presenters know to combine the three aspects of the Rhetorical Triangle when preparing and delivering content. Your audience wants to see that you are credible, they want to feel that you understand them, and they want to experience a logical flow in your presentation. Achieving a balance between these is the key to success.
Remember, the goal is to give. Something people can walk away with: insights, perspective, context, hope. Chris J. Anderson, TED Talks: The Official TED Guide to Public Speaking
With the above in mind, here are five pointers that will help you deliver a stand-out presentation:
Focus on your Audience's Needs
Build your presentation around what your audience is going to most value. What would you like your audience to know, think or feel as a result? What is likely to be most valuable and thought-provoking for them? Being clear on intention means you can hone your message and delivery it accordingly. For example, do you wish your audience to reflect, respond or act upon your words? It can help write down three or more adjectives you want people to use to describe their takeaways from the presentation.
Concentrate on your Core Message
When planning your presentation, you should always keep in mind the question: 'What is the critical message for my audience to take away?' You should be able to communicate that key message very briefly. If what you are planning to say doesn't contribute to the critical statement, don't say it. Focus on keeping things simple.
Build Rapport with your Audience
Engage with your audience from the start. Provide clarity about the purpose of the presentation. It may sound straightforward, but a surprisingly large number of presenters fail to do it. Be sure to smile and make eye contact, as this builds rapport by enabling the audience to connect with you and your subject. It also allows you to feel less nervous because you talk to individuals, not to a great mass of unknown people.

If you are presenting via video conference, remember to greet people as they log in. Saying 'hello' and 'welcome' helps build rapport and goodwill. Make sure to explain how people can get involved and ask questions. Video conferencing can enable audience participation with reflection, polls and chat. Think through how you want to use the technology to facilitate collaboration, enriching the experience for you and those participating. Whether in person or virtual, show appreciation for your audience and remember to thank them as you conclude.

Steady Your Nerves


Before a presentation or essential communication, warm up by finding somewhere private where you can stretch and yawn expansively, as this will help relax your jaw. The brain also enjoys the physical stretch, which tells it that the body is healthy and safe.

Take a few moments to breathe fully. Relax your belly and let your breath drop down low into it. Take some gentle breaths feeling your belly move. Enjoy the sensation of being nourished as your breath flows smoothly into and out of your body.

Pause to create space for your audience to absorb the key points of your message. It enables you to remain mentally present, which will help you vary your pace and pitch as you stay with your thoughts, rather than rushing to reach the end.

Tell Stories
Human beings are programmed to respond to stories. Stories help us to pay attention as well as remember things. Using stories in your presentation makes your audience more likely to engage and retain your points afterwards. It is a good idea to start with a story, but there is a broader point: you need your presentation to act like a story.

Think about what story you are trying to tell your audience and create your presentation to say to it. To effectively tell a story, focus on using at least one of the two most basic storytelling mechanics in your representation – Characters and Change.

Focusing on Characters. People have stories; things, data, and objects do not. Ask yourself "who" is directly involved in your topic that you can use as the focal point of your story.

A Changing Dynamic. A compelling story needs something to change along the way. Ask yourself, 'What is not as it should be?' and answer with what you will do about it (or what you did about it).
Practice using the above tips, and you will almost certainly present better. If you can start to enjoy yourself, your audience will respond to that and engage better. Your presentations will improve exponentially, and so will your confidence.
If you'd like to receive my monthly newsletter for tips and strategies for navigating modern life more successfully, you can subscribe via this link: https://www.beverlylandais.co.uk/blog

You can access my podcast via Anchor, Spotify, Google Podcasts and many others. You can listen here.
Beverly Landais PCC
Certified Personal & Team Coach: enabling people to be at their resourceful best
We live in an ever-changing dynamic world. At best, this can be exhilarating and provide excellent opportunities for personal growth. At worst, it can be exhausting and stressful as you try to do it all, which can lead to the feeling that you are doing nothing well. Maybe you are in such a situation? Perhaps you have reached a point where you long to create the life that you want rather than the one that is happening? If so, I may be the right coach to support you. My purpose is simple. I work with people to help them be at their resourceful best. I bring all of my expertise to the service of my clients. My skill set includes 30 years of experience in business, including board level. As a Professional Certified Coach and Positive Psychology Practitioner, I can help you to think your options through, make better choices and do the things that promote wellbeing, bring personal as well as professional satisfaction and make you happy. I am particularly skilled in supporting those who are at a crossroads in their life. My coaching approach can help you gain a clear understanding of your values, motivators, drivers, strengths and consider the impact of blind spots – and what you can do to mitigate these. I work via video calls, by phone and email. Should you wish to arrange a 30-minute complimentary discovery session, please contact me via connect@beverlylandais.co.uk