What I learnt from baking with my dad
After her father's retirement, Louise Johncox wanted to know more about the Surrey bakery he had run with her mother all her life. So began their short-lived but illuminating baking lessons together – try one of their recipes here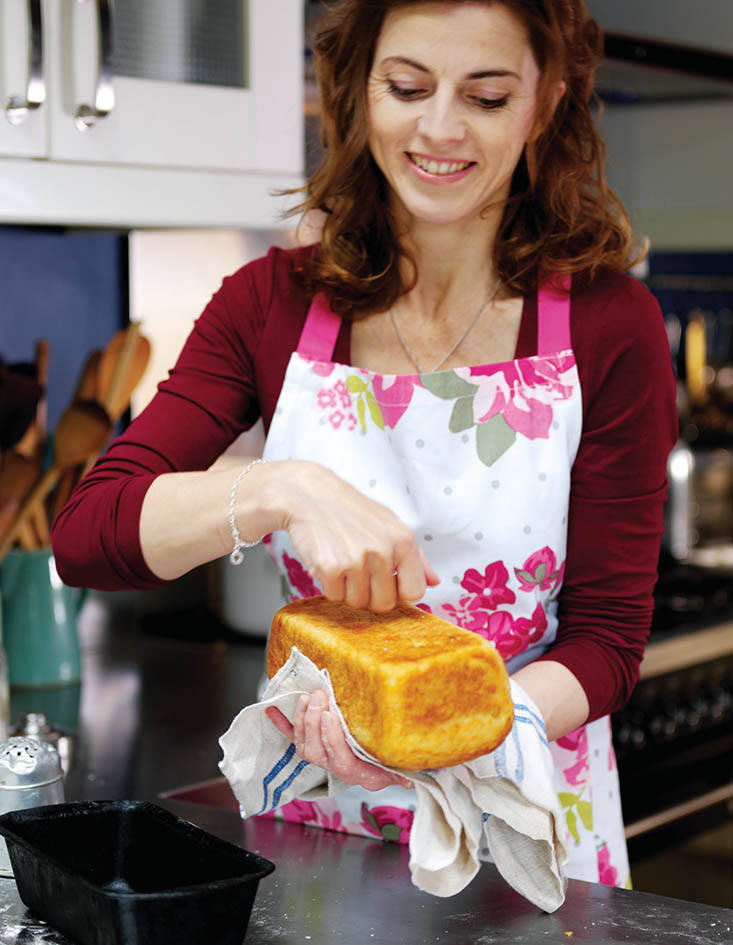 My childhood was shaped by cake. Growing up, I watched my father bake and decorate cakes for our family tea shop, Peter's, in Weybridge. As children, we played in the bakehouse and I helped out with little jobs in the kitchen, like sprinkling nutmeg on custard tarts. Dad was also a chocolatier and sometimes he let us dip the sweet centres in his chocolate-making machine. The store room was a child's paradise. We held our birthday parties in the tea shop where the tables groaned under the weight of our favourite cakes.
Dad opened Peter's in 1958 and married my mother, Frankie, on 10 October 1960. For 42 years, they offered tea, cakes and a genuine welcome to the local community.
Throughout my childhood, there was never any need for me to bake. Besides, I'd always wanted to be a writer, and after my A-levels I left home to study English and train to become a journalist. In January 2000, when the tea shop closed, I was working for The Sunday Times Style magazine. Neither I nor my siblings had continued the family's pastry chef tradition, which dated back more than 100 years. A few years later, now the mother of two young children Lara and Joe, I realised I wanted to write about our tea shops. Dad was in his mid-seventies and his health was in decline. It felt like the right time to find out about our family business and learn the recipes to pass on to my children.
Starting to bake
Dad and I always had a good father-daughter relationship. He'd worked long hours, but I spent so much of my childhood in the bakehouse I saw a lot of him. When I told him I planned to write about our pastry chef tradition as part of a PhD, he was perplexed. I started with a journalistic approach, switching on a tape recorder and asking questions about the family tea shops, including those run by my grandparents and great-grandparents. A relative in Canada had traced our pastry chef ancestors back to the town of Poschiavo, on the Swiss-Italian border.
But I soon realised it was high time I learned to bake. Dad proposed a loaf of white bread for the first class. I arrived at the family home with the children – I loved seeing them excited at the prospect of baking with their baker grandfather. Dad became once again the baker I'd always known, not an elderly man battling poor health. 'Get your apron on then,' he said in a tone that signalled 'no messing'. My mobile rang. 'Are you baking or talking?' he asked. I switched my phone off.
For the first time, I wasn't watching Dad bake; I was doing it myself. Once I'd finished the kneading and let the dough 'rest', I spooned it into a greased bread tin from the bakehouse. Thirty minutes later, we took the bread from the oven. He shook the loaf from the tin and knocked it on the base. It sounded hollow. 'If you hear that sound you know it's baked,' he said. I cut into the loaf and tasted it, savouring the moment. My first baking baby step.
After that first class, we turned up regularly to bake time-honoured recipes. Looking back, that first class didn't just teach me how to make a loaf, it inspired the whole family to bake. As our journey progressed, Dad's health worsened and he needed regular blood transfusions. I realised how much energy baking required, that in his prime my father's hands and forearms had been twice the size of a typical man's. Towards the end, Dad was too ill to bake, but he liked to sit in the kitchen and watch us having fun as we baked the classics he'd made all his life.
Dad died on 25 April 2012. Now, I can reflect on the experience of baking with him, I believe he taught me far more than just the recipes from Peter's. He gave me an insight into his life and my mother's, sharing tales of their courtship and running a family business. I marvelled at the success they made of the shop and their strong marriage of over 50 years. Dad shared memories of tea shops run by his parents and grandparents which took me on an extraordinary journey to Poschiavo in search of pastry chef ancestors and long-lost bakes. I couldn't have predicted where my baking journey would take me with my father after our first bread class – and I will forever be grateful. Bread is the gift of life – and my father gave that to me.
The Baker's Daughter by Louise Johncox (Macmillan, £20) is out now
Photograph: Ian Garlick
WHITE SQUARE SANDWICH LOAF
Makes 2 x 450g loaves or 1 x 900g loaf
500g super strong premium white flour
2 tsp sugar (optional)
1¼ tsp salt
25g margarine
1½ tsp fast action dried yeast
300ml warm water
Tip
To check if bread is baked, tip it upside down out of the oven and tap it on the base. If it sounds hollow, it's done. Remove from the tin and place on a wire rack to cool.