Tropical chia layer dessert
This healthy take on a tropical dessert was created by Natalie Seldon, author of The Goodness of Nuts & Seeds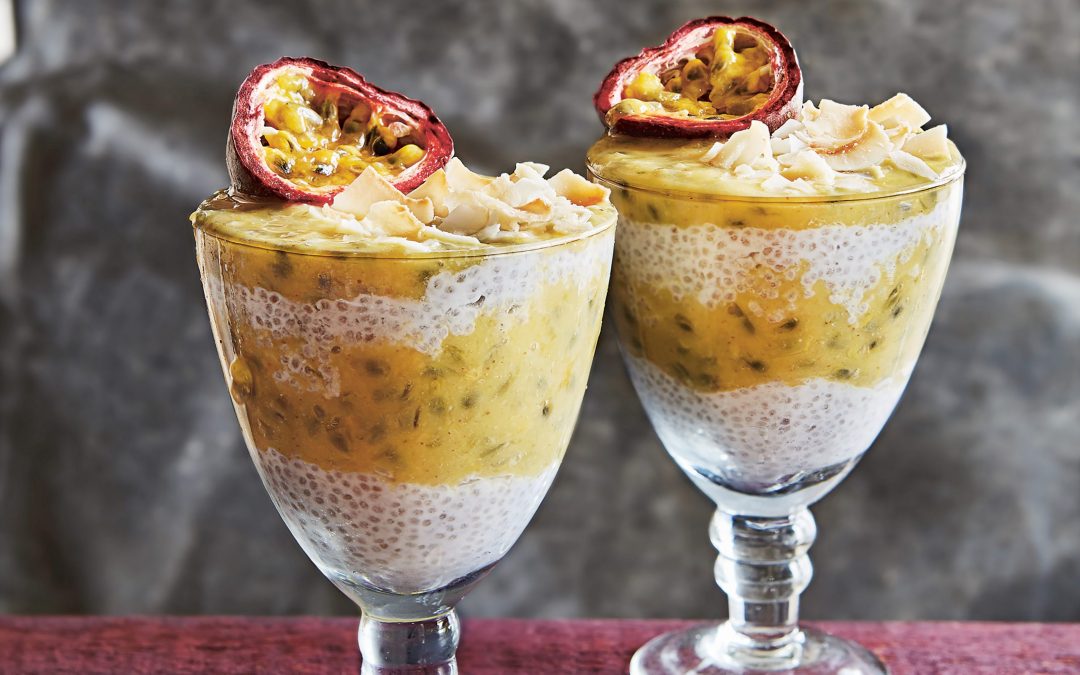 Enjoy a seemingly indulgent dish with this tropical chia layer dessert that is 'sin-free'…
Natalie says, 'If I could bottle up the aromas of tropical heaven, then create a dessert out of it, this would be it!'
'Some of my favourite flavour combinations – fragrant passion fruit and mango, creamy vanilla chia and toasted coconut – create a delightful contrast of textures and a feast for the senses. A simple yet impressive way to taste a little bit of paradise.
'I use Pip and Nut or Meridian Coconut Almond Butter, or you can use plain almond butter, if you wish.'
This recipe is vegetarian, gluten-free and dairy-free.
Serves: 2–4
For the chia layer
400ml can coconut milk
4 tablespoons desiccated coconut
4 tablespoons white chia seeds
1 tablespoon vanilla bean paste or extract
For the tropical layer
1 ripe mango, peeled, stoned, chopped into chunks
1 tablespoon coconut almond butter
3 tablespoons maple syrup
1 thumb-sized piece of fresh ginger, peeled and roughly chopped
Zest and juice of 1 lime
Seeds and pulp from 4 passion fruit
To serve
1–2 passion fruit, halved
1 tablespoon coconut flakes (or desiccated), toasted
Method
1. Mix together the coconut milk, desiccated coconut, chia seeds and vanilla in a jug or bowl and leave to thicken.
2. Put the mango flesh, coconut almond butter, maple syrup, ginger and lime zest and juice into a high-speed blender and process until smooth, then remove and stir in the passion fruit seeds.
3. Spoon half the chia mixture into the base of two large (or four small) glasses or bowls. Cover with half the passion fruit and mango mixture. Repeat these layers.
4. Top each dessert with passion fruit and coconut before serving.
'The Goodness of Nuts & Seeds' (Kyle Books, £9.99) is the debut cookbook from award-winning food writer, cook, blogger, food and prop stylist Natalie Seldon.