The Hemsleys: natural, effective and ethical products that enhance, not conceal
Jasmine and Melissa Hemsley, authors of Good + Simple, share their down-to-earth approach to beauty – it's all about natural, effective and ethical products that enhance, not conceal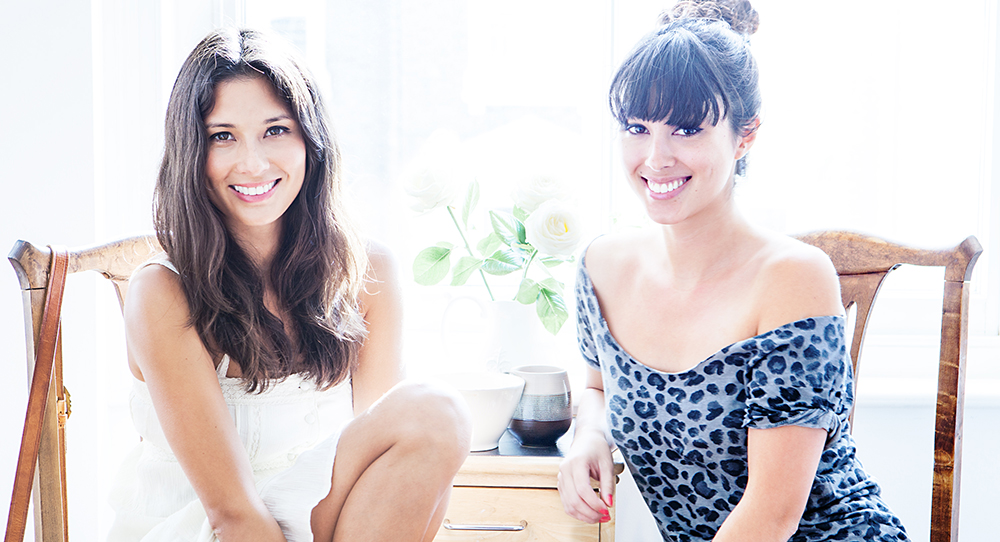 Eco coco
'We're really into natural products and love how the internet has made even the smallest brands available. Yes, most naturals are not going to be cheaper than your high street brands but, statistically, what we actually spend on make-up and skincare is unbelievable.
It's almost an obsession to keep buying things – if you open people's cupboards, you'll see hundreds of pounds' worth of gear in there. I believe it's about rethinking your money, rather like your food. When it comes to skincare, buying a large tub of organic, virgin coconut oil will cost about £14 and remove your eye make-up, moisturise your skin, and condition your hair.
Plus, you can use it in your food at the same time! It doesn't go rancid easily either, which is great – a large tub can last you months, making it even more economical. We save money with great multitasking natural basics, then choose to invest in a few favourites that we feel are worth the price tag.' Jasmine
Angel face
'We use Alexandra Soveral's products, which are all natural and incredible. She is from Portugal, where her brother grows the plants on their farm from which she extracts her oils. We both use her Angel Balm, £55, as a mask. We did a face massage workshop with her and she taught us to decongest and oxygenate our faces, which feels amazing – and really boosts skin health.' Melissa
Hair care
'I no longer use strong shampoos that strip or overcleanse and, as a result, I've found that I no longer need conditioner – which is a far cry from where I used to be with my hair. I love the gentle and all-natural Ila Revitalising Shampoo, £18. I have an EVA water-filter shower head at home, which softens water and neutralises chlorine, and has also made my hair less dry. If it needs taming or shine, I just use coconut oil.' Jasmine
Second nature
'Going green feels like second nature, and we've found some gems over the years. I love Soapwalla Deodorant Cream, £14, which keeps me smelling fresh without blocking sweat glands, and the gentle Twelve Purifying Cleansing Beauty Cream, £22, and May Lindstrom Youth Dew Hydrating Facial Serum, £96, for my face. Make-up-wise, I love a bright lip – Ilia lipstick in Perfect Day, £22, is a longtime favourite of mine, and I also love the Absolution Sweet and Safe Kiss Lipsticks, £24.' Melissa
Good avo
'Our mum has handed down so many remedies and self-care routines. It's so refreshing to stop thinking about beauty as always being a surface thing, and her message is how we grew up – beauty was always from the inside out. When she saw me experimenting with an avocado face mask when I was 14, she said, "Don't put it on your skin – eat it!" Oh, and she would always say, "Eat for your brains and beauty" – so, omega oils all the way.' Jasmine
Ray of light
'We don't wear sunscreen every day; unless we know we are going to be out in the midday sun, we'd rather get as much vitamin D as possible when running from one meeting to the next. When we do wear SPF, we opt for an organic one like Green People, so we're not using chemical sunscreens that react with your skin in the sun.' Melissa
The essentials
'The beauty staples I'm faithful to are Tata Harper Rejuvenating Serum, £126, and Pai Rosehip BioRegenerate Oil, £22. For make-up I love RMS Lip2Cheek in Smile, £28, ZAO Liquid Eyeliner, £16.95, and Intensae Nail Lacquer, £14.45. We get most of our products from Content Beauty in Marylebone (or beingcontent.com if shopping online), and abeautifulworld.co.uk. At home I'm a huge fan of Neom candles and room fragrances –Real Luxury and Tranquillity are my two favourite scents.' Jasmine
Rest and repair
'For essential relaxation, I have my wind-down routine – I love a shower, and then moisturise with Emile Noël Organic Fairtrade Virgin Sesame Seed Oil, £6.49, and light the 100 Acres Signature Scented candle, £28.' Melissa
Find recipes and foodie inspiration online at the #360me channel at lifelabs.psychologies.co.uk.
Photograph: Nicholas Hopper