Summer salad recipe
Add an easy summer side salad with pumpkin seed and parsley pesto to your repertoire – created by the vegetable experts behind The Happy Pear café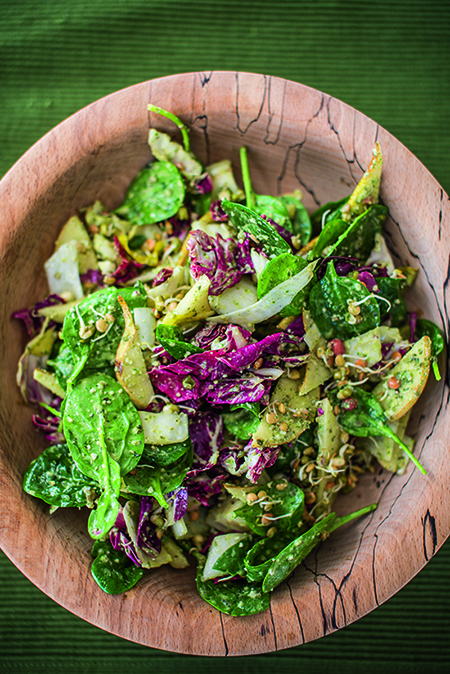 Twins David and Stephen Flynn are the geniuses behind The Happy Pear café in Ireland's Co. Wicklow. They came to vegetarianism separately while travelling, and came home to take over the old greengrocers in their local village and spread their 'eat more vegetables' message far and wide. We can get on board with that.
Their new book, The Happy Pear, looks set to spread their message even further. Here's the pair's signature 'house salad', a fresh, light leafy salad that looks fantastic. The dressing is quite sweet and cuts through the bitterness of the radicchio and chicory.
HAPPY PEAR HOUSE SALAD WITH PUMPKIN SEED AND PARSLEY PESTO
Serves 4 as a side salad
Ingredients:
1 head of radicchio
1 large or 2 small heads of chicory
1 x 180g packet of sprouted beans
100g baby spinach
1 firm ripe pear
For the dressing
100ml olive oil or sunflower oil
50g pumpkin seeds
20g fresh curly or flat-leaf parsley
2 tablespoons honey
2 teaspoons apple cider vinegar or balsamic vinegar
1 teaspoon salt
Method:
1. Make the dressing first. Use olive oil if you like the taste – sunflower oil will be more neutral in taste. Toast the pumpkin seeds in a dry frying pan over a medium heat for a few minutes, until they start to release their aromas and change colour slightly. Put the seeds into a food processor or blender with all the other dressing ingredients and whiz until smooth.
2. Cut the radichio in half, cut out the end and slice into thin strips. Do the same with the chicory and cut into small pieces. Rinse the sprouted beans and spinach. Core the pear and cut into slices. Put all the ingredients into a large bowl and toss with the salad dressing. Only dress as you use, as it doesn't store well – or eat it all in one go!
From: The Happy Pear: Healthy, easy, delicious food to change your life by David & Stephen Flynn (Penguin Ireland, £16.99)
Photograph: Alistair Richardson