Slow-cooked lamb shanks with cinnamon and orange zest
This great lamb recipe from 'My Family Table' by Eleanor Ozich will be perfectly warming on a cold day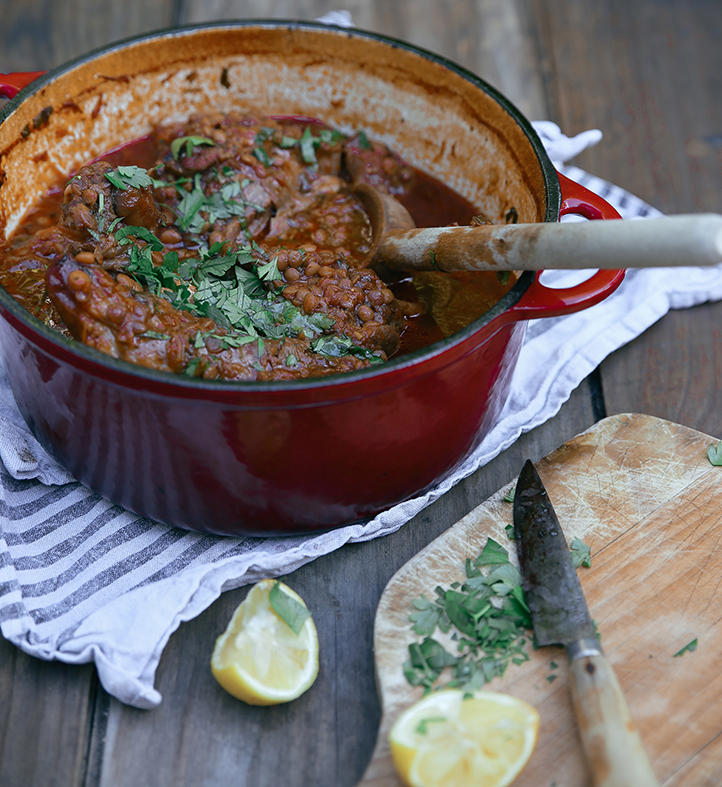 Long, gentle cooking renders these aromatic lamb shanks lusciously tender and rich – slightly sweet, with a subtle hum of cinnamon and a kick of citrus. We find this dish doesn't need any accompaniments, as the lentils beef the dish up quite a bit.
Serves 4
GF, df (if not butter used)
Ingredients:
40g (11/2 oz) butter (or use 2 tbsp olive oil if you'd like to be dairy-free
2-3 onions, finely chopped
2 carrots, grated
4 garlic cloves, finely chopped
Juice and zest of one orange
2 tbsp honey
A thumb-sized piece of fresh ginger, peeled and grated
2 tbsp tomato paste (concentrated puree)
4 lamb shanks
2 tsp ground cinnamon
1 litre (35 fl oz/4 cups) good-quality beef stock
A handful of fresh rosemary leaves; sage or thyme also work well
A handful of flat-leaf (Italian) parsley, plus extra to serve
400g (14oz) tin lentils, rinsed and drained
Juice of 1 lemon
Method:
1. Preheat the oven to 180°C (350°F). In a frying pan over a medium heat, melt half the butter until sizzling. Add the onion and saute for about 5 minutes, or until soft and translucent. Transfer to a large casserole dish with a lid. Add the carrot, garlic, orange zest, orange juice, honey, ginger and tomato paste to the casserole dish and set aside.
2. Heat the remaining butter in the same frying pan, over medium heat. Brown the lamb shanks on all sides; you may need to do this in batches so as not to overcrowd the pan.
3. Transfer the shanks to the casserole dish, then sprinkle with cinnamon and a generous pinch of sea salt and freshly ground pepper. Pour in the stock, adding a little water if necessary to cover the shanks, then top with the herbs. Put the lid on and bake for 2 hours.
4. Remove from the oven and stir in the lentils. Bake for a further 1 hour, or until the meat is super tender and falling off the bone.
5. Finish with an extra sprinkling of parsley, and a squeeze of lemon juice. Serve straight away.
My Family Table by Eleanor Ozich (Murdoch Books, £18.99). Photography by Eleanor Ozich