Scuba diving for mindfulness, meditation and stress relief
Fancy retreating to an underwater paradise? Discover the benefits of scuba diving for mindfulness, meditation and stress relief...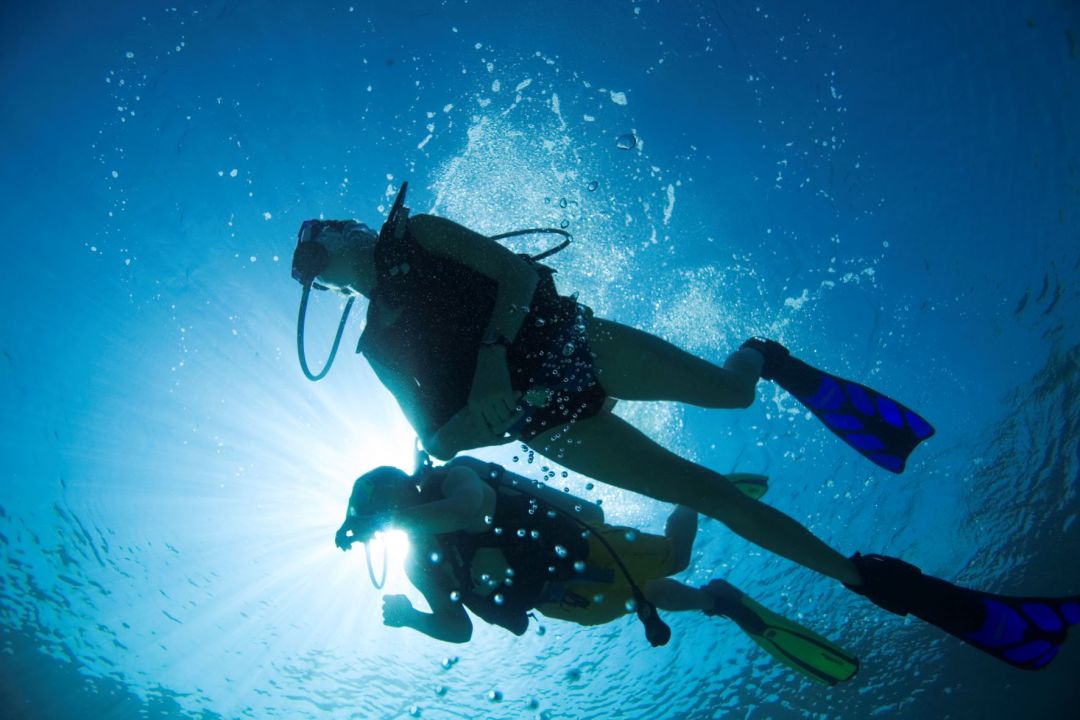 Does scuba diving reduce stress? Diving enthusiast Penelope Granycome discovers the underwater benefits of scuba diving for mindfulness, meditation and stress relief when she sinks into the translucent seas of the Turks and Caicos Islands…
Descending into the blue, joy surges through my body as we float over a dramatic underwater cliff. Hard and soft coral is framed by a school of yellowtail snappers. Inquisitive Caribbean reef sharks swim close by to give us the eye, their bodies undulating with the grace and instinct only sharks possess. I can't help but smile into my regulator at their presence – their energy and beauty. I don't feel afraid, I feel in awe.
Scuba diving: an underwater meditation
Nothing makes my heart surge with happiness more than submerging myself in the underwater world. Scuba diving is akin to a moving, underwater meditation, and it can reduce underlying stress or anxieties as if by osmosis.
The camaraderie and wonder of taking part in this peer-reliant sport, while immersed in glorious nature, releases a double dose of endorphins that is pretty hard to beat. This has never been more apparent than in these incredible azure waters.
I am staying at the Sandals all-inclusive Beaches Resort hotel in Grace Bay – 12 miles of sweeping, white sandy beach on the north shore of the island of Providenciales in the Turks and Caicos archipelago.
Voted the world's best beach in the TripAdvisor Travellers' Choice awards, Grace Bay is famous for couples wanting to relax together, marry or rekindle romance lost in the stress and bustle of modern life. For families, there is a range of activities and lovely, child-friendly restaurants. For me, however, it's all about the diving.
I learned to dive in 2008 in Honolulu in Hawaii. However, it really took hold, deep in my spirit, in 2012 after my first time in the exquisite Red Sea, which draws me time and time again. I love diving because it has truly and repeatedly pushed me – safely – out of my comfort zone. Scuba diving is also incredible for helping me reduce my stress levels and calm my anxious mind.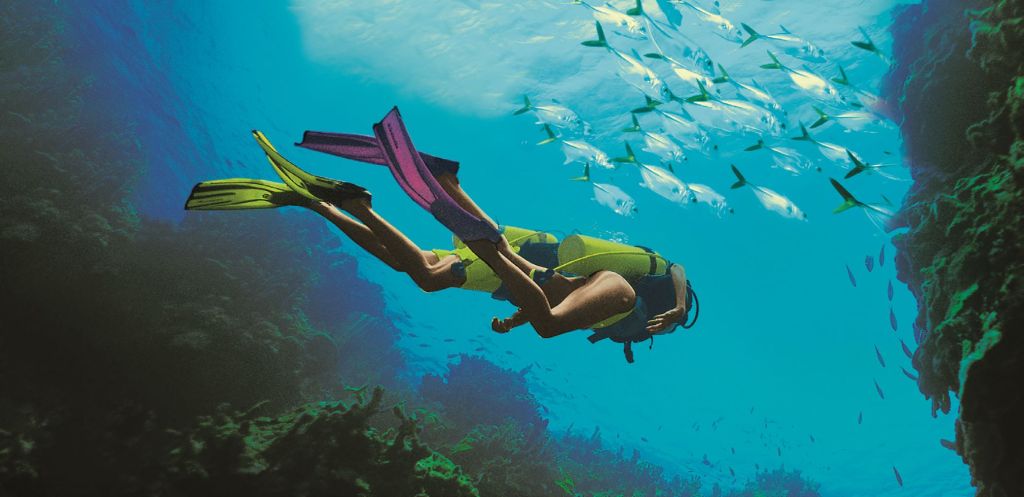 Does scuba diving reduce stress?
The expansiveness of being in the ocean and focused on the moment while scuba diving can reduce stress and anxiety and stop rumination and negativity. There is something about being submerged underwater that feels like a meditation, connecting you with your deepest emotions, calm and possibility.
Naturally, there are challenges while scuba diving and expert training is vital as you build experience and confidence. However, the best instructors know what you need and how to achieve it.
Scuba diving adventures at Turks and Caicos
Turks and Caicos is a diver's dream. Sheer walls covered in corals, sponges and gorgonians drop hundreds of feet and you can swim daily with sharks, rays and turtles. You can find dive sites all over Providenciales. Plus, we are fortunate to have consistently calm seas, warm waters and great visibility.
My first port of call for this breathtaking adventure is with the Professional Association of Diving Instructors (PADI) Dive Centre. PADI's partnership with Sandals Resorts International began in 1997 and daily dives are included. Or, if you're a novice, instructors will teach you.
Earning your water wings
More than 100,000 PADI Diving certifications have been issued across both Beaches and Sandals, described as 'a monumental accomplishment' by Erica Wedepohl, PADI worldwide territory director for the Caribbean and Latin America.
Mark Healey, the Beaches watersports manager, drops by to chat and I congratulate him on the centre's Green Star award for dedication to conservation as one of the top five dive operations in the western hemisphere.
Later, I amble down to the sea for a swim – to drink in the fresh air and wash away my cares. Curling up in a lounger in the warm evening sun, sipping rum and cola and looking out into the Atlantic, it's as if the universe is delivering a simple message – 'rest'.
After a luxurious dinner of sushi – having been escorted to the restaurant by my personal butler – I do more of what the universe instructs in preparation for the following morning.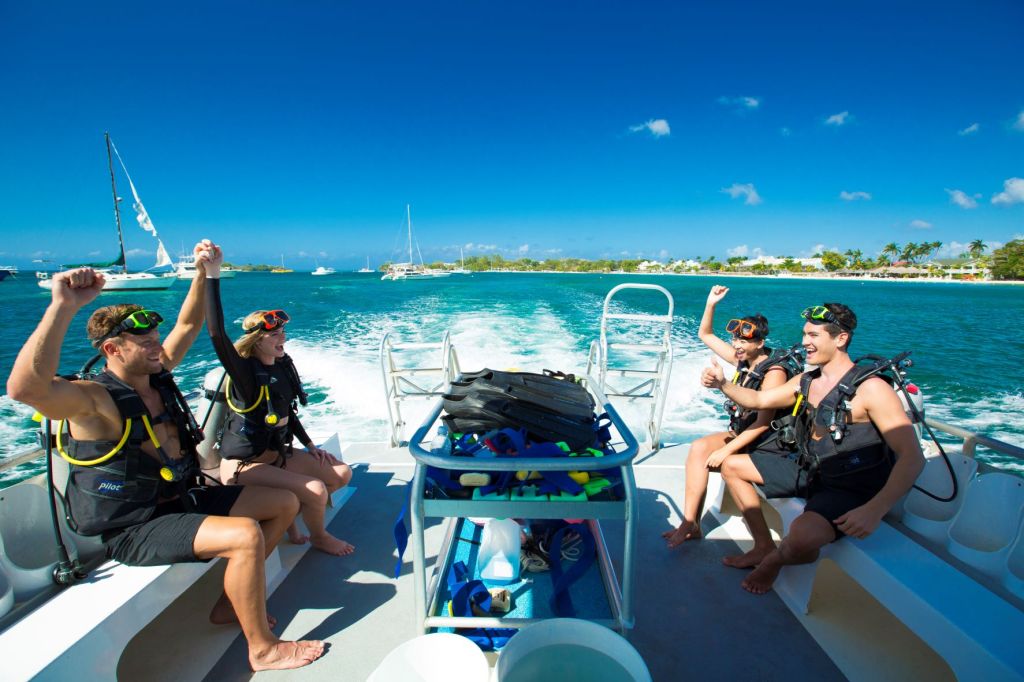 Experiencing scuba diving for mindfulness
Our group meet bright and early to gather diving equipment, provided by the dive centre. Then, we head to south Providenciales to board the fully appointed dive boat, enjoying a 50-minute crossing to West Caicos. The salty air, warmth of the Caribbean sun and our own exuberant, anticipatory laughter light us up with a fuzzy and elated feeling ahead of our underwater meditation adventure.
Our first two dives deliver curious sharks, a lazily grazing turtle, an enormous lobster, scorpionfish and an eagle ray. One of the guides also spears a lionfish. No friend to these waters, this species is a menace. It's a non-endemic, invasive and voracious predator that harms reef systems while competing for space with overfished native stocks and killing off helpful species.
We watch a reef shark approach and seize the dead fish because, unfortunately, the indolent sharks will not hunt them when they are alive, and leave all the hard work to divers. Lionfish out of mind and in celebration of the incredible seafood here, we enjoy a fresh catch of our own, cooked and prepared by the chef at Neptunes, one of Beaches' top restaurants.
Scuba diving for a good cause
Sandals Foundation, a non-profit organisation, has assisted more than one million people living in the Caribbean, a culmination of three decades of funding projects in education, community and the environment.
The World Travel awards has recognised the Sandals Foundation for making an outstanding contribution to corporate social responsibility projects. The resorts are also endorsed by Earth Check. This is a programme measuring performance in the areas of energy, water and waste management.
Join the scuba diving family
Whether your relationship status is single, together for years or about to tie the knot, or you are looking for a family break, you will love the sense of connection and community at Beaches Turks and Caicos. Not to mention, of course, the thrill of scuba diving in its brilliant waters for mindfulness and stress relief.
The following day, we gasp with delight as dolphins jump across our bow and a humpback whale breaches ahead. Our hearts leap with awe and the glorious wonder of being alive.
Plan your visit:
A seven-night stay at Beaches Turks & Caicos Resort Villages & Spa, staying in a French Village luxury double room, costs from £2,865 per person, based on two adults sharing.
Price includes all-inclusive accommodation, return economy flights with British Airways from London Gatwick and resort transfers. Pricing is subject to change and may vary. Subject to availability. Price includes £150 booking bonus and 45% off.
For more information about Sandals holiday deals for the family, go to beaches.co.uk.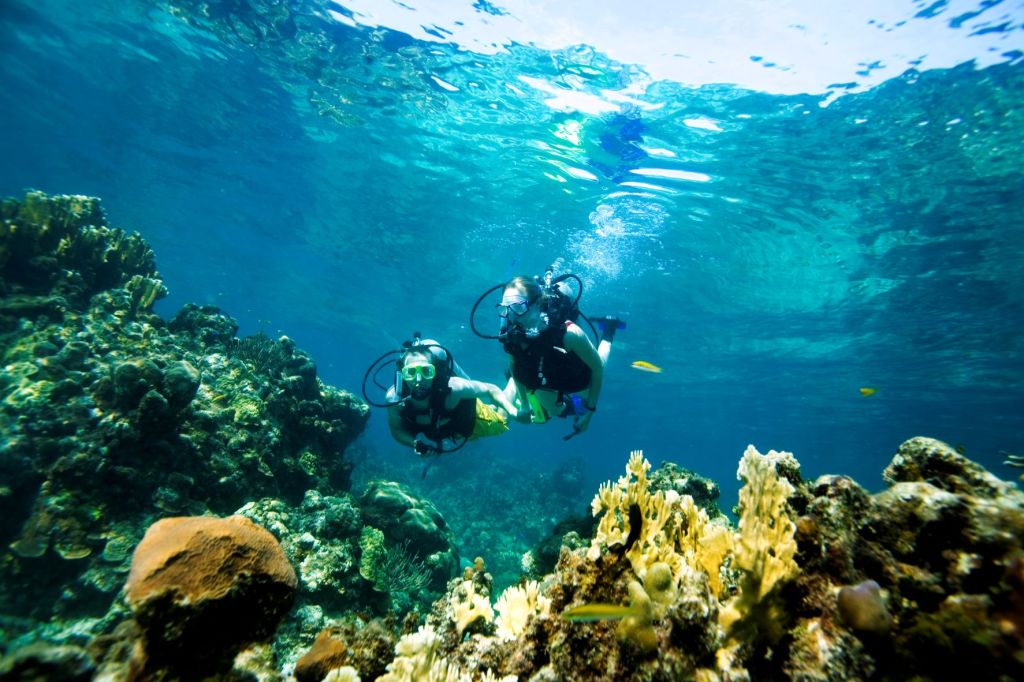 Learn how to scuba dive with PADI
There's more than one way to get your underwater wings..
For those who long to explore the undersea universe of exotic flora and fauna, but who are not yet certified, Sandals offers several dive courses tailored to your level of experience and interest. In a few short sessions, overseen and authorised by expert PADI instructors, you'll soon be ready to venture out on an exciting underwater journey of discovery and meditation.
If you don't want to waste precious time in the classroom, enrol on PADI's e-learning programme. This delivers interactive presentations that include videos, audio, graphics and reading. Short quizzes allow you to gauge your progress, and review and correct anything that you might have missed. This system lets you move through the programme efficiently and at your own pace, so you're ready to make the most of your diving holiday when you get to your destination.
For more information about PADI courses and opportunities, go to padi.com/education/elearning-programs.