Pumpkin soup
Get in the spirit of the day by making this great soup from the Detox Kitchen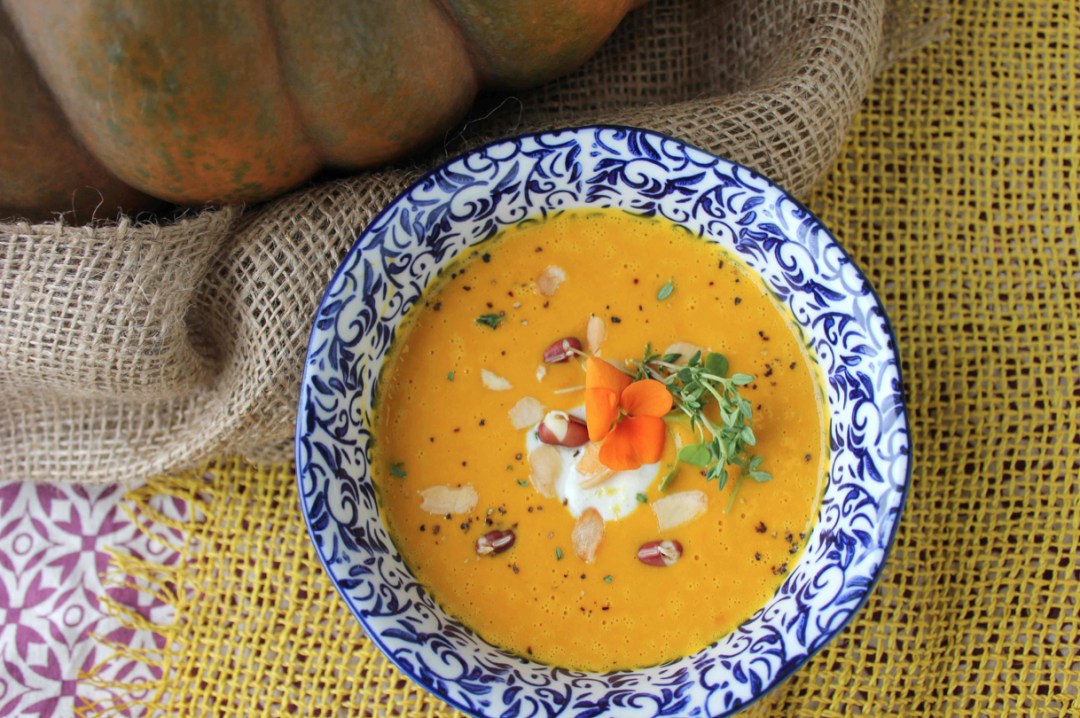 House full of pumpkins this evening? As mentioned in our Brain Food tip today, pumpkins are incredibly good for you – so here's a recipe from the Detox Kitchen to inspire you this Halloween.
Serves 4
Ingredients:
1 small pumpkin- peeled, halved, and deseeded
4 tbsp rapeseed oil
4 shallots, thinly sliced
4 tbps curry paste (below)
3 tbsp honey
1½ tsp sea salt
Zest and juice of 1 lime
800ml coconut milk
400ml vegetable stock
A handful of fresh mint leaves
Coconut yogurt
Almonds
For the curry paste:
3 fresh red chillies, deseeded
2 tsp chilli flakes
4 shallots, roughly chopped
5 garlic cloves, peeled
3 lemongrass stalks, chopped
3cm piece fresh ginger
1 tbsp ground coriander
1 tsp ground cumin
1 tsp ground turmeric
1 tbsp tamari soy sauce
Method:
1. Make the curry paste – put all the ingredients in a food processor with a little oil and water. Blitz until it becomes a smooth paste.
2. Preheat the oven at 190°C. Cut the pumpkin or squash halves into chunky pieces, drizzle with rapeseed oil, season with salt and roast in the oven for 20minutes or until cooked through.
3. Heat a large pot with a little rapeseed oil, fry the shallots and lower the heat until they are caramelized or translucent. Then add 4 tbsp of the curry paste and cook for 5 minutes. Add the honey, salt, lime zest and juice. Cook until everything sizzles.
4. Add the coconut milk, vegetable stock and bring to a boil. Reduce the heat and simmer for 10 minutes. Check for seasoning. Add the pumpkin/squash and spinach and stir until the spinach has wilted.
5. Take the soup of the heat and blitz with a handful of fresh mint using either a stick blender of a jug blender. Once all the soup is blended, check for seasoning and serve hot.
6. Add a dollop of coconut yogurt and a sprinkling of almonds for an extra crunch!