Monkfish, tamarind and tomato curry
Chef Meera Sodha shares an Indian fish recipe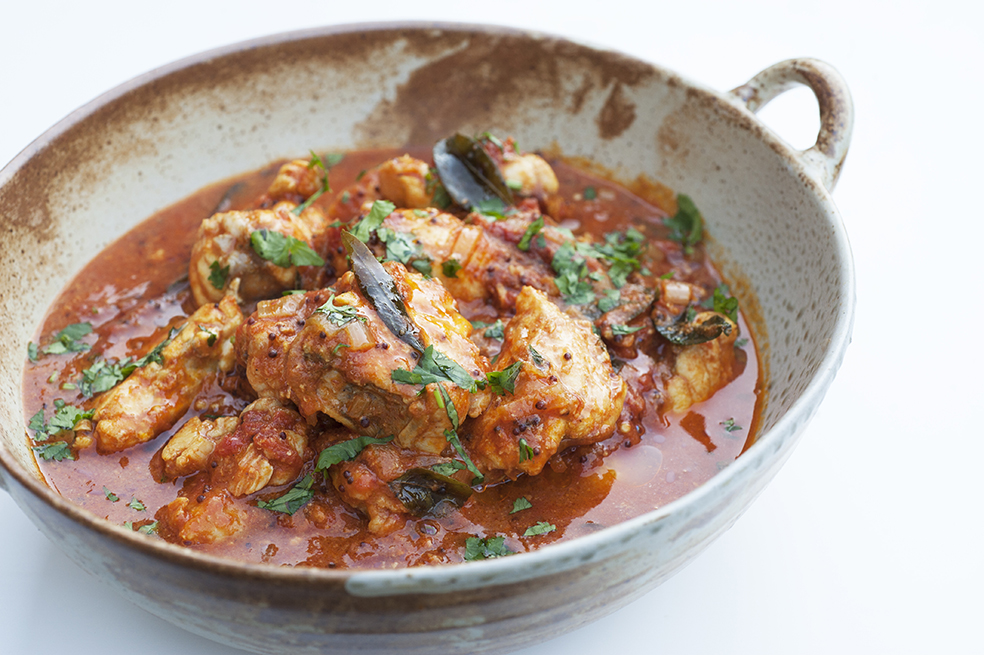 'I first ate this curry on a boat on the backwaters of Kerala, a series of interconected lagoons and rivers,' says Meera Sodha. 'The fish had been freshly caught and this rich and tangy sauce of tomato and tamarind curry really brought out its sweet fresh flavour.
Tamarind paste can vary in how sour it is, so it's worth adding a little at a time until it tastes just right to you. If you can't find the curry leaves, just leave them out.'
Serves 4 with rice
Ingredients:
3 tbsp Vita Coco coconut oil
15 fresh curry leaves
1 tsp black mustard seeds
3 banana shallots, thinly sliced
4 garlic cloves, crushed
3cm ginger, peeled and grated
400g tinned plum tomatoes
1⅓ tsp Kashmiri chilli powder
1½ tsp tamarind paste
1 tsp ground cumin
1 tsp ground coriander
½ tsp tumeric
1 tsp salt
800g monkfish tail, skinned and cut into 4cm pieces
A bunch of fresh coriander to serve, finely chopped
Method:
1. In a wide lidded frying pan, heat the coconut oil and when hot add the curry leaves and mustard seeds. When they pop, add the shallots and fry for around 8 minutes until golden and caramelizing, then add the garlic and ginger. Fry for a couple of minutes then stir in the plum tomatoes, breaking them up with a wooden spoon if still whole.
2. Cook for around 10 minutes or until thick and reduced, then add the chilli powder, tamarind, cumin, coriander, tumeric and salt. Stir to mix and add a splash of water (around 100ml) and the fish. Coat the fish with the sauce. Cover with a lid and cook for 6 minutes or until the fish is opaque and flakes easily.
3. Transfer to a serving dish and scatter over with coriander. Serve with hot basmati rice.
This recipe was created in collaboration with Vita Coco Coconut Oil. For more recipes and inspiration visit swearbyit.com