Look good, feel good
Why do some people wear make-up to the gym?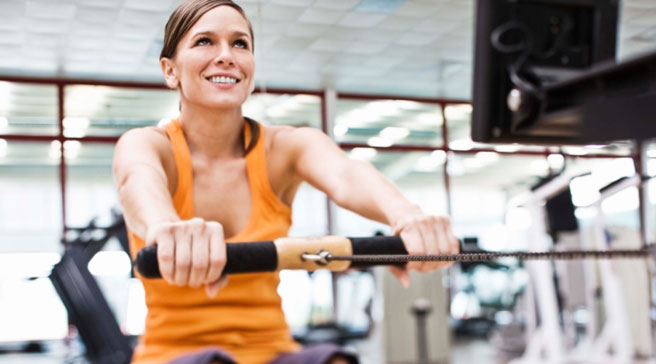 For me the gym is like a second home — a place to spend time by myself and clear my head each night while working up a sweat.
Sweat is the operative word here. I look like a hot dripping mess every time I go but I don't mind because I'm there to work, and it's inevitable that I will get incredibly hot doing that. So I have often wondered how and why women wear make-up while exercising?
Psychotherapist Phillip Hodson believes that for the less confident, trips to the gym can be an incredibly anxious experience. 'It is common to experience feelings of shame for getting a little plump or anxiety that you might pile on the pounds if you don't go, and these are the fears that fuel many people's gym visits,' says Hodson. 'From the get-go many women enter the gym with a less than confident attitude.'
He believes we have another battle when stepping foot in the gym and that is a loss of composure. 'You sweat, get out of breath and these things are beyond our control,' says Hodson. We can't do anything about the sweat (unless you're willing to resort to whole-body Botox) or being out of breath, but we can attempt to hide our red faces and look a little less flustered while working away.
When we look good we feel better about ourselves and for some it seems, in order to battle the dent in confidence that can come with going to the gym, make-up is the answer. I wonder though if it's not detrimental to the skin to workout with a full face of make-up?
Skin specialist Sarah Chapman informed me that while wearing make-up doesn't do much damage to the skin, its effect during exercise can vary. 'Exercising causes your heart rate to rise, blood circulation to increase and the pores of your skin to open,' says Chapman. 'This opening of the pores during exercise can cause excessive make-up or oil based foundations to be carried down into the skin, subsequently blocking pores.'
So if you choose to wear make-up during exercise it's best to opt for a mineral based powder, as the natural minerals won't block pores and will reduce the risk of breakouts. With this in mind I decided to give some 'gym-friendly' products a go and see if they were indeed workout-proof.
My favourite base had to be bareMinerals Original SPF15, £23, www.selfridges.com, an award-winning foundation, that has a weightless texture but gives a good amount of coverage. It is also sweat and humidity proof, but actually looks even better after a little perspiration as it warms the minerals and gives the skin a healthy rather than sweaty glow.
To avoid panda eyes from your mascara I would recommend the flutter lash extensions, from £150 or Jemma Kidd Lasting Lash Tint mascara £15, from Space NK. It's like a permanent dye for the day, no smudging or running. Ysl Long Lasting Waterproof Eye Pencil £18, out March 17, available nationwide, also fared well — refusing to budge even after an hour's spinning class, and the Bobbi Brown Pot Rouge, £17, used on the cheek stayed put too.
Although I wouldn't advise wearing make-up on daily gym visits, I do think when you're in need of a little extra confidence there is no harm in it, for you and, if you choose wisely, your skin.
More inspiration:
Read Is caring about your appearance shallow? by Susannah Hebden Moore on LifeLabs