'It was a spiral of absolute terror': Myleene Klass opens up about her four miscarriages and finding joy with her miracle baby
She found fame on the original talent show, Popstars, becoming a successful singer before excelling as a fashion designer, broadcaster and entrepreneur. Despite all she has achieved, managing her blended family has been Myleene Klass' toughest job yet – and her proudest achievement. Psychologies speaks to the classically trained musician about surviving lockdown, being proud of your body and why she is sharing the trauma of her baby losses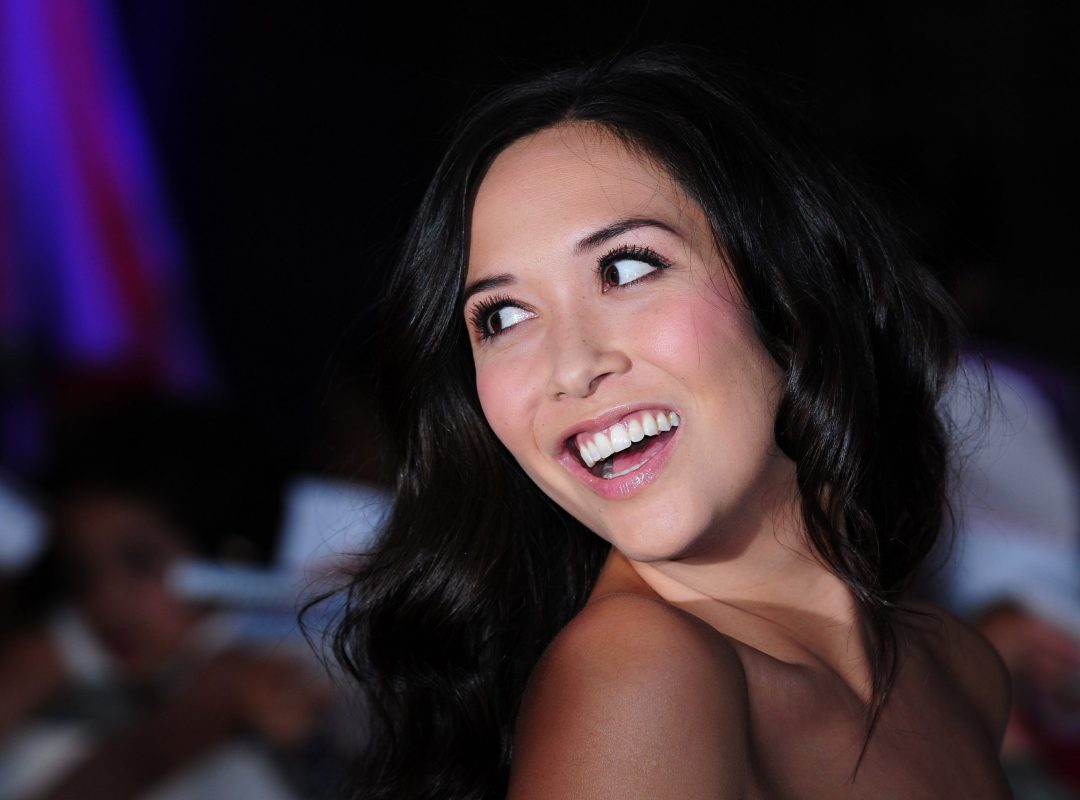 It was the image of her showering in a white bikini in the Australian jungle that propelled Myleene Klass into the spotlight and helped launch her diverse career. But she's come a long way since those days, and family, being a role model and sharing her story of miscarriage to help others are what drive her now.
Fifteen years after that memorable moment on I'm A Celebrity…, Klass sees her body in a completely different light. Not least because, since then, she's had three children, including her miracle baby boy, Apollo, born after four devastating miscarriages that changed her perspective on life.
'I look at my body differently now because it's come through so much,' she says. 'I was given every hormone known to man to keep Apollo in there, and I still feel the effects of that. I mean, I put on four and a half stone with him and, as a southeast Asian woman, that was a lot to carry. I'm not some glamazon, six foot, Naomi Campbell type – I'm Myleene Klass from Norfolk. But I'm proud of my body and everything it's achieved. And, ultimately, I want to make sure I show it love, kindness and positivity, especially because I have daughters.'
These days, bikinis are so far from her mind that Klass forgot to pack one for the family holiday this summer. 'Can you believe the bikini queen forgot her bikini?' she laughs. 'We had to go shopping for a new one when we got there. I was too busy packing for everybody else!'
The 'everybody else' she refers to is the beautifully chaotic blended family of seven (they call themselves the Klotsons) she has with her fiance, Simon 'Sim' Motson, a PR executive. As well as their son, Apollo, two, Klass has two daughters – Ava, 14, and Hero, 10, from her marriage to Graham Quinn, a former bodyguard for Hear'Say [Klass's Popstars band], while Sim has two children from a previous relationship. It all makes for a busy – and noisy – household, she says.
'Apart from the logistical difficulties, everyone has different needs, so you're trying to emotionally and mentally deliver on all that. I find myself very thinly spread – there's never enough of me to go around.'
Does she ever get time to herself? 'Not really!' she laughs, joking that she might spin out our interview for another hour to escape the mayhem for longer. 'Getting the work-life balance right is impossible. The only way I've been able to half get away with it is by creating a work environment that is family-friendly. When I make videos, I do that with the kids. When I design clothes, it's with my kids. My family life is my work life and everything I do is centred around what happens at home,' she explains.
'However, I know how much I wanted this family and I thrive on the madness. I love that when we go out, we're a tribe. We're our own party, which is just as well because no one invites us anywhere – there are too many of us!'
During lockdown, she invested in a bigger kitchen table, one the whole family could sit around. For Klass, it was a poignant moment because it showed how far she'd come rebuilding her life after the breakdown of her marriage in 2012, when her daughters were aged four and one. The split was crushing, she acknowledges, but meeting Motson on a blind date five years ago marked the beginning of a new chapter.
'The table was an emotional thing for me because it was symbolic. I'd bought the previous table for me and the girls, the three of us in this home I had built for us. And now, because we'd met Sim and he'd brought his kids to the table too, we needed something bigger. The kitchen is the heart of our house and, in my head, I want to be an Italian mama. I love the idea of everyone coming together around the table – a real open house. That was my vision and I've actually got it! I feel so grateful.'
Ava and Hero call Motson dad and Klass has said that had she not met him, the girls would have been 'short-changed'.
She says: 'It's been important for the girls to see a healthy relationship because, if you can't see it, you can't be it. This is not about DNA. Sim's here every day and steps up and I'm glad they get to see that. He doesn't see them as just my children – he says "I have five children". And the girls need to hear that.'
Klass and Motson's son is the 'glue' binding the family together, and they all dote on Apollo. In a heartfelt Instagram post last year, she opened up about the four losses she had suffered before he was born. It led to her making a documentary – Myleene: Miscarriage And Me. 'It wasn't easy to film. It's been the hardest thing I've ever worked on,' she says. 'I remember the despair, grief and anger. And the panic. But it wasn't until I looked back at my diaries that I realised how broken I was. By the fourth time, it was just a spiral of absolute terror.'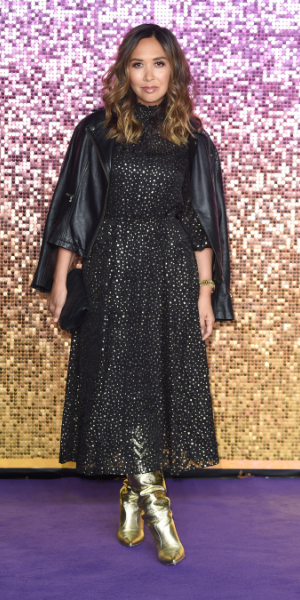 The hour-long show will see Klass meeting women, including her friends and family, who share their experiences of baby loss. She is also backing a campaign by Tommy's, the pregnancy charity, to change the care system to enable more women to get the support they need following a miscarriage. At the moment, the NHS won't investigate causes until it is classed as recurrent miscarriage, which means a woman must suffer three in row. 'We don't expect someone to have three heart attacks before taking it seriously,' she says. 'And if the miscarriage happens before 24 weeks, it doesn't necessarily go on to your medical records so every time [you deal with a new healthcare professional], they don't know your history and you have to explain it all again.
'There isn't even statutory compassionate leave for miscarriage. All these women carrying around this pain. I interviewed my aunty and she hadn't spoken about her miscarriage for 37 years… So much pain.' Klass's third miscarriage occurred while she was live on air at Smooth Radio. During a toilet break, she realised what was happening, yet somehow found the strength to finish the remaining hour of the show.
'I didn't know what else to do. I didn't want to go home because I was going to have to deliver the news and break the magic. But life doesn't stop and I took my daughter to dance class as soon as I got back. There was no time to catch my breath because I have children who rely on me and who I need to protect.
'So, to the people who ask how I carried on, I'd answer – what else could I have possibly done? Carrying on was all I knew. And if I'd lain in bed, I don't know whether I'd have got up again.'
Naturally, her pregnancy with Apollo was fraught with worry. At one point, she was having two scans a week, each time going through agony before they found the heartbeat. 'I had so many scans my midwife said he was the most photographed baby in history. I didn't want to drink water because I was scared of needing the loo and seeing blood. I know how ludicrous that sounds, but anyone who's been through miscarriage will know that stomach-tightening feeling when you pull down your knickers, thinking "please, no blood".'
Her decision to speak out about a subject that affects one in four pregnancies has been noted by those in power. During a moving speech in the House of Commons this year, Labour MP Olivia Blake spoke about her miscarriage and praised Klass for helping break the taboos that still exist around the subject. Klass hopes her documentary will continue to push the conversation and empower more women to share their stories and feel less alone.
'Normalising the conversation to the point where it's happening in the House of Commons with women standing up and recognising each other is so powerful. If we can talk about something that happens to so many, then maybe it won't feel so terrifying and women will stop blaming themselves. I feel that if I can be part of a change, then I'm turning this pain into power.'
And she's not only speaking out about miscarriage. Klass was recently accused on social media of having her lips done, and responded publicly that as a biracial woman [her mother is Filipino and her father Austrian], these were the lips she was given. It was an example, she says, of how everything is viewed through the prism of the white Western 'norm'. 'I'm not looking for a fight, but I can't leave a whole group of girls to think I've had my lips done to uphold a certain ideal of beauty when we should be celebrating what mixed-race girls like me have.
'I called it out for my girls. They are like me but transported from Norfolk into north London, and they don't look like their friendship group. I think the next generation get it. They wear the pride flag, they take the knee, they are brave. I think we're living in an exciting time when change feels possible.'
Klass says she's in awe of how her daughters' generation has handled the pandemic and being locked down for so long. 'We underestimated them by not giving them a voice in all this. They did everything they were supposed to, better than many of the adults. All credit to our young folk – they've been phenomenal. I'm proud of all the children who made such a concerted effort, from clapping on their doorsteps to wearing masks to adapting to online schooling – which was hell on earth by the way.'
She does wonder, however, about the effect on Apollo and the other lockdown babies. 'Just as he was beginning to open his eyes and recognise shapes, we shut down the world,' she says.
On the other hand, there were positives to come out of the experience. 'I had time to just be Mum,' she says. 'I stopped expressing because I was home to feed my baby and that was a special thing. I got to see his first steps, hear his first word… I didn't miss anything and, because he is my last baby, that feels precious. I don't want to rush a single milestone.'
Photographs: Shutterstock