How to connect with your inner child
Are you feeling depressed and stuck in your life? Sometimes past trauma or painful memories can be buried so deep that we don't know how to access them. But, re-connecting with our inner child can teach us how to listen to our own needs. Here, Julie Gibson shares how spending a day with your inner child can help you heal...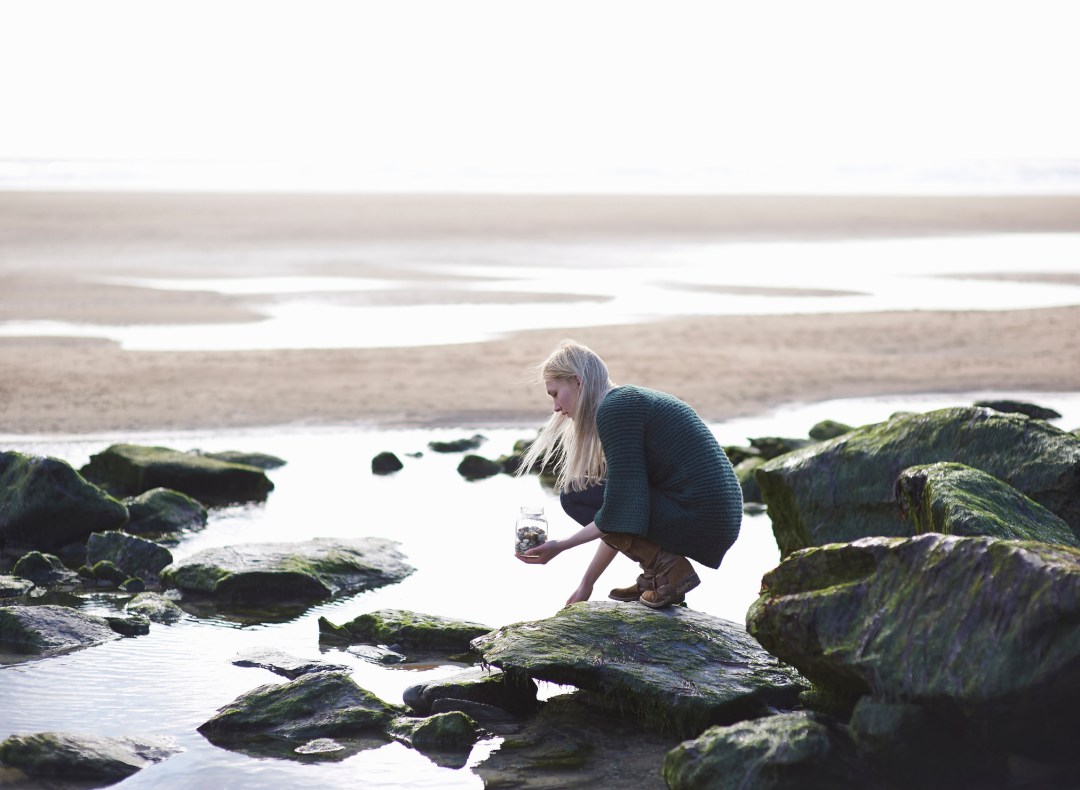 Some of you might have been asked what advice you would give your younger self. What you've probably never thought of doing is passing time in the company of your inner child. Well, strange as it may sound, that is exactly what I did. This is what happened when I took 'Little Juju' to the seaside.
I've always suffered with low confidence, anxiety and bouts of depression. I would feel fine for a while, then get depressed. It was a cycle I couldn't change and I learned to live for the happy times.
This changed in 2017, when I again became depressed. I assumed I would soon bounce back – but I didn't. Throughout 2018, I went through a series of antidepressants, a course of cognitive behavioural therapy and, eventually, I was diagnosed with mixed anxiety depressive disorder and obsessive compulsion disorder.
I was lucky to be given private counselling through a charity. My therapist, Dawnie Browne, helped me understand that my problems stemmed from bullying in childhood. This manifested as inner doubt, which tells me regularly that I am a horrible person and not worthy of love.
As we discussed the events of my childhood, Dawnie often spoke about the little girl within and I named her 'Little Juju'. Little Juju is my younger self, aged around five or six. She is scared and mistrustful of the world due to the trauma she has suffered. I found it difficult to talk about her. As a child, I struggled to fit in with other children. I felt like a square peg in a round hole. I often felt inadequate and worthless. Dawnie suggested that I spend time with Little Juju and described how this type of therapy had helped other people.
'When we are children, we play readily and tend not to temper our emotions until we are given the message that being all that we are is not OK. When we become adults, this child presence lives within us as our inner child,' she explained. By getting in touch with your inner child, you can recall who you really are. Your adult self can help your inner child know that you are enough and lovable. You can remember the freedom of playfulness and pure joy and give your inner child, as an adult, the best model of love that you know.
It seemed like a strange concept but, the more I thought about it, the more I wanted to give it a go.
I had no idea where to take Little Juju, so I thought of places I had been happiest and decided on Amble Beach in Northumberland, where my family had holidayed when I was young. I decided I would do the things Little Juju enjoyed when visiting the beach.
Let's be ourselves
I picked a sunny day and hit the road. I was nervous at first because I had been avoiding driving. I turned up the music and lost myself in cheesy tunes from the 80s and 90s. As a child, for fear of being mocked, I would sing under my breath to songs that my father played in the car. On this trip, I sang loudly and didn't care that I was out of tune.
I felt my spirits rise and realised I couldn't remember the last time I had felt so uninhibited and able to lose myself in the moment. I believe this was because I felt the day wasn't about me – it was about Little Juju.
Soon, I was walking across the dunes to the beach. I had a rush of memories of my brothers giggling as they jumped off the dunes. They were fearless! I was always jealous and longed to join in – but I had been too scared.
I wish I could say that I fulfilled that childhood wish and leapt from the top of a dune. Instead, I stood, looking down, and found I was still too afraid. When I was young, I was frightened by the height but now it was the knowledge that I am in my mid 30s and really don't fancy a broken ankle. I laughed at myself as I walked onwards to the beach. I guess I will always be a scaredy-cat.
For the first time in 25 years, I stood on the sand and took in my surroundings. The beach was mostly deserted, with only a couple of dog walkers. It was just as I remembered. So much time had passed but it felt like no time at all.
What do you like?
I sat on a rock and closed my eyes. I listened to the waves breaking on the shore and the seagulls overhead. I felt the sunshine on my face and I could taste the salty spray in the air.
Little Juju loved to wander along the beach and collect pebbles. I walked on the sand and picked up five small stones. I tried to select the type of rocks that she had liked. Smooth ones had been her favourite.
I walked barefoot in the shallows further along the beach. The water was freezing but it felt refreshing. I allowed the ebb and flow of the sea to wash away my stress and anxiety. In my mind's eye, I could see Little Juju laughing, splashing and running for her life when seaweed threatened to touch her.
After a while, I settled on the sand and had lunch. I had packed egg and tomato sandwiches or, as my parents used to call them, 'seaside sandwiches'. I was almost tempted to sprinkle a little sand into them for authenticity. Little Juju always managed to get sand on her food.
I took the pebbles and a marker pen out of my pocket. Without much forethought, I started writing on them. I wrote 'love', 'peace', 'grace', 'Little Juju' and 'Big Juju'. I arranged the rocks on the sand. I had packed two photographs of myself aged approximately two and four. If I was going to talk to Little Juju, it would be easier if I could look at her. I stood the pictures in the sand next to the pebbles.
It resembled a shrine marking the site of a road accident. I must have looked like a mourner at a badly attended funeral, especially once I started talking to the pictures and crying.
You did nothing wrong
I looked at the photographs, one of which was taken on that very beach. I admitted to Little Juju all the things that I wished I'd known when I was her. I told her that it wasn't her fault she was bullied or treated badly, that it was OK to be different and she was good enough to be loved. I promised her sincerely that I would deal with our issues, so we can have a happier and healthier future.
As I contemplated the past, I could see my childhood for what it was. I had a happy childhood in which bad things happened. For a time, I could only see the negative. Now, I can see that the bad things don't define who I am. By accepting that they happened, I can focus my efforts on fixing the effect they had on me, rather than fixating on the events themselves.
I realised that the day wasn't about behaving like a child, going to the beach, talking to myself or singing out of tune, despite how much fun that was. The point of my trip was to reconnect with the little girl I used to be. It was about accepting what had happened, so I could draw a line under it.
We can do it together
I still have a long road of recovery ahead of me. Thanks to my day out with Little Juju, I was able to take a big step forward. It had a spiritual eect on me. Little Juju didn't have a voice but now she does. And I continue to listen to her. Often, when I am agitated or scared, it is actually her reaction to a situation, rather than my own.
In the days after our trip to the coast, I spent a lot of time soul-searching. When I looked inwards, I saw the strength I need to carry on, to face my darkest battle, to fight depression and find my spark again. Little Juju survived and grew into a kind and thoughtful adult – or so I have been told. If she could do that without falling apart, I know I can confront our demons and thrive.
Reconnect with your inner child
Julie Gibson explains how to open the dialogue with your younger self and heal.
Photograph: Getty Images