Halloumi hash
Try this fantastic recipe for using up leftover roasties or vegetables, from 'The Part-Time Vegetarian' by Nicola Graimes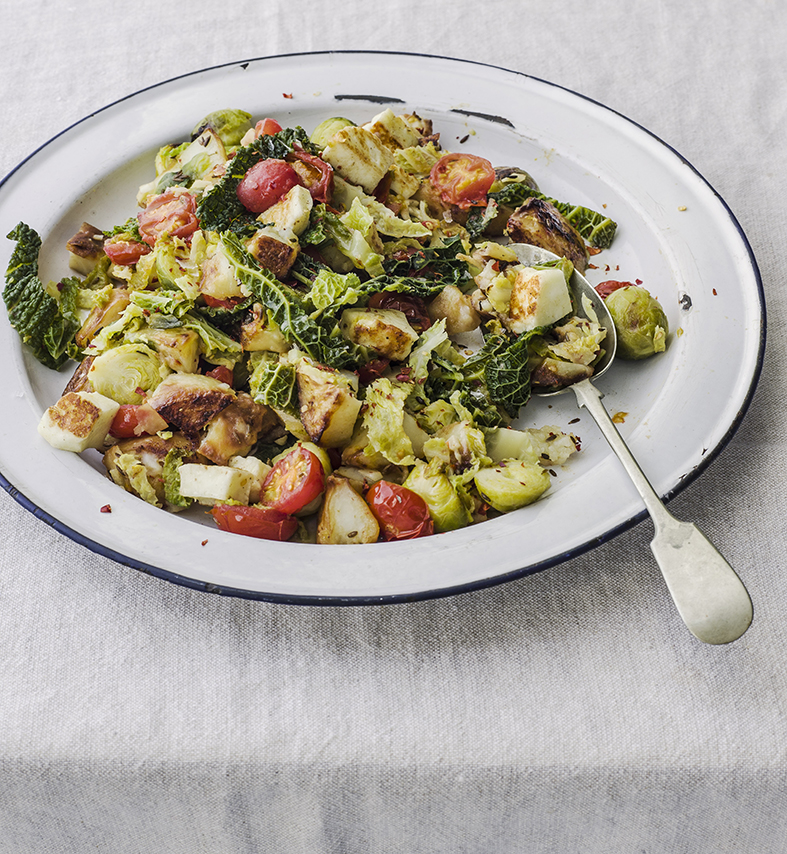 If you have any leftover roasties or cooked vegetables, then this dish is the perfect way to use them up. Don't feel restricted by my choice of vegetables. Utilise any leftovers you have to hand, within reason. The halloumi adds an interesting twist to this old favourite but, if sticking to the leftover theme, it's also a good way of using up roast meat. If you don't have any leftovers, this brunch is worthy of cooking the vegetables from scratch.
Serves 4
Preparation time: 10 minutes
Cooking time: 10 minutes
Ingredients:
2 tbsp olive oil
250g halloumi cheese, rinsed, patted dry and cut into
1cm cubes of 4 good-size roast potatoes or 8 cooked new potatoes, cubed
250g cooked Brussels sprouts, halved
250g cooked green hispi or Savoy cabbage, shredded
4 handfuls of cherry tomatoes
1 tsp cumin seeds
½ tsp dried chilli/hot pepper flakes
1cm/½in piece of fresh root ginger, peeled and finely chopped
1 large garlic clove, finely chopped
Method:
1. Heat half the oil in a large non-stick sauté pan over a medium heat and sauté the halloumi for 2–3 minutes, turning occasionally, until starting to colour. Remove from the pan with a slotted spoon and leave to one side.
2. Add the remaining oil to the pan, turn the heat up slightly and add the cooked potatoes, sprouts and cabbage. Stir-fry for 3 minutes until starting to colour and crisp.
3. Turn the heat to medium, add the tomatoes, cumin, chilli/hot pepper flakes, ginger and garlic and stir-fry for 2 minutes until the tomatoes have softened slightly. Return the halloumi to the pan to heat through, then serve.
PART-TIME VARIATIONS Roast meat hash
Make use of leftover roast meat – including chicken, pork, lamb or beef – instead of the halloumi. Cut 200g roast meat into bite-size pieces and add with the tomatoes in the final step to heat through.
Salmon hash
Alternatively, swap the halloumi for fresh salmon. Preheat the grill/broiler to high and line the grill/broiler pan with foil. Season 2 large skinless salmon fillets with salt and pepper. Cut each fillet crossways into 4 thick slices and place on the foil. Grill/broil for 2 minutes, turning once, or until just cooked. Place on top of the cooked vegetables before serving.
The Part-Time Vegetarian by Nicola Graimes © Nourish Books 2015
Photograph: Haarala Hamilton