Gingernut dunkers
Sugar and spice and all things nice - make these ginger biscuits from 'The Cook and Baker'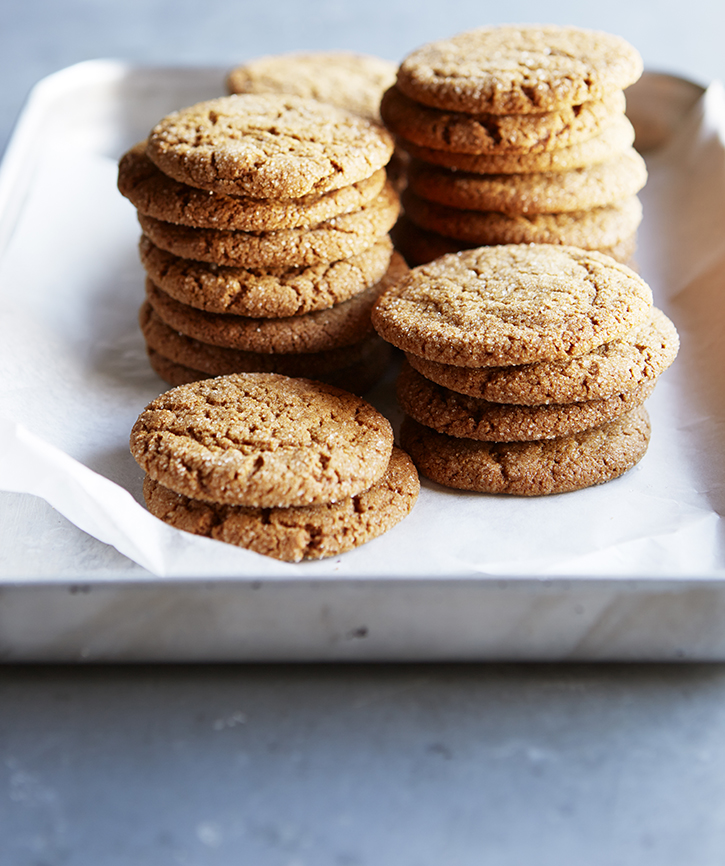 There are people who consider dunking declasse, rude even. Pity them! The ultimate dunker is a classic biscuit with an incredible robust, sweet and spicy flavour.
Makes 24–30
Preparation time: 20 minutes
Cooking time: 15 minutes
Ingredients:
300g (10½ oz/2 cups) plain (all-purpose) flour
3 tsp ground ginger
1 tsp mixed spice
¼ tsp bicarbonate of soda (baking soda)
¼ tsp salt
150g (5½ oz) butter, at room temperature
27g (9¾ oz/1¼ cups) caster (superfine) sugar
1 egg, at room temperature
350g (12oz/1 cup) golden syrup (light treacle)
100g (3½ oz) demerara or raw sugar, for rolling
Method:
1. Preheat the oven to 180°C (350°F). Line two baking trays with baking paper. Sift together the flour, ginger, mixed spice, bicarbonate of soda and salt.
2. Use an electric mixer fitted with a paddle attachment to beat the butter and caster sugar until pale and creamy. Add the egg and golden syrup, and mix until well combined. Add the sifted dry ingredients and mix until just incorporated.
3. Roll into walnut-sized balls, coat in the demerara sugar, and place on the prepared baking trays. Flatten with the back of a fork, leaving a 2-3 cm (¾-1¼ inch) gap between each to allow for spreading. Bake for 15 minutes or until the biscuits are firm. Leave to cool and firm up on the trays.
Note: These biscuits can be stored in an airtight container for up to 1 week.
The Cook and Baker by Cherie Bevan and Tass Tauroa (Murdoch Books, £20). Photography by Chris Chen