Film review: The New Girlfriend
Danielle Woodward reviews The New Girlfriend, directed by François Ozon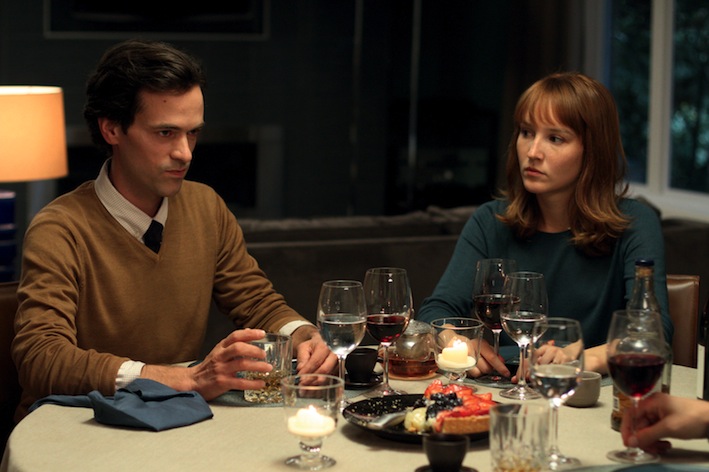 This French-language psychological comedy-drama covers so many themes, we're not sure where to start! Friendship, marriage, love, sexual attraction, single parenthood, cross-dressing, homosexuality, femininity… to name a few.
Claire (Anaïs Demoustier) has recently lost her best friend, Laura (Isild Le Besco), who has passed away leaving her husband, David (Romain Duris), to bring up their newborn daughter alone. The film sets a sombre tone at the start, outlining Laura's life and death, so we can understand the intense friendship between herself and Claire, who has promised to watch over Laura's daughter and husband.
While mourning her friend, Claire gets a surprise – she discovers David dressed in women's clothes. Claire is shocked, but we see the shift in their relationship as they share this secret, exchanging furtive phonecalls and messages, and Claire starts lying to protect David. We see how David's secret helps Claire get in touch with her femininity too.
When the secret is discovered, Claire blurts out that David is gay, instead of the truth: "It was less ridiculous to say you're gay than a transvestite!" she says. Interesting that, in our liberal age, homosexuality is seen as much more acceptable than cross-dressing, which is still viewed as comical and ridiculous.
David says that "boys were born in cabbages and girls in flowers. I must have been born in a cauliflower". He genuinely feels in the middle, caught between two sexes. Claire asks him "what is life as a woman?" David replies "to do what I can't do as a man."
This film tackles tricky issues around identity and relationships in an entertaining, humorous and honest way.
'The New Girlfriend' is released in cinemas on Friday 22 May.