Escape to the chateau: behind the scenes
Angel Adoree and her husband Dick Strawbridge decided to invest in a French chateau when they discovered £280k would buy them 45 rooms, 12 acres and a moat. But it needed a lot of work... Angel spoke to us about the project and how she kept her sanity and sense of humour! The last episode airs on Channel 4 on Sunday at 7pm.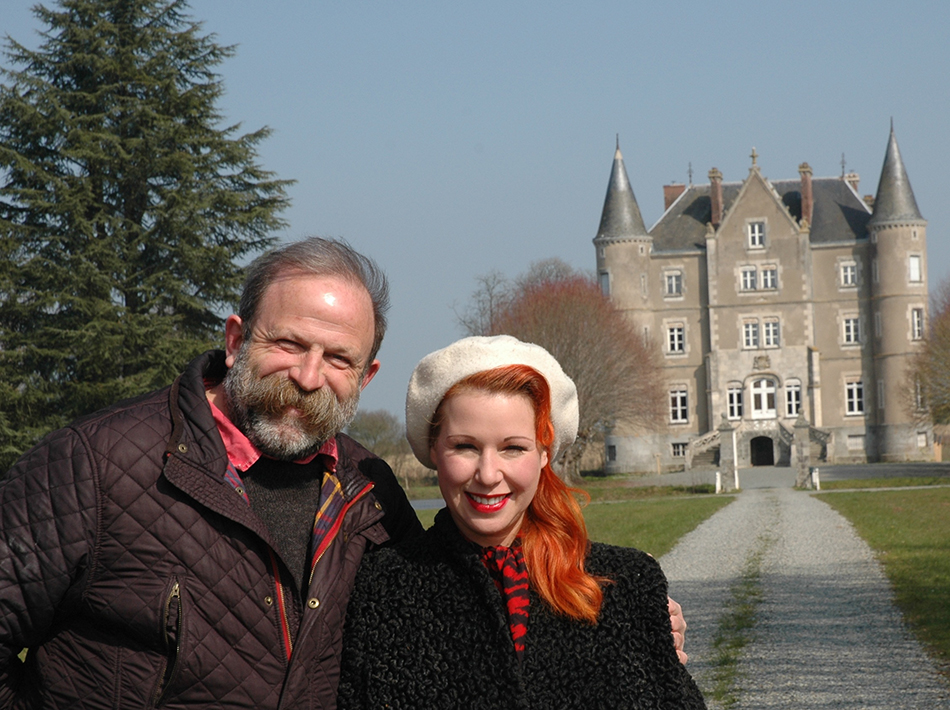 Angel Adoree is the 1940s vintage-clad redhead from East London who appeared on BBC2's Dragons Den and won backing for her hospitality business, The Vintage Patisserie. Dick Strawbridge is a retired army colonel, who has also appeared on Celebrity Masterchef and is an engineer and environmentalist.
What made you start to think about leaving your life in England and making the move to France? Was it just the fact that you could get so much more for your money? How did the dream start to become a reality?
Dick and I spent a rather romantic new year together in France in 2011. It was quite early on in our relationship and we stayed in a tiny gîte full of charm and character. Firstly, we were there because we love France – good food, wine, fresh air, room to breathe and time to reflect. It all started after we watched the film A Good Year. It's about a rich broker who has a lot of money, but no time to enjoy it and his life was passing by in a blur. After we watched it, Dick said: 'we could buy a house like this for next to nothing and live nicely off my pension and the odd job.' And that was the moment he planted the seed!
I immediately went online looking at property and got a bit carried away! France is so big and there are so many elegant properties. We could never afford to buy something like this in the UK. And to be honest, if we stayed in the UK, I would want to be in London. Neither of us knew what was ahead or what we really wanted or when the time would be right. It was four years, eight trips to France and two children later that eventually the property picked us!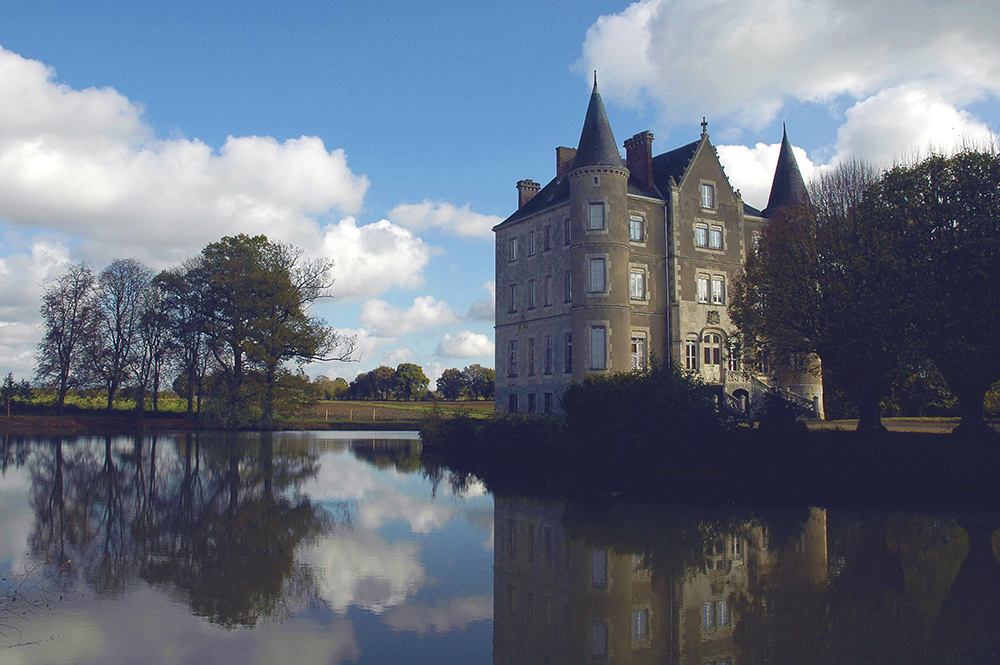 How did you cope with the challenges of having a young family too? Were your parents supportive?
I'm not going to lie and say it was easy. It's a big culture shock on so many levels and my French is not great. In addition, Dick had to go away for weeks at a time to America to earn money so we could meet our deadline, and I was left with the kids and was also in charge of all the renovation work.
Everything you take for granted when living at home becomes an adventure: driving, going to the doctors, buying new shoes, finding a nursery! But although it felt overwhelming at times, I just looked out of the window and reminded myself that we owned a castle!
My mum and dad were incredible. At the start, my mum was still running a restaurant in the UK, so my dad was with me more. And there is adjustment – you can't just jump on a bus to go to the shops! But it didn't take long before they were under the spell of good food and wine! One year later and they are spending so much time in France helping me out with the kids; I couldn't imagine what we would do without them. This is what families used to do – support one another – and Dick has always dreamt of having a multi-generational family. I hope one day that I get to help my little ones out like this, because I am so grateful to my parents.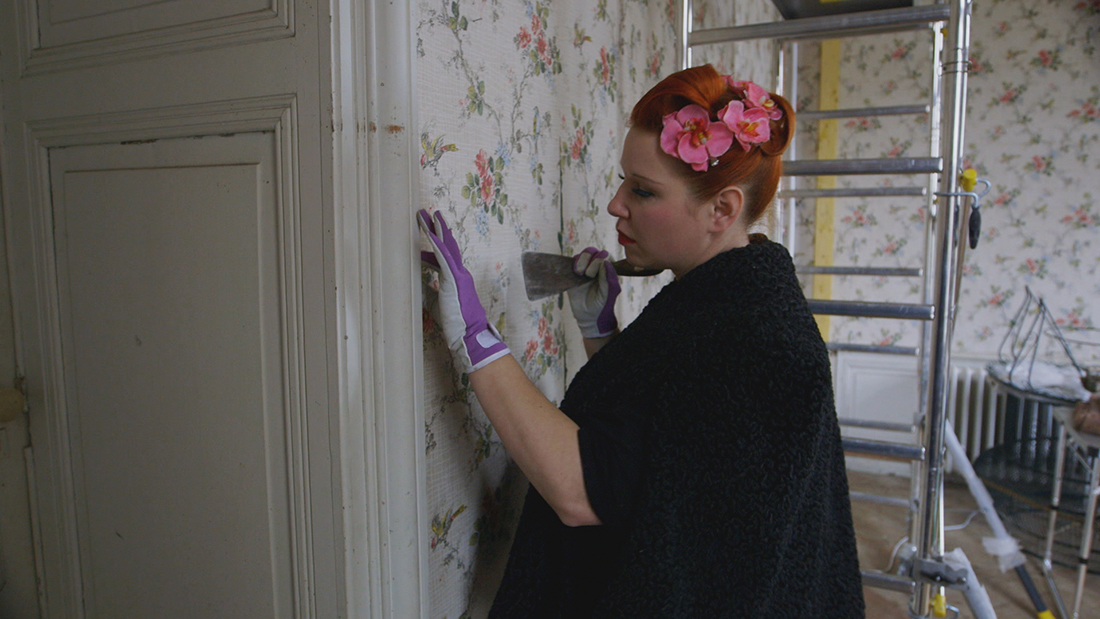 What about your business in the UK, the Vintage Patisserie?
Essentially, the Chateau is the Vintage Patisserie's HQ. Our clients are people that love my aesthetic and where, in the UK, it was me and my team of vintage-clad ladies, it's now Dick and myself concentrating on weddings. And Dick is now a big part of this offering, as he elevates the whole experience by hosting masterclasses like food-smoking techniques and fishing trips. Our skillset offers something for everyone and that's so important for a special experience.
With so much work to do on the property, did you ever worry you made a mistake? What kept you going?
I've never had a wobble to the point of regret. It feels 100% right. Our children Arthur, 3, and Dorothy, 2, are ridiculously happy and when they are happy, there is not a better drive to become the best you can and open up the world as much as possible for them.
Did you and Dick have any arguments about the chateau and what to do with it?
Yes, of course, every day! Dick and I are both very strong-minded, but we always come to a middle place that we are happy with. Dick might say different, though. Apparently he thinks I'm bossy!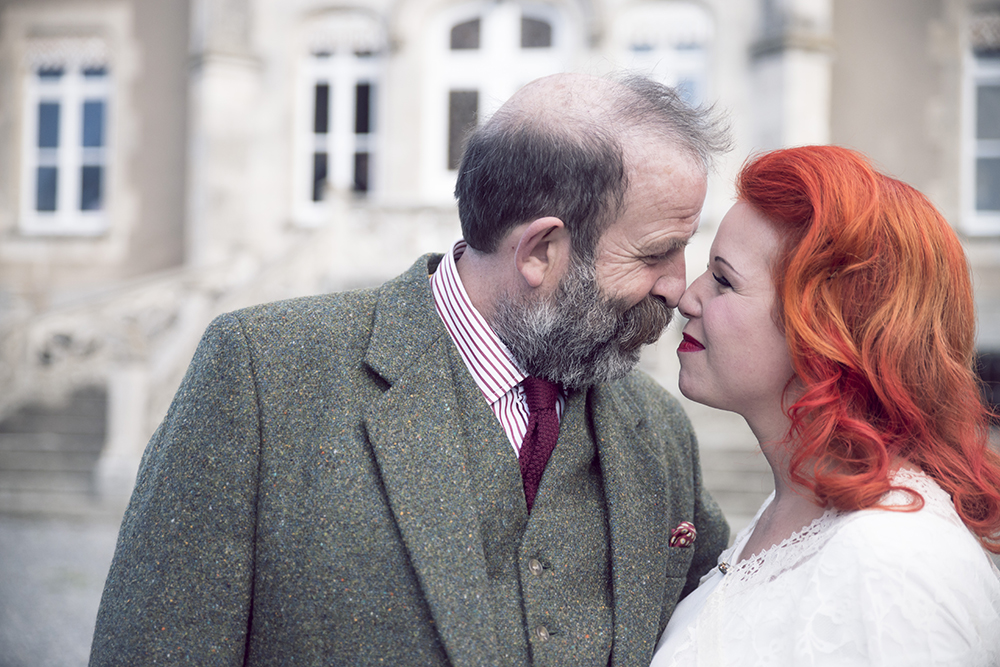 Did you ever worry you wouldn't get the chateau ready in time for your wedding? How do you deal with negative feelings and worries?
The last month before the wedding was definitely the hardest; we were still plastering, fitting the sewage and doing the main kitchen! There was an enormous list of things that we just couldn't complete before the wedding. And as a perfectionist, I had a few meltdowns. We were really exhausted and that did not help. But in all situations of running out of time, I wrote everything down and worked out with Dick what could be done in the last few weeks remaining.
We both worked around the clock and did our best and I promised all my friends and family that I would enjoy myself and not be in work mode all the time. And I took that promise really seriously. On the Thursday night (we got married on the Friday), there was so much stuff not complete and I still had to dye my hair! But the house was working and it was clean and full of warmth and I somehow managed not to worry. Weddings are so special. There are only a handful of occasions when all the family get together and the focus was on having a good time.
What is life like now? What's your typical day like?
Life is settled and although there is so much going on, the whole place is coming back to life. Dick has been working hard in the walled garden, we have our first harvest, we have planted fruit trees, and we have pigs! And we are slowly working on the house getting ready for our first official wedding in a couple of months.
Our typical day is: kids run into our room around 6.30am and we all watch Peppa Pig for a bit while we (Dick and I) wake up! Breakfast with fresh eggs every day in the salle a manger, then playtime for a couple of hours. Lunch in the downstairs kitchen, then the kids normally go out with my mum and dad for the afternoon while I get on with work! Bedtime at 7pm for the kids, then Dick and I relax with a glass of wine on the steps in the late evening sun. A lot of evenings we work; sometimes we just watch a film and doze off until our 6.30am wake-up call the next day!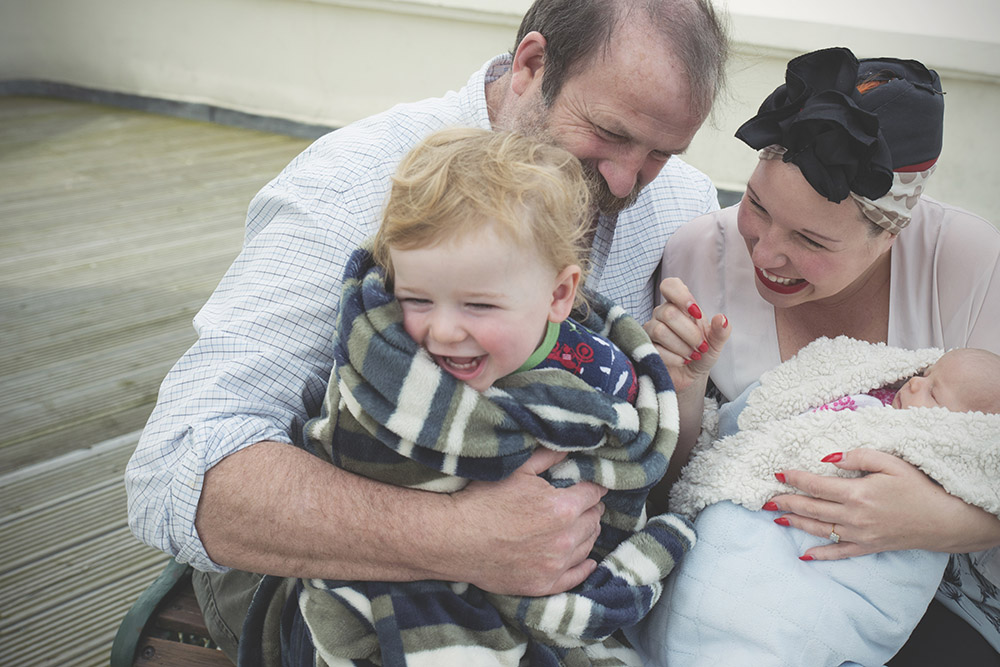 Are you immersing yourself in French culture and learning the language?
I am, but I find it harder than Dick because I'm not confident. Arthur starts school in September and we just went to the open day. Some of the mums spoke in English with me and I think I nearly made myself understood a couple of times in French!
Any more projects on the horizon?
Tons! We are offering all sorts of events and courses at the moment, from foodie weekends to floristry workshops with Jay Archer Floral Design, vintage hair and make-up courses with Lipstick and Curls, and of course elegant vintage weddings; our home was built to host weddings!
Follow Angel and Dick on their French adventure in Escape to the Chateau on Sunday 19 June on Channel 4. Also available on catch-up. For more information about Chateau de la Motte Husson, click here