Eco escapes: the Amazon
Our Contributing Travel Editor, green girl and SPA.Kitchen founder, Daisy Finer, rounds up the world's best ethical holidays starting with Peru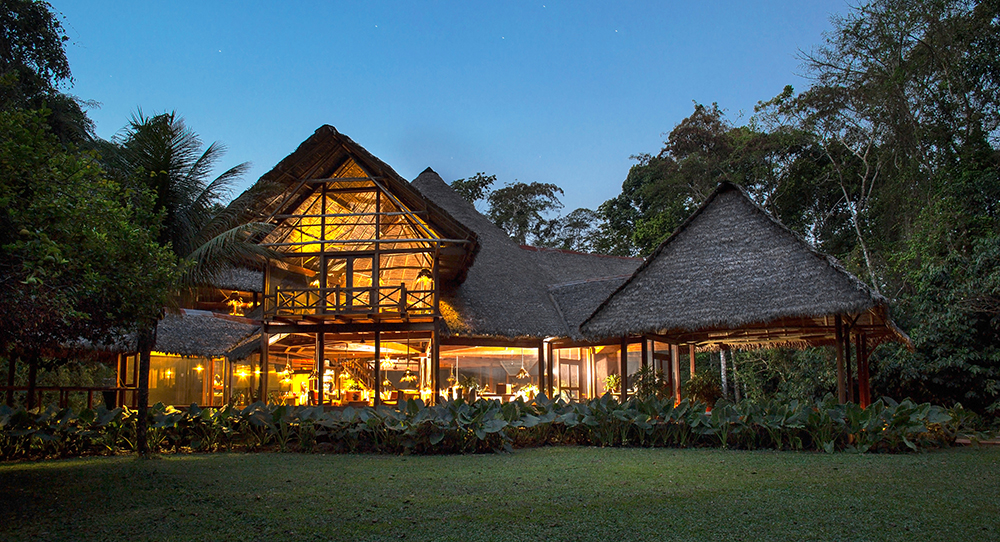 Many of us are trying to live in a conscious way; we have never been more aware of how we shop (mindfully) and what we eat (healthily, preferably organically). But what about our holidays? Here, we offer an overview of some of the most exciting eco hideaways in the world – but don't panic, this isn't about grungy camping or communal showers, this is about immersive pleasure, knowing the planet isn't suffering as a consequence. Fresh air, delicious food, a naturally splendid setting and an authentic heart were our top priorities when we went exploring, eco-style.
Authentic adventure: Inkaterra, Peru
I am ever on the hunt for a breath of fresh air. What could be more enticing than the lungs of the earth? True adventure in happy cahoots with conservation and carbon neutrality? I am in a boat, traversing the gaping, majestic Rio Madre de Dios in the Tambopata region of the Peruvian Amazon, approaching this very experience. My hosts are Inkaterra, a Peruvian company dedicated to sustainable tourism, ecological learning and responsible local employment.
I enter the secondary forest at Hacienda Concepcion. The re-emerging jungle drips with beauty and bounty. My eminently comfortable Machiguenga cabana (thatched-roof hut) is open to a lagoon patrolled by caiman and the giant river otter I spot from a canoe. It is satisfyingly furnished in sparse hefts of wood. Through the night, the power is saved. These are the delicate luxuries eco-travel provides. Daylight gives way to a flickering candle and a kerosene lantern against the absolute dark. A leaf clatters to the forest floor, for lack of background noise, and I wake to the raucous call of howler monkeys. A twilight river outing brings my first sighting of caiman and a three-toed sloth.
I hike to Lake Sandoval in the early morning, lurid macaws overhead. My canoe winds through backwaters to the lake. Ibis stalk and vultures circle the most serene of panoramas; the vast water fenced by 40m palms. The excursions provide activity and exertion, if you like; plenty of alternatives if you don't, and always immersion in the flora and fauna through the gracious guides, whose wavelengths are tuned to the faintest toucan call or whiff of a simian in the highest canopy.
Further along the Madre de Dios, and a second lodge, Inkaterra Amazónica, deeper into the primary rainforest. My cabana is open to the river. I have my lanterns, a hammock and a comfortable bed and I wonder how I could ever have wished for anything more, so elevating is that subtle shift into natural breath and rhythms. Here, the forest intensifies in scale and density. The incredible canopy walkway, towers and suspension bridges 29m above the forest floor allow an unmissable exploration of its dappled heights, where red howler monkeys pick the vivid flowers from the tallest treetops and the green quiet is punctuated by birdsong and sprays of colour. Each river excursion, canoe, jungle or swamp walk yields new marvels. From capybara and dark tarantula to marauding throngs of parakeets, blazing heliconias, and Amazonian nuts and raw cacao for the tasting. In the lodge, a happy introduction to Amazonian cuisine; local, humble ingredients with a zing of freshness. It is simultaneously harmonious and luxurious.
Throughout, it is this symbiosis that makes this Amazon experience so vivid and authentic. It is the win-win; the mutual exchange of wealth and the uncluttered conscience. My guide speaks of his pride in being able to maintain employment that does not exploit the people or natural resources. This is the joy shared. It brings us closer to the forest, which gifts us our food and the roofs of our cabanas. Inkaterra's sustainable model provides security for these swatches of rainforest. It provides an exquisite, natural experience for visitors, full of immediacy and without a heavy tread from our tourists' jungle boots; where we might drop our excess baggage and enjoy true adventure and illumination, neither adulterated nor adulterating. Paul Rushton
For more information on Inkaterra, visit inkaterra.com or call +51 1 610 0400. British Airways flights from Gatwick to Lima start from £653 return. Audley Travel (audleytravel.com, 01993 838620) can arrange an 11-day itinerary to Peru including the Amazon, Cuzco, the Sacred Valley and Machu Picchu from £3,890 per person, including direct and internal flights, private transfers, excursions, accommodation and all meals