Cheer up, here's the good news…
We're constantly bombarded with negative news stories and frightening statistics, but looking behind the headlines can turn up surprisingly positive results, says Annie Makoff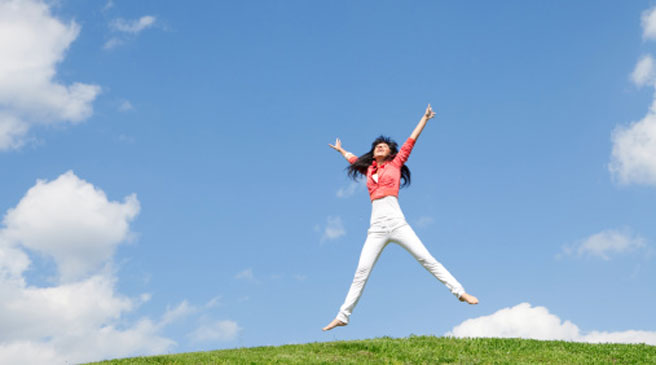 This morning when I woke up, the sun was shining and I felt good – optimistic, energetic and eager to see what the day would bring.
Over breakfast, I turned the radio on. Yet another ageing celebrity had been arrested for sexual offences. There was more bad news on the economy. I picked up a newspaper later. A 15-year-old boy had been stabbed to death. Homelessness is on the rise. Global warming; NHS cuts; another food scandal – by the time I started work, I felt defeated, exhausted and depressed.
I don't want to stick my head in the sand, but isn't it tempting to just turn off?
Absolutely, says clinical psychologist Dr Cecilia d'Felice. She believes that going on a 'bad news diet' – restricting the amount of news you expose yourself to – can protect your mood, and also enable you to look at the bigger picture in a clearer, more emotionally balanced way.
'We are so influenced by the media and its portrayal of global events that it influences how we take personal bad news,' she explains.'Being saturated with bad news on an almost hourly basis can make our own world feel out of control. It can make us reactive rather than reflective.'
The problem, says social psychologist Dr Sandra Wheatley, is that our brains are wired to zoom in on bad news, and to give it undue precedence. 'At an evolutionary level, bad news shows us what we need to react and attend to so we can protect ourselves. That's why people are more comfortable considering the negative rather than the positive. Even statistics, when they are reported, tend to focus on the negative.'
Economic research, for example, often focuses on an overall picture, which may be misleading on the reality of life for many of us, says Dr Marianna Koli, convenor and senior lecturer in economics at New College of the Humanities in London. 'Economists tend to talk about average figures and the macro picture, which is useful if you want to see if government policies are working, but on a micro level, things are very different,' she says. 'Life satisfaction indicators like good health and family have not changed since the recession. People are compensating for the general fall in incomes by spending more time with family and looking after their health.'
The headlines, and the good news
Here are the bad news headlines, click to read why Psychologies says it's nothing to worry about.
'Healthy life expectancy is shorter in the UK than abroad' – The Guardian
Psychologies says: 'We're getting healthier'
'Warning over UK child wellbeing' – The Daily Express
Psychologies says: 'Our children's wellbeing is generally improving'
'Cloned babies fear as stem cells are created from skin' – The Daily Express
Psychologies says: 'Potential for great change as technology advances'
'Majority of British women would pick being a housewife over having a career' – Daily Mail
Psychologies says: 'Women have more options open to them than ever before'
'First-time buyers will be age 40 before they can afford to buy their own homes' – The Sun
Psychologies says: 'Most homeowners are better off''