Braised chicken with bacon, saffron, tomato and potato
Try this warming one-pot chicken recipe from Shelagh Ryan, founder of Lantana Café and author of 'Café Kitchen'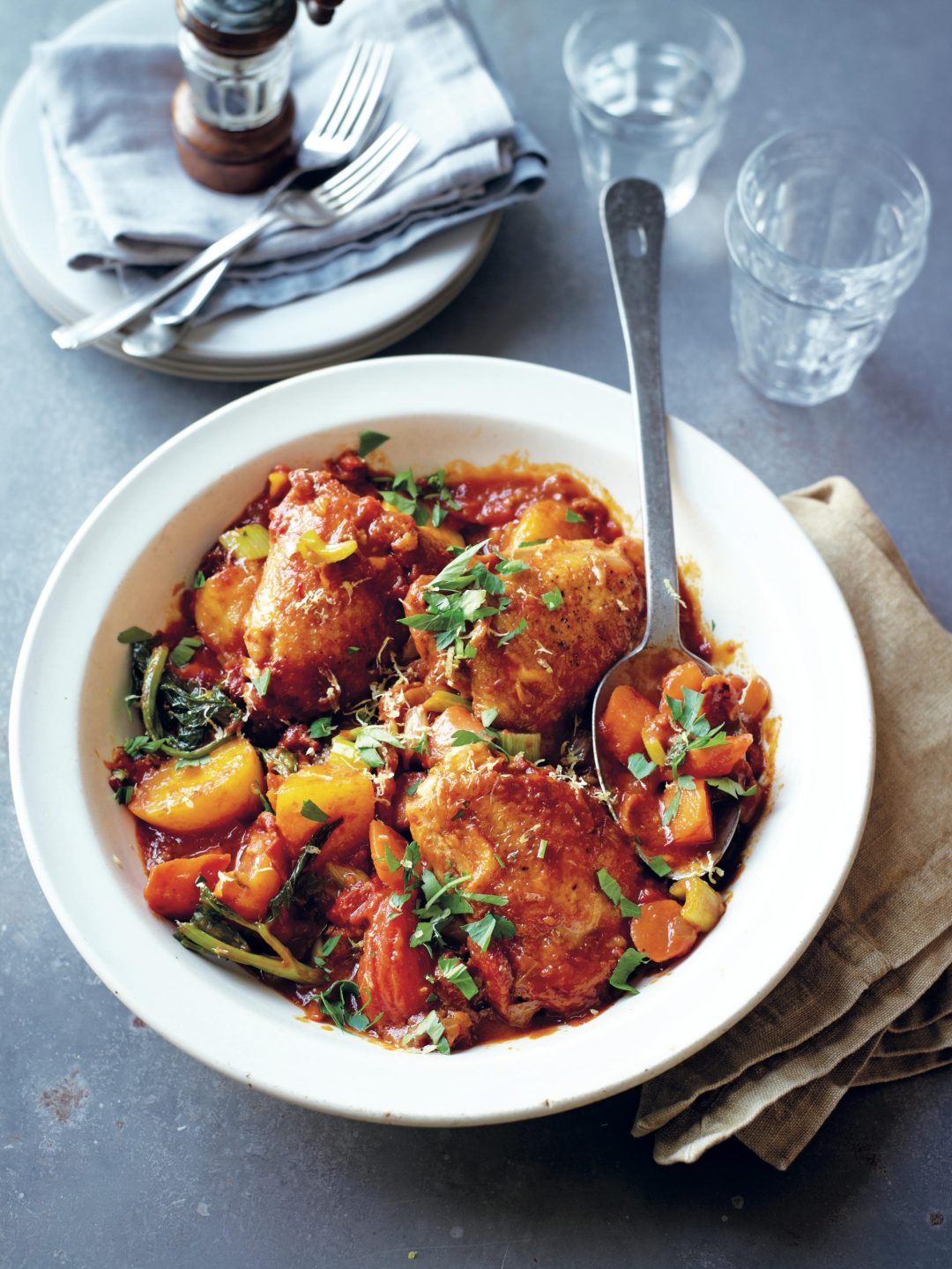 It's always good to have an easy, one-pot stew in your repertoire and this is a delicious and rustic dish. The parsley and lemon zest added at the end gives it an extra flourish of flavour.
Serves 8–12
Ingredients:
8–12 chicken thigh fillets, skin on
4 tablespoons olive oil
600g bacon lardons or thick-cut streaky bacon
700g (about 2) chopped onions
775g (about 4) peeled and diced carrots
300g (about 2 sticks) diced celery
4 garlic cloves, crushed
1 teaspoon smoked paprika
1 fresh red chilli, deseeded and finely chopped
200ml red wine
2 x 400g cans chopped tomatoes
400ml chicken stock
A good pinch of saffron threads
1kg potatoes, peeled and cut into chunks
Grated zest of 2 lemons
Leaves from a small bunch of flat-leaf parsley, roughly chopped
Sea salt and freshly ground black pepper, to season
Method:
1. Season the chicken fillets with sea salt. Heat the olive oil in a large, deep frying pan set over a high heat. Add the chicken and fry until golden brown. Remove the chicken from the pan and set aside.
2. Add the bacon to the pan and fry over high heat for 2 minutes. Add the onions, carrots, celery, garlic, paprika and chilli and stir well. Cover with a lid, reduce the heat slightly and cook for 5–10 minutes, until the vegetables have started to soften.
3. Stir in the wine and let it bubble for 2–3 minutes. Add the chopped tomatoes, stock and saffron and bring to a simmer. Allow the sauce to simmer and reduce for about 20 minutes.
4. Return the browned chicken fillets to the pan. Add the potatoes and the zest of 1 of the lemons, and simmer for a further 20 minutes, until the potato is cooked and the sauce has thickened.
5. Remove from the heat and stir through the chopped parsley and zest of the remaining lemon. Check the seasoning and adjust as required.
From Café Kitchen by Lantana Cafe's Shelagh Ryan (Ryland Peters & Small, £16.99). For more from Shelagh see her blog at Scrambling Eggs or go to lantanacafe.co.uk
Photograph: Kate Whitaker