Blueberry cheesecake doughnuts
To celebrate National Doughnut Week, we're sharing this lip-smacking blueberry cheesecake doughnut recipe from Waitrose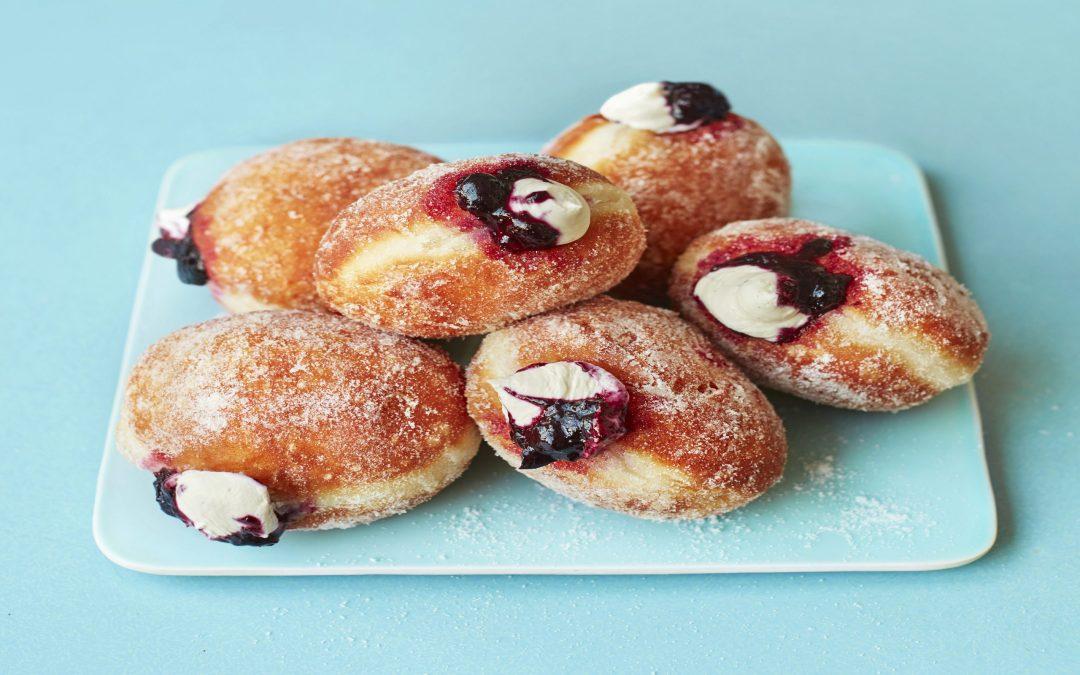 Stock up on the ingredients and familiarise yourself with the method and cooking tips to perfect this blueberry cheescake doughnut recipe:
Preparation: about 4 hours (includes resting, rising, proving and cooling)
Cooking: about 35 minutes
Makes: 16 large filled doughnuts
Ingredients
200ml semi-skimmed milk
100g unsalted butter
½ tsp vanilla bean paste
50g caster sugar
200g strong white bread flour
200g plain white flour, plus extra for dusting
½ tsp fine salt
7g sachet Allinson easy bake yeast
3 eggs (150g), beaten
Sunflower or vegetable oil, for deep frying
Blueberry compote
300g frozen blueberries
2 tbsp caster sugar
1 tsp lemon juice
Vanilla cheescake cream
250g tub full-fat soft cheese
170ml double cream
2 tbsp caster sugar
½ tsp vanilla bean paste
Sugar coating
150g caster sugar (you won't need all of it, but the excess helps give an even covering)
Method
1. Pour the milk into a small saucepan and add the butter and vanilla. Heat gently until the butter melts and the milk is warm, then remove from the heat.
2. Mix the sugar, flours and salt together in a large bowl, then make a well in the centre and add the yeast. Test the milk temperature with your little finger – it should be warm but not hot. Pour the milk mixture into the well and leave to stand for five minutes to let the yeast dissolve. Add the beaten eggs, then mix with a wooden spoon to a smooth, very wet dough (almost a batter); set aside for ten minutes.
3. Beat the dough for one minute; you'll find it has more body to it. Cover the bowl with oiled cling film and leave in a warm place for two hours, or until at least doubled in size.
4. Generously flour the worktop and your hands, then scrape the dough from the bowl. Flour the top of the dough too, then gently knead by bringing the top edge into the centre, turning the dough a quarter turn and repeating. Do this for 2-3 minutes. Add more flour if your hands get sticky (the odd sticky patch of dough will mean a better doughnut, though, so don't be put off). The dough should feel soft, fluid and bouncy. Flour two large baking sheets.
5. Divide the dough in two, roll each piece into a rough sausage and cut into 8 equal pieces (about 50-60g each). Use more flour to shape into smooth balls. Place the balls on the floured baking sheets, well spaced out, then cover loosely with oiled cling film and leave in a warm place to prove until almost doubled in size – about 45 minutes-1 hour. (You want the dough to be well risen but not so much that it is starting to lose shape.) It is now ready to cook.
6. For the compote, bring the ingredients to a simmer in a pan. Cook, uncovered, for 5-7 minutes, until jammy and the berries have collapsed. Mash well and leave to cool.
7. For the cheesecake cream, beat the ingredients for a few seconds, until smooth. Chill both.
8. To cook the doughnuts, fill a large, deep, heavy pan ⅓ full with oil (or use a deep-fat fryer) and heat to 180˚C. Line a few trays with kitchen paper. Fry the doughnuts 2-3 at a time for two minutes on each side, or until deep golden with a pale ring around the middle. Using metal tongs, transfer onto the kitchen paper to drain. For the coating, put the sugar in a shallow container. Toss the doughnuts to coat; cool.
9. Put a large 1cm piping nozzle into a piping bag; fill with the compote. Poke a hole in each doughnut using the handle of a teaspoon or wooden spoon; pipe compote into each. Clean the bag and nozzle, then pipe the cream into the same hole until the doughnuts feel plump.
Cook's tip
You can use jam instead of the blueberry compote, if you prefer.
This recipe is courtesy of waitrose.com. Find more recipes and reviews over on our food section.