Fearless at 40: The Beginning…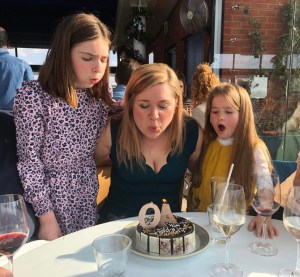 Last Friday, I turned 40!
Initially, I hadn't really thought too much about this milestone birthday, just about the party celebrations, but back in October last year my Mum was diagnosed with two different cancers. I guess the prospect of possibly losing my Mum, who has been the most influential person in my life, combined with the big birthday, sent me into a bit of a panic, or possible mid-life crisis.  So after more than 30 years of being quite comfortable with the 'non-sporty type' label, I decided something needed to change.
One Sunday, last October, before doing the weekly supermarket shop, I found myself in the local Pure Gym, I rang the bell…and then ran back down the stairs – the fear was very real!!  In one of life's sliding door moments, the guy who would go on to become my PT called out and I sheepishly admitted I was thinking about joining and wanted to take a look.  He kindly showed me round, read my fear well, and has been quietly cheering me on (while torturing, sorry teaching me) for the last six months and it has been nothing short of a total transformation.  It is far more than just the physical change, in reality, it has been far more about my mindset and own self-limiting beliefs.  My original goal was just to do something I enjoyed and I would stick to…and now I'm training in the gym three times a week and working out at home, getting my steps in and I'm probably in the best physical health of my life – and it turns out all the things people say about healthier living is actually true!  Who knew?
So, what have I learnt from the final six months of my thirties?  Well, yes I now know what an RDL is and Bulgarian Split Squats but most importantly I've learnt that beautiful things can come from challenging our self-limiting beliefs and leaning into what scares us or makes us uncomfortable.  The magic truly happens when we allow ourselves to sit with our own discomfort and learn to get a bit more comfortable with it and explore what is really going on.  And so, for my fortieth year, I have set myself a challenge to do at least one thing that scares or makes me uncomfortable every month and see what I learn about myself on the journey.
If you are experiencing any of life's big milestones or you want some help navigating some of your own self-limiting beliefs and you would like to explore going on that journey together, please get in touch for a no-obligation chat, then please reach out.  Alternatively, if you just want to follow some of my escapades over the next 12 months, then make sure to keep checking back regularly.
Here's to living fearlessly at 40…and far beyond!!
Jessica Brewer
Career & Leadership Coach
Jessica Brewer is a career and leadership coach with over a decade of experience helping business owners to build engaged and high performing teams using a variety of coaching tools and techniques that support employees and leaders in a variety of ways. She has enabled her clients to scale, in some cases to multiple eight figure businesses, whilst retaining their ability to be themselves and create space for themselves and those around them. As a Chartered Master of the CIPD, an ICF accredited coach, and a qualified Mental Health First Aider, Jessica draws on her skills to help business owners create workplaces for people to thrive, having a tangible impact on their bottom line. She is passionate about creating a better, more inclusive world of work for future generations, inspired by her two young daughters and her own experience of work place bullying. In her spare time, she is also an active volunteer with the Young Women's Trust, supporting young women with career coaching.