Why I love you letters make a lasting impact
As the popularity of letter writing continues to decline, Mary Fenwick takes a closer look at the lasting impact of love letters...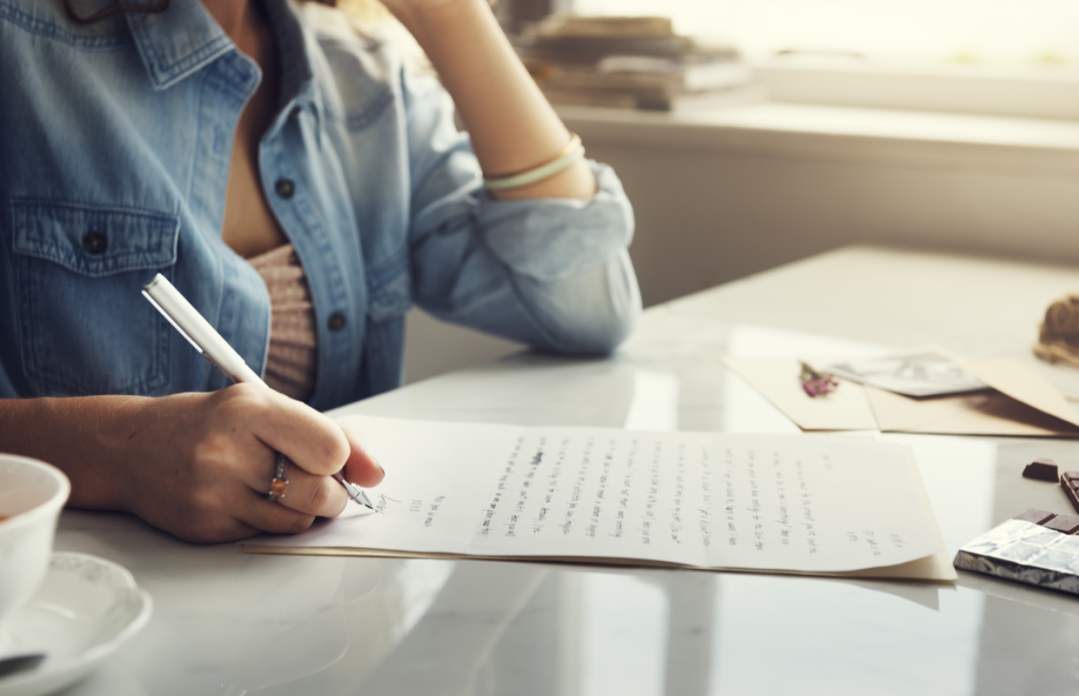 When you commit your thoughts to paper, you make a declaration that you have held someone in your heart for the entire time of your writing. And what could possibly be more touching than that, asks Mary Fenwick. Here's why I love you letters make a lasting impact…
My family have always been avid letter writers. My grandparents wrote letters; my parents wrote letters; I wrote letters to my cousin when she was at boarding school. I stood over my children and insisted they wrote thank-you letters.
In my family, we always knew a letter might well be passed on. It was all a bit P.G. Wodehouse: Uncle James' letter about cousin Mabel's peculiar behaviour being shot around the family circle ('Jane, please read this carefully and send it on').
Nowadays, however, I don't have any ongoing correspondence, not like the exchanges I used to have with two great aunts. One of them wrote to me after abdominal surgery ('My belly looks like a crinkle-cut chip'). The other, at age 86, wrote about startling her lunchtime friends with the words 'I think sex is gorgeous'.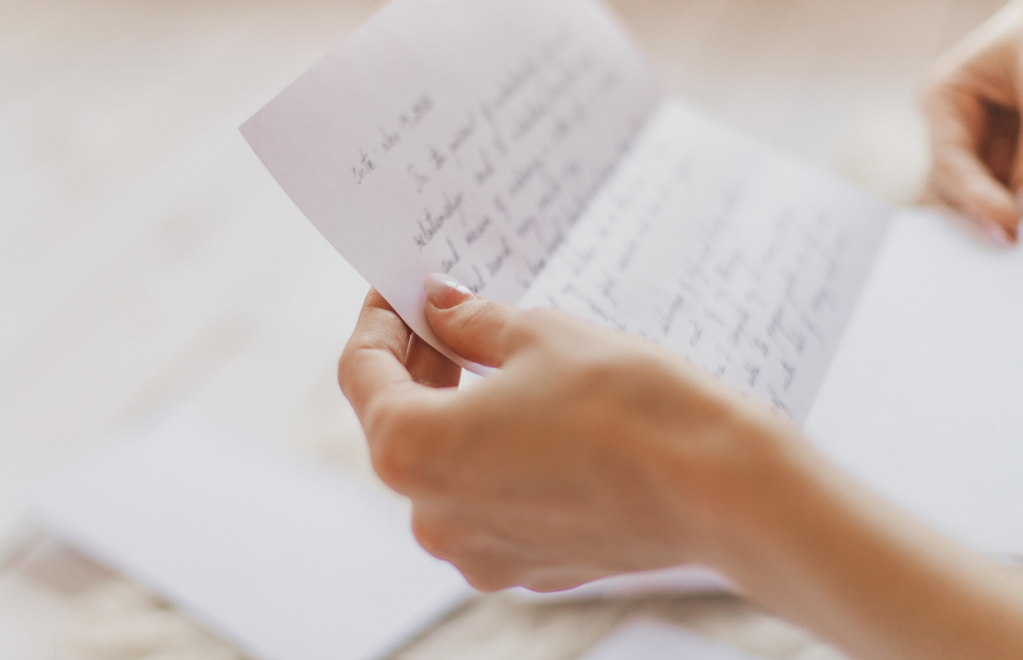 Why does no one send 'I love you' letters anymore?
Once, I would have declared confidently, 'Writing letters is part of who I am'. But now? I'm not so sure. Why should anyone write to me if I'm not writing to them? How about you? Do you drop a note to let someone know you're thinking of them? Will you write postcards on holiday this year? Or are we watching a centuries-old art die out?
The statistics look grim. The Postal Museum talks about a 'precipitate' drop in letter volumes since 2006, and 'a flight of social and transactional correspondence to the internet'.
It's the social correspondence that I'm interested in. All those missives – love letters, condolence letters, the letters that record your view of some historical event – who sends them now? I put a call out on social media (yes, the irony): Has a handwritten letter changed your life? The stories come flooding in.
The power of love letters
Mental health consultant Mia Livingston says she wouldn't exist at all without letter writing, because it's how her parents met: 'Two schools in Sweden and the Philippines did a letter exchange for students to practise English. We still have every one of the hundreds of letters sent between my parents through the years. They met in their 20s and were madly in love for 55 years, until Dad died.'
For artist and musician Junseok de Back, his mother gave him something even more unexpected: 'I was born in South Korea and adopted as a baby. When I was 16, I received a letter from my birth mother. It changed everything – it even showed me how to spell my own name correctly.'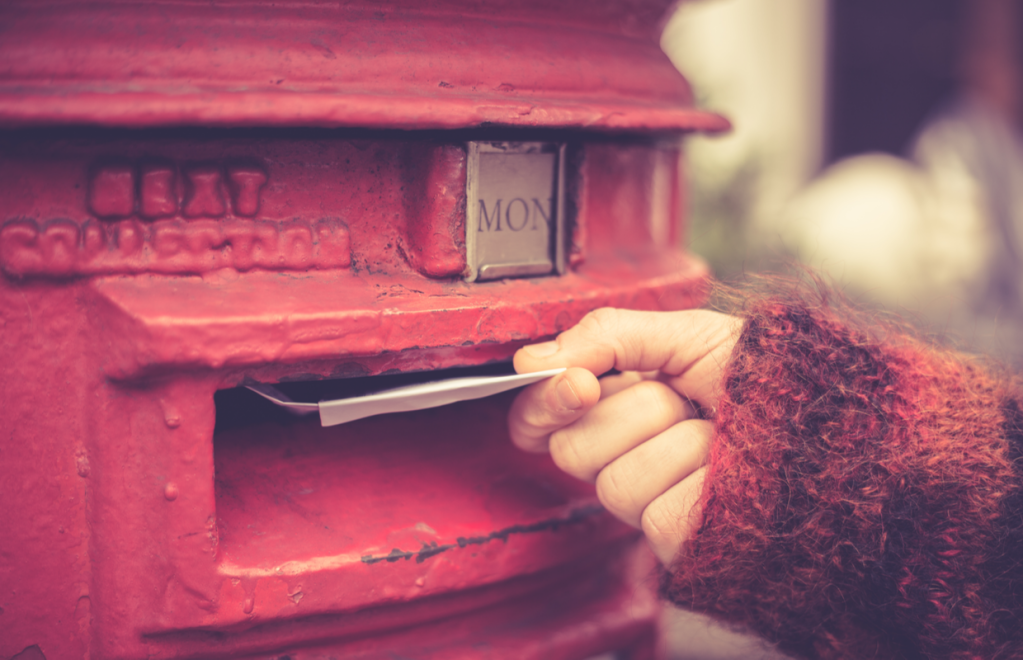 Letter-writing projects
It's clear that some people are determined to keep the flame alive. In Dublin, Ireland, Liz Maguire hosts a digital archive of vintage love letters, Flea Market Love Letters, 'a resource for historians, romantics and especially romantic historians'.
During lockdown, New Yorker staff writer Rachel Syme got 10,000 strangers signing up to pen pal exchange Penpalooza. And, in England, we have The Hand Written Letter Appreciation Society, with members from 29 countries. Founder Dinah Johnson calls it 'a quiet revolution in the art of intimacy'.
She loves social media, but 'sharing' online is different from writing to just one other person: 'You can be flawed in a letter – you don't have to put a face on, do you? And you can put in the little details that make it unique. If you put that stuff on the internet, it needs to be really funny.'
It's the low-key gentle side that she loves – 'letters don't seek celebrity' – although her high-profile supporters include Stephen Fry and Dermot O'Leary, and Dame Vera Lynn was a fan.
Passing the pen
Her children keep up the habit, too: 'You think you know your children well. And then they write a letter and there's a different side to them – maybe a funny angle – and you think, oh, I didn't know that was in him.'
This resonates with me, because I do still occasionally write to my children, and they write to me. My youngest daughter kept one of my letters to show her flatmates, because apparently not every mother tells the story of their birth to a child on their birthday (well, who else is going to tell her when I'm gone?).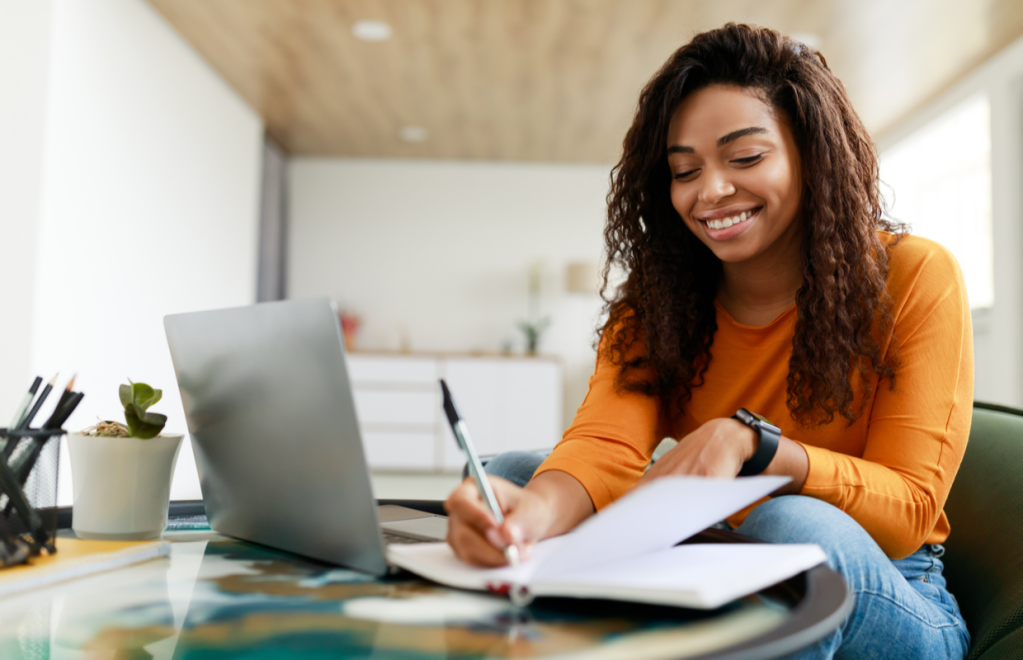 The joy of writing I love you letters
I find that I think differently when I hand-write, and there's just me and the page. Despite my earlier reflection on our family letters being passed around, there's something about an email that feels more likely to be shared and misquoted.
One thing I notice about all the stories people share with me is how excited they are: there's pride and delight and joy. This seems to apply even if the letters themselves are sad or difficult; they form a real human connection and become part of a legacy. This clearly shows to us why I love you letters make a lasting impact.
How letters help with grief
Charlotte Tarrant is a freelance writer, and the founder of Starlike books. 'I've written almost 50 letters to my dad since he died in June 2019,' says Tarrant. 'It's been so helpful in the grieving process and in keeping our relationship alive.'
She's published those letters on a WordPress site, and as I read it, those words about intimacy and small-but-significant details come back to me. Tarrant writes about being picked up from a friend's place when she was a child.
It had been snowing: 'My hands were in gloves on top of your head, messing around with your thick hair. You carried me all the way home, Dad– we didn't say much to each other – but it was just fine in the white and silence together. Rather like now.'
Liz Kentish is the managing director of Kentish and Co, working in behavioural change management. She remembers her dad differently. 'He died when I was 21, and I didn't feel I'd had enough time with him. He was very English; not at all emotional.
'But one thing I remember, on a Wednesday evening he used to watch M*A*S*H, and I remember him roaring with laughter at Alan Alda, who played Hawkeye. So I wrote to Alan Alda. I didn't hear back – but just sending it made mere connect with my dad.'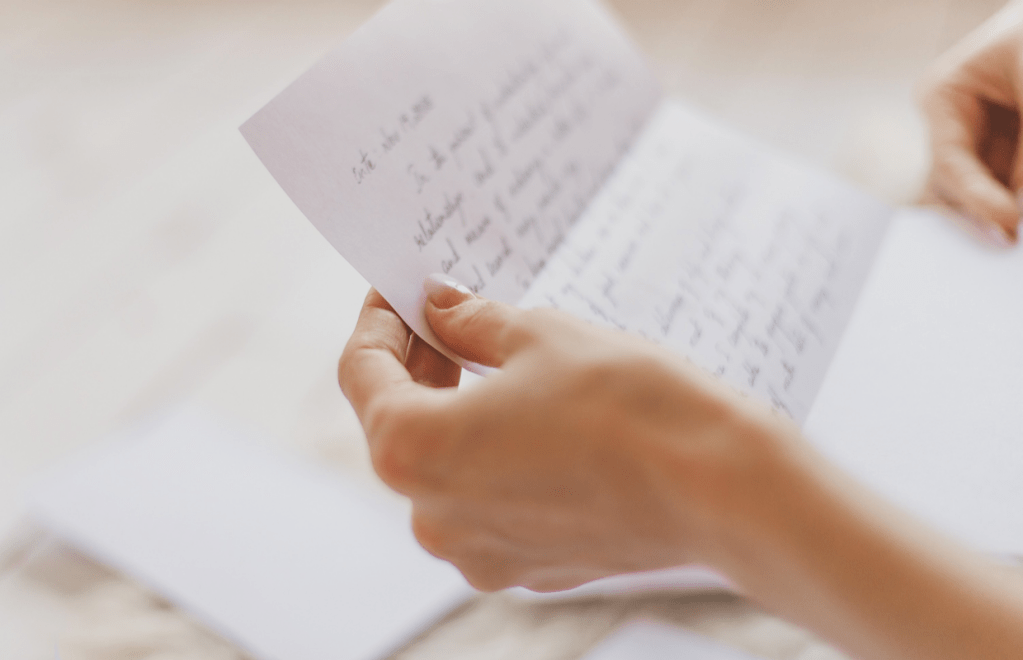 Writing verses receiving
For Kentish, it doesn't matter if she gets an email or WhatsApp message in return: 'I've decided it's much more about the writing than receiving. It's landed. They know that during that time I spent writing to them, I held them in my heart.'
I love that phrase: 'I held them in my heart'. It takes much longer to write a letter than it does to read it, and for all that time you're thinking about the person you're writing to – although they might be unaware. This demonstrates why I love you letters are so important.
It's a bit like the way runners talk about fast-twitch and slow-twitch muscles for speed and endurance; emails have speed, but letters have endurance.
A letter doesn't need to be written on beautiful stationery (that's a whole other story) – it can be scribbled on paper ripped from a jotter pad. Your only limiting factors are likely to be envelopes and stamps (maybe I can become a person who always keeps a packet of stamps in my purse).
Aside from everything else, I just love those old-fashioned letter sign-offs, and the idea that we might start communicating more sincerely and faithfully.
The permanence of I love you letters
After my husband died, I carried around a card that he had given to me. It was from years earlier, when I'd gone away for a month without him. He wrote: 'Whenever you think about me, I'm with you,' and that's what I needed to know. This clearly shows why I love you letters make a lasting impact.
When he was in the hospice, he also wanted to write letters to our children, but didn't have the energy by that stage. It's an idea that's mirrored by the charity From Me to You, which arranges for letters to be delivered to people undergoing cancer treatment.
Talking about the absence of a sense of touch in today's digital communication, the charity's co-founder, Alison Hitchcock, explains: 'I can't say that a letter will release oxytocin like a handhold. But as one of our writers once wrote, "This is me, reaching out my hand to you." It seems to me that this is just what letters are.
From Me to You: writing letters to cancer patients
Hitchcock began writing to her friend Brian when he was in cancer treatment. The idea grew into From Me to You, which delivered 9000 letters to cancer patients last year. It's changed Alison's life, too, and she shared herstory with me:
'To begin with, Brian was just an acquaintance. I made this rather odd offer, that I would write letters to him to cheer him up through his treatment. I have no idea why I said it. The only things I ever wrote were 60-word posts to go on jobs boards.
'Brian's cancer lasted for two-and-a-half years, and I wrote over 100 letters. I loved the way that I started to see the world. I'd go around with a notebook, hunting out good or funny stories to share with him, and it made my own life much nicer.
'You slow down and become more reflective and considered. You give of yourself a lot more, because it's very intimate between the two of you, and other people are not going to see it.
Comforting people in their time of need
'He used to take my letters to chemo, and he said it was like I was there with him. He always wanted to go on his own. He had a partner, and lots of family and friends, but he didn't want to burden them. Or he would save the letter for a point when he was feeling quite low, and sit down with his cup of tea. And he knew it would brighten up his day.
'By the time Brian got the all-clear in 2013, we were best friends. The letters completely changed my life. I'd fallen in love with writing, and I signed up to do an MA in creative writing as a result.
'In 2016, we started the charity. We encourage people to write to someone they know with cancer, because it's lonely when everybody else has gone to work or the pub, and you're at home. And the only thing that you get is pity.
'Something as simple as a card or a letter can get through that bubble. And it's all on the person's own terms. They read it when they want; they might reread it; or put it in their memory box. But they know that you were thinking of them.'
Words: Mary Fenwick | Images: Shutterstock