What I learned from an adventure holiday in France
Rachel Roberts tried an adventure yoga holiday in a bid to overcome her biggest fear – and got much more than she bargained for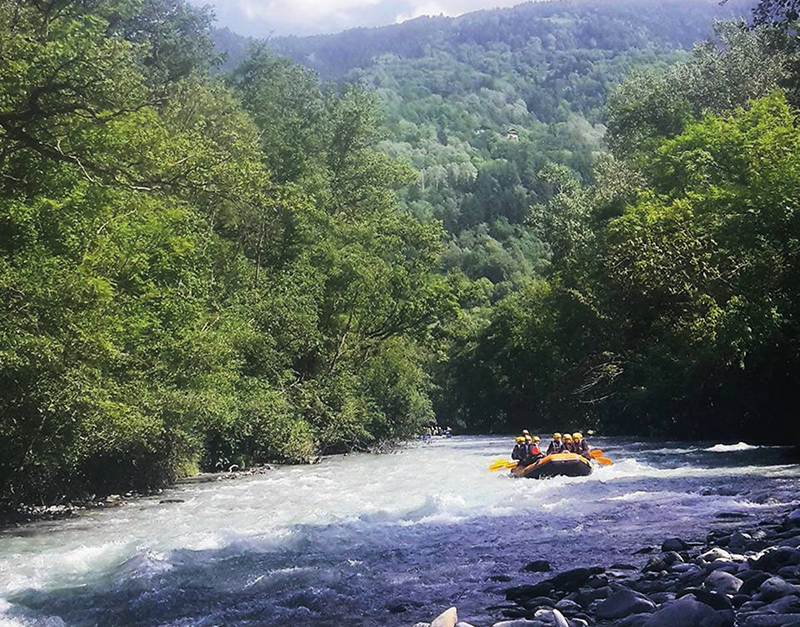 Being honest, I've always loved a challenge. And as birthdays speed by, it feels even more important to do things that coax me out of my comfort zone. Learning, having new adventures, testing yourself – all of these things are linked to happiness and a positive mindset, continuing to cultivate a keen curiosity about the world. My new motto: Bring. It. On.
From hardcore bootcamps to silent retreats, I've walked many paths in a bid for personal growth or transformation; so the ethos behind AdventureYogi holidays firmly resonated with me as I went for the AlpineYogi option in the French Alps. Director and co-founder Michelle King believes the life-changing moments and emotional shifts many of us are seeking don't have to be painful; they can be experienced while we're having fun, doing things we enjoy.
So alongside the calming 'yin' of yoga, her retreats and holidays encourage getting outside for the physical 'yang' of pursuits like hiking and skiing.
Facing my fears
But it was the opportunity for white-water rafting that really clinched it.
The first time had very nearly been my last. Rewind five years to another part of France. Our crew had successfully negotiated the rapids without anyone overboard, and we were flushed with success. That's when our gung-ho instructor suggested we all jump off a 15ft-high rock into the river to celebrate. My breaststroke, perfectly fine for gentle 'lady' laps in the local swimming pool, didn't stand a chance against the churning, tumultuous water, and I was swept helplessly downriver.
Though I lived to tell the tale – hauled out by two instructors five minutes later – the heart-twisting terror of the experience has remained and I've been unable to duck my head underwater since. This would be the chance to tackle it head-on.
Bring it on, then, in heart-thumping, sweaty-palmed action. I wouldn't let fear beat me. What I didn't anticipate were the other challenges – physical and emotional – that would rise to the surface over the course of the week.
Home for seven days was the cute Auberge Sur La Montagne in the village of La Thuile, cloud-high in the French Alps. In winter, it is popular with skiers, but late summer reveals the beauty that lies beneath. Meadows of wild flowers, alpine cows grazing on the verdant grass… it took all my self-control not to do a Julie Andrews, hurtling around, arms aloft, full-throated and jubilant.
The setting added enormously to the experience – although not advertised as a retreat, there was a sense in the 12-strong group (11 women, one man) of people wanting time out to deal with their personal challenges. Of course, being thrown together with a group of strangers presents its own opportunities for learning and growth.
At the end of a tough hike, one woman told me about her struggle with breast cancer as we paused for breath by a thundering waterfall. We shared our different stories, found solace and support. It felt wonderful.
Days followed a comforting, easy rhythm. Will, the chalet's talented chef, created imaginative vegetarian fare. Our yoga teacher, Corrina Levi, was keen to harness the remarkable prana, the Sanskrit word for 'life force' or 'energy', at this altitude, 1,450m above sea-level. We practised a mixture of hatha and flow yoga for 90 minutes morning and evening, gazing onto mountains so majestic that mindfulness was easy – just me and the mountain, relishing my small part in the bigger picture.
Dawn yoga was a headline moment, well worth the 5.30am alarm call and a winding drive that took us even further into the clouds. Sure, our 'downward dogs' earned some bewildered looks from a silent group of early-morning hikers, but witnessing the sun rise on another day while filling our lungs with the purest mountain air was glorious.
Afternoons were the time to head into the great outdoors – you're spoilt for choice in this area of France – the village of Sainte-Foy-Tarentaise is where I experienced my first challenge. Though I'm fairly fit – cycling most days and doing two yoga sessions a week – those mountain hikes were a struggle. From being a physical exercise, it soon turned into a mental one. As the younger, fitter women strode out in front, I worked on letting go of my ego instead of trying to catch up.
I'd deliberately timed the white-water rafting for midweek to give me time to feel as relaxed as possible. Many of the other women were first-timers and their anxiety hung in the air as we set off down river in the bright yellow raft.
Corrina had repeated a mantra from world-renowned Buddhist nun Pema Chödrön during our yoga sessions that now floated back to mind. She advises us to 'drop the story'. Our minds tell us stories all the time: most of them made up and nothing to do with reality. My story at that moment was: 'I'll hate this, I'll be terrified'. So, taking a deep breath, I decided to drop the story and experience something else. I drank in the cornflower blue sky above, basked in the warm sun on my skin and focused on simply enjoying the pleasure of moving through a striking landscape. And it worked !
Perhaps it was the relief of facing the fear but next morning – pooffff! – my elation evaporated. During a forward bend in yoga, I pushed myself too far, stretching until the back of my legs screamed. But it wasn't the physical pain that made me break down in floods of tears, but the realisation that this is my modus operandum – I'm always trying to prove something to myself and I don't always know when to stop.
Feeling the benefit
As with many of these experiences, not all the benefits were apparent when I returned home. But like ripples caused by a stone dropped in a still lake, they've undulated across my life in the weeks since.
Thanks to Corinna's insightful teaching, my yoga practice feels more authentic, more grounded and more about what my body needs rather than just going through the poses in robotic fashion. I do it when my body tells me it needs it. And, swimming three weeks later, I dipped under the water without even thinking about it and realised the heart-twisting fear had vanished.
The biggest lesson seems to be that although challenges are important – they propel you further forward in life – it's important to practise ahimsa too, the Sanskrit word for 'loving kindness'. My 'bring it on' mantra that rang true at the beginning of my journey now feels aggressive, simplistic.
It's important to test yourself, to adventure and embrace the unknown, yes – but our instincts are there for a reason. The inner voice that says 'slow down' is as worthy as the fiery impetus in the driver's seat: take your time, it says, you have the rest of your life to enjoy this moment.
AdventureYogi (adventureyogi.com; 01273 782734) has an eight-day retreat starting from £895pp, including two daily yoga classes, seven brunches and six three-course evening meals with wine, four-star accommodation with hot tub and sauna, two guided hikes and transfers from Geneva. The next retreats run from 30 July to 6 August, 6 to 13 August and 13 to 20 August 2016.