Travel: Reclaim your self yoga retreat in Mongolia
Jane Alexander is drawn to one of the most barren landscapes on earth – and finds in the vast emptiness an unlikely antidote to loneliness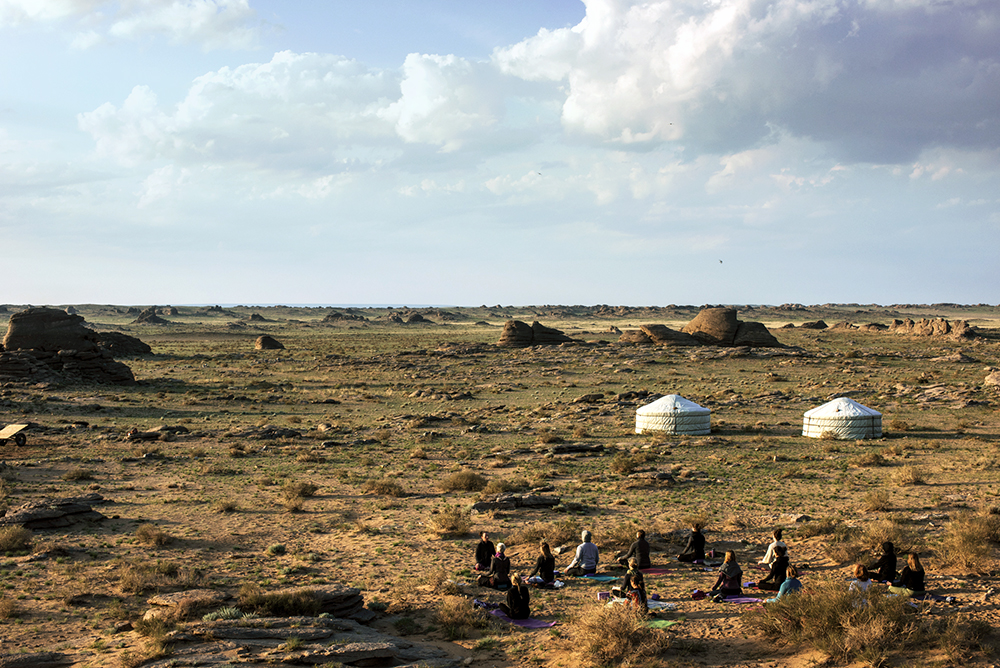 For as long as I can remember I've had a desert compulsion. There is something about that emptiness that has always beckoned. It's not just me, either. Right through history, from the Biblical prophets to Jesus to modern-day seekers, the desert has whispered a siren song to the soul. It undulates through our psyche, slip-sliding snakewise through the world's religions and starring as a character in its own right in our culture.
My own desert love affair was fuelled by films such as Lawrence of Arabia, The Sheltering Sky and The English Patient. Where did it start? I can't be sure, however The Horse and His Boy by CS Lewis (my favourite Narnia story) might have caused the first frisson.
By definition, a desert is an arid region, where the annual rainfall is less than 10 inches, but of course it's so much more than that. It has always been perceived as the ultimate wilderness, a place where people go to disconnect from the world in hopes of connecting to the soul. I have flirted with deserts for years, looking sideways at their boundaries before drawing back again. Then I received an invitation to go on a Reclaim Your Self yoga retreat deep in the Eastern Gobi in Outer Mongolia.
Fighting fire with fire
Curious timing. I'd been feeling lonely, bereft almost. I travel a lot, by myself, and never mind my own company, but recently it had become oppressive. I was starting to see my travelling as a distraction, another way of avoiding thinking about my self, my life, my relationships. Yet here I was, heading into a big nothingness. Maybe at some subconscious level I felt the cure for loneliness or lost-ness might lie, not among crowds, but in empty spaces? Maybe you have to fight fire with fire, emptiness with emptiness, an interior desert with an exterior one.
My journey itself was a meditation on loneliness. I flew to Moscow, then across thousands of miles of emptiness to Ulaanbaatar, capital of Mongolia. It's a place that didn't even have permanent buildings until the 1900s because desert people are nomads. Then an eight-hour journey on the mighty Trans-Mongolian Express, watching the landscape grow larger, flatter, and more arid. Lightning forked on the horizon. After another two hours by bus, I reached my destination – a remote migratory ger (Mongolian for 'yurt') camp for the retreat.
I felt completely out of balance. The yoga was strong and my body was weak. I struggled through it, judging myself against others and finding myself sorely lack-ing. I was straight back to childhood – the ugly duckling at the back of ballet class, last one to be picked for rounders. I sobbed like a six year old.
'Nudos amat eremos,' ('the desert loves to strip bare') St Jerome wrote in a letter to Heliodorus. 'The emptiness of the desert makes it possible to learn the almost impossible: the joyful acceptance of our uselessness,' philosopher Ivan Illich wrote in his foreword to Carlo Carretto's Letters from the Desert. If I hadn't been crying so hard, I'd have laughed. I'd only just arrived and the desert was challenging me, showing me all too baldly my limits. I retreated to my ger, a comforting mini-world with its circular frame and central fire.
Let the landscape lead
Soon I felt better and headed out again. Around me lay an unruly landscape of gravel, sand, stones, charismatic rock formations. Some were beast-like – a bear, a turtle, a sphinx, a snake. Some were monsters. It put me in mind of
the quote by Belden Lane, who wrote The Solace of Fierce Landscapes (Oxford University Press, £12.99). 'In wild places, terror and growth-towards-wholeness walk hand in hand.' I moved more slowly, letting the landscape lead me, looking for patterns on the desert floor. I was guided by plant and rock routes, stepping carefully, starting to notice small things. It felt like 'medicine', like old shamanic practice. Surely no coincidence; this is the land of shamans, where the landscape has been treated as holy for millennia. I may have been in the middle of nowhere but it was not unknown: its landscape was charted in the psyche of its people. And although many would find its contours forbidding and cruel, I felt at home.
I lay back against a broad flat rock. It was warmed by the sun, secure and embracing. I realised that I was holding myself so tightly that even my jaw and toes ached. I let go and melted into the stone, staring up at the huge dome of
the sky. I felt tiny – a gnat plastered on to the surface of our planet. A tiny Jane-atom, spinning in space. I started to laugh at the stupidity of my angst.
As the days went by I found myself slowly being pulled back together. The yoga felt almost an intrusion: my true practice was out there in the rocks. Sometimes I picked up stones – some I kept; some left my hands after a short while. Some I thought I'll come back to later, but couldn't find again.
I settled down on another broad rock. For a while I lay listening to desert sounds – the wrrp, wrrp, wrrp of wings as birds swooped low, barely grazing my body; the tdzz tdzz of an insect. I sat up and watched a fly settle on the rock beside me. It flexed its antennae then cleaned its back legs. Its wings gleamed iridescent. It was not worrying about how it is to be a fly; it didn't feel awkward. It was beautiful. In its place. Just being. 'One initially enters the desert to be stripped of self, purged by its relentless deprivation of every-thing once considered important,' says Lane. I cried – the gentle tears of healing. I am nothing, I thought, but that's fine, just fine, because I am an intrinsic part of the world… we all are. Nothing and everything.
Everything in its place
'When we enter the desert, we step out of the external world and dive deeply into the interior one,' says Kerry Walters, author of Soul Wilderness (Paulist Press, £8.99). 'We endure the shrinkage and the vanishment of hope… We slim down progressively, withdrawing from everything we once were, becoming a decreation for the sake of re-creation. We face non-being in order to be.'
The desert is wild and vast and apart. Yet for me the Gobi was a welcoming place of simplicity, acceptance and clarity. I came home feeling neither lonely nor lost. I brought with me two stones – one black, one white – and, when I hold them, I remember the rocks, the fly, the huge sky… and my place within it all.
Try it for yourself:
Jane Alexander stayed as a guest of Reclaim Your Self retreats and Nomadic Journeys. The Mongolia Reclaim Your Yoga retreat dates for 2016 are 24 July-1 August and 2-10 August. Prices from £2,095, including 2 nights in a four-star hotel in Ulaanbaator, 1 day on the Trans-Mongolian Railway, 6 nights in a luxury ger camp, daily Jivamukti yoga and meditation, full-board vegan meals, a camel cart excursion deep into the desert and all transfers. For more details and to book, go to reclaimyourself.co.uk
You can fly to Ulaanbaator from the UK in around 13 hours with Turkish Airlines, Aeroflot and Air China, or fly via Hong Kong with Virgin, BA and MIAT. Prices from £900.
Photograph: Richard Pilnick