Travel: Beating the fear
Lorna V has never been into adventure trips. So how would she manage a diving trip in Baros, Maldives?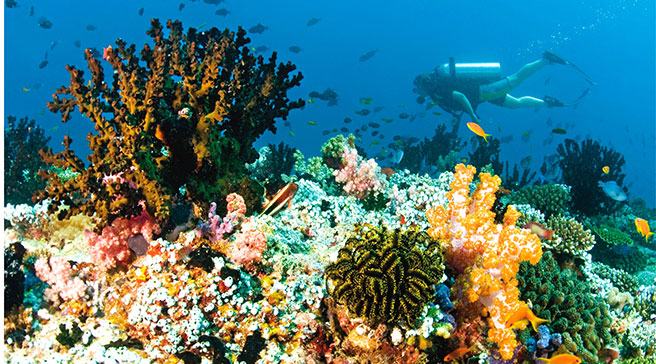 Support from the side
Hannah, a seasoned diver, congratulated me later, which meant a lot to me. She told me I was lucky to have my first experience here at Baros. Many resorts have induction courses at the hotel swimming pool, sometimes in full view of other non-diving guests. I'd have been too self-conscious. Typically a group will then be taken out by boat to dive shortly afterwards. I would have bottled out. The limit at Baros is four people rather than the more usual eight and a big group wouldn't have suited me at all.
The two divers with me, Hannah and Catherine, were both rooting for me and I realised the obvious: if you're nervous you need supportive people around you, not impatient alpha adventurers. For the next few days they encouraged me to practise snorkelling so I could make it for the big educational tour. Just minutes from my villa I could slip underwater for instant wild sea life, getting the hang of coordinating flippers and breathing with a mask. Thanks to Ronny I kept thinking: it's just yoga, it's just breathing – I can do this.
The morning before our marine biology lecture and the educational snorkelling tour, Hannah and Catherine went diving. I had a choice to go and see reality, in the form of the Maldivian capital Malé, then in full pre-election fever, or to idle away the morning around my idyllic personal beach spot.
Next Page: Experiencing total beauty

A week at 5* Baros Maldives costs from £1,599 per person – saving up to £662 – booked through Sovereign Luxury Travel (0843 770 4526, www.sovereign.com). The price includes a free night, return flights from London Gatwick with Emirates, airport lounge access, private transfers and seven nights B&B in a Deluxe Villa based on 2 adults sharing a room. Based on departures 2 May 2014.
For further information on Baros Maldives please visit www.Baros.com or call +960 664 26 72
–