Travel: Beating the fear
Lorna V has never been into adventure trips. So how would she manage a diving trip in Baros, Maldives?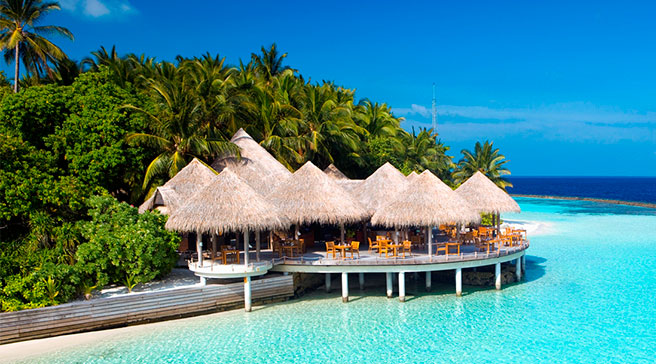 Is it really possible to cry underwater? Because I'm pretty sure I did.
A turtle the size of my torso swam up towards me, almost touching me as it passed by. Then slowly it paused, and cocked its big eye towards me, looking me right in my goggled-covered eyes for a long, long moment before carrying on.
I knew there were seven turtles at Baros, one of around 100 or so luxury resorts in the dream Indian Ocean destination that is the Maldives. Baros, in the west, is one of the few island-resorts with its own coral reef, an underground rainforest that starts barely a meter from its shores. I hadn't expected to see a turtle. Not being a diver-snorkeler I hadn't expected to see anything much. I never imagined I'd be capable of going on a snorkelling tour, and there I was squealing with joy underwater through my mask as we swam through shades of blue to turquoise with marine life spanning all the colours of a rainbow. It was like swimming in an aquarium with no sides.
Was this really me? Me, pointing to out the shark to the others? I went to Baros a beach-brat, and surfaced from the endangered coral kingdom a changed woman. All my life I'd loved the sea and beaches, only now, thanks to the encouragement of the Baros Dive Centre, something else had happened. I felt a divine connection with the cosmos. Decades of meditation and mumbo-jumbo and I'd never felt that.
I knew I wasn't one for 'activities' ever since I fell off my first bike around the age of five. Everything that followed confirmed this: last in the school races, failing to learn to swim at school, never picked for the rounders' team, or any team, and ridiculed as a teenager by a bully PE teacher for being last and useless. I did eventually learn to swim thanks to my patient dad. As an adult I was great on beach holidays involving watersports – at guarding everyone's valuables. When I tried snow instead my fellow skiers weren't impressed that I couldn't even walk in my boots, thus holding them up from getting on with their precious skiing time. The instructor gave up on me.
So, a trip to the Maldives diving and snorkelling? I don't think so. Past tense: didn't think so.
 A week at 5* Baros Maldives costs from £1,599 per person – saving up to £662 – booked through Sovereign Luxury Travel (0843 770 4526, www.sovereign.com). The price includes a free night, return flights from London Gatwick with Emirates, airport lounge access, private transfers and seven nights B&B in a Deluxe Villa based on 2 adults sharing a room. Based on departures 2 May 2014.
For further information on Baros Maldives please visit www.Baros.com or call +960 664 26 72
–