Tips to begin a New Year
New Year, new beginnings 2014 series: Beginning something new can feel both exciting and challenging. Zen Master Mary Jaksch has some tips to help us adopt the mindset that will give us the best chance at success.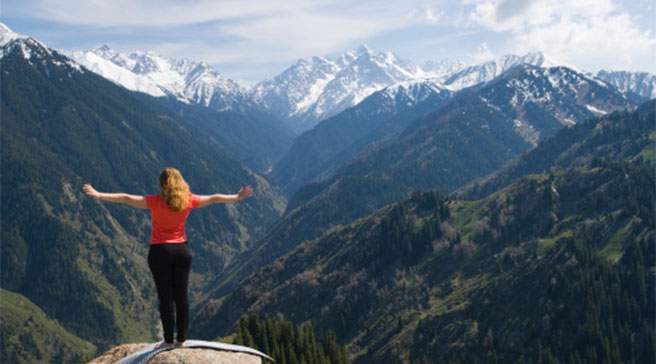 What makes a new beginning feel like a challenge is that not knowing yet if we'll succeed or fail. In order to predict the outcome, we project what we have experienced in the past onto the new venture. That can be a problem. But there is a state of mind that we can tap into when starting something new. In Zen Buddhism it's called 'beginner's mind',  state of freshness where you experience everything anew in each moment. It means that you have no expectations, no fixed view of yourself, anything is possible. Here are some ways to adopt 'beginner's mind' to make your new start in 2014 easier.
Focus on action.
We tend to imagine future outcomes instead of focusing on the present, which can create anxiety. The trick is to focus on one step at a time, rather than the whole journey. If you begin to struggle, ask yourself, 'What is the next step?'
 Fall down seven times, get up eight times.
Toddlers are well versed in the practice of pulling themselves back up again every time they fall, but adults often forget that when learning new skills, they will 'fall' several times before they succeed. We need to cultivate an attitude where we recognise stumbling as 'I'm learning', and continue with determination.
Banish negative thoughts.
Fear breeds negative thoughts. When we are on the verge of something new, negative thoughts can derail us. There is a simple way to let go of them by using an 'Uplift Bracelet'. You can use an elastic wrist bracelet for this strategy. By simply changing the bracelet to the other wrist each time you have a negative thought, you can train yourself to be more positive.
Let go of 'shoulds'. 
When we are about to start something new, our family and friends are usually only too happy to give their opinion of what we should or shouldn't be doing. 'Shoulds' are other people's ideas of what our lives should be like, and can hinder us from moving forward. Every time you encounter a should, ask: 'Say's who?'
For more tips, stories and advice on making 2014 great, read the rest of our New Year, new beginning series, click here. 
–