Theatre review: Miss Nightingale
A new musical, Miss Nightingale, set in London during the Blitz years, channels the best of traditional musical theatre, cleverly blending humour and slapstick with hard-hitting storylines. It's on at the London Hippodrome until 6 May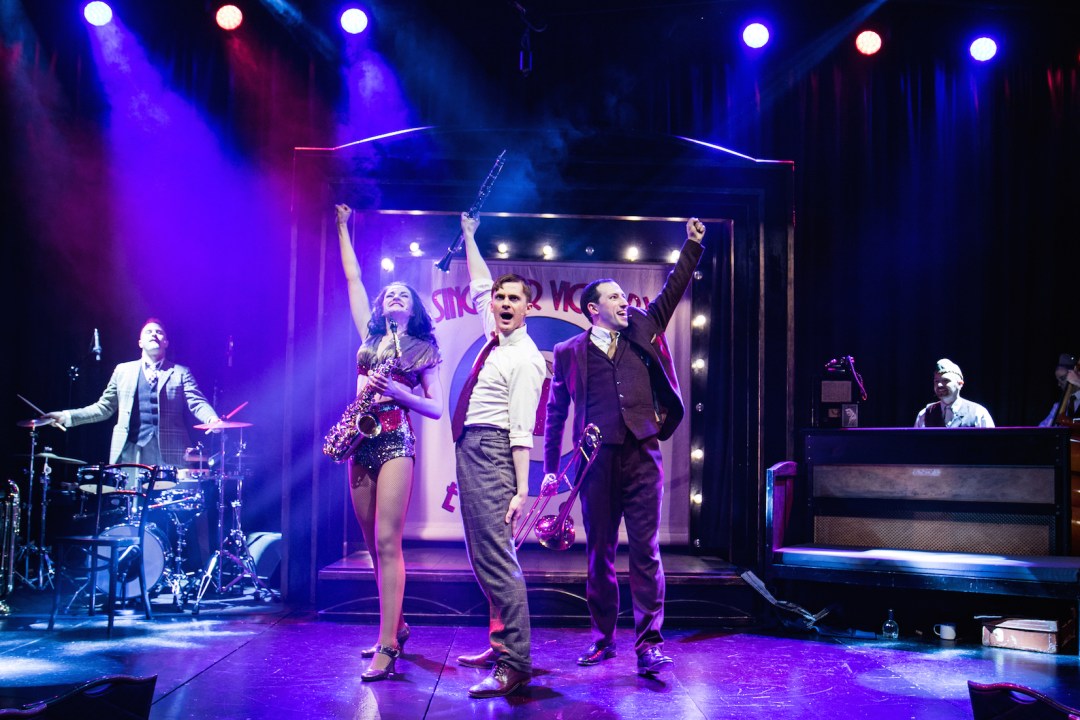 Miss Nightingale is set in London in 1942 and the theatre location of the glitzy casino London Hippodrome in Leicester Square, where the audience sit at cocktail tables assembled around the stage, lends the production an authentic music-hall feel.
It's an energetic show where the small cast of just six people carry the narrative, while also accompanying every song as the onstage band, singing and dancing too. Although there may be a couple of numbers that the show could possibly do without, others champion the innuendo of traditional music-hall tunes to great comic effect. I was humming 'You've got to get your sausage where you can' on my journey home – a hilarious take on food rationing of course! – and The Pussy Song, ostensibly about a cat getting stuck in a door, which are both hilarious. That is how writer and director Matthew Bugg has paid tribute to the era of wartime entertainment, when ordinary people were living with daily tragedy and hardship and using the theatre and cinema as an escape from their lives, to make them laugh, boosting morale.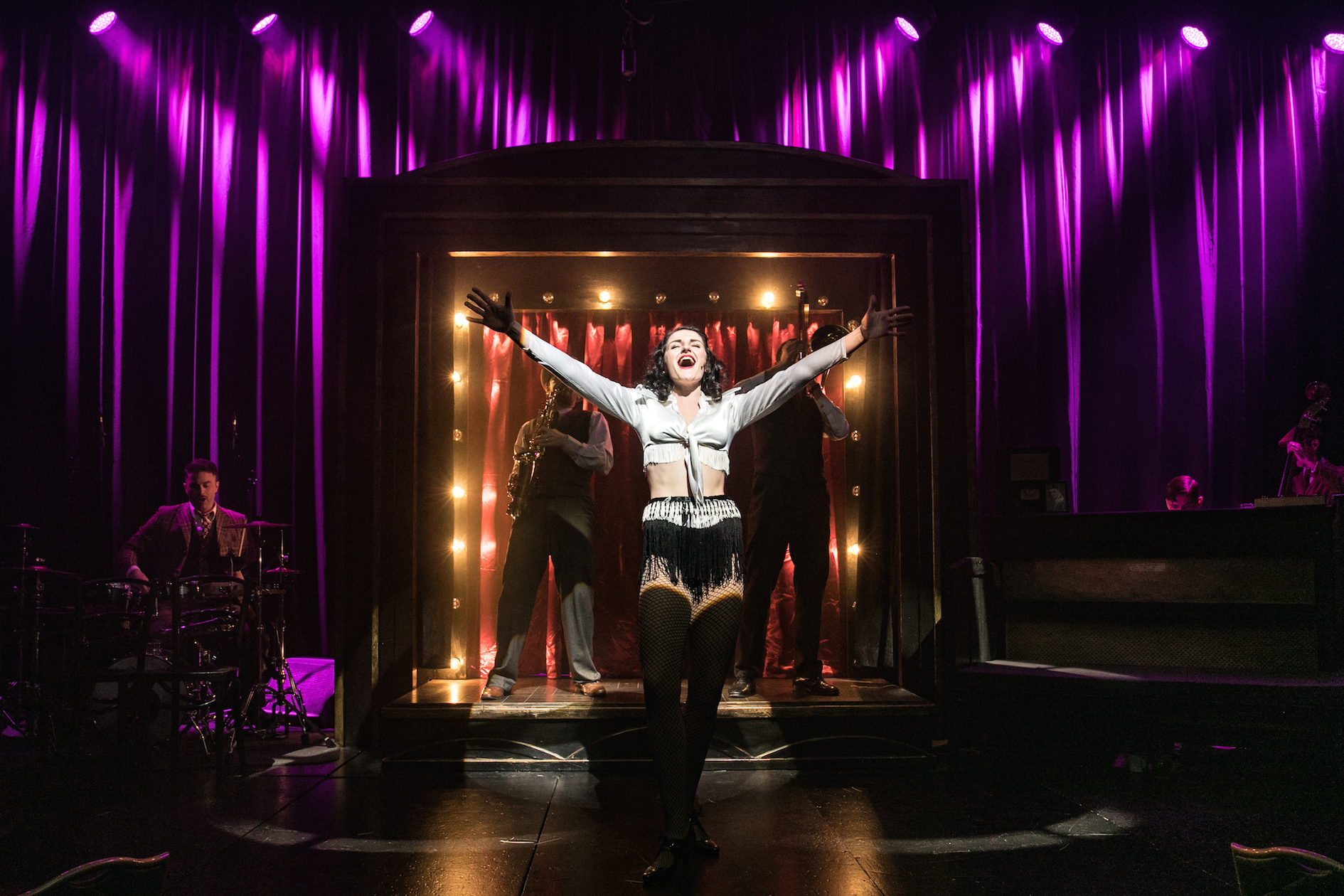 The story follows singer and dancer Maggie Brown (who becomes stage persona Miss Nightingale) and her rise to stardom, while her friend and composer George Nowodny (Matthew Floyd Jones) and manager Sir Frank Worthington-Blythe (Oliver Mawdsley) engage in a romantic relationship that, because of the laws of the time, has to be kept secret.
George is also a Polish Jewish refugee and the script manages to touch on a lot of hard-hitting topics: the persecution of Jews under Nazi rule, homosexual men being arrested and imprisoned, the position of women during the war, the pressure of being an unmarried mother, infidelity in marriage, blackmail and the hardship of food rationing. Often you're not sure whether you are meant to be laughing or crying with the characters as you see their pain and anguish one minute, then they are striking up the band to perform a jolly number about sausages the next!
Despite the jolting pace of the show, there are some beautiful songs that convey the characters' emotions clearly to the audience in the best tradition of musical theatre – songs such as Understudy and Someone Else's Song are genuinely haunting in their melodies and lyrics, together with the cast's brilliant harmonies. These are teamed with more obvious tributes to classic musicals such as George's song, Meine Liebe Berlin, that channels Liza Minelli's performance in Cabaret.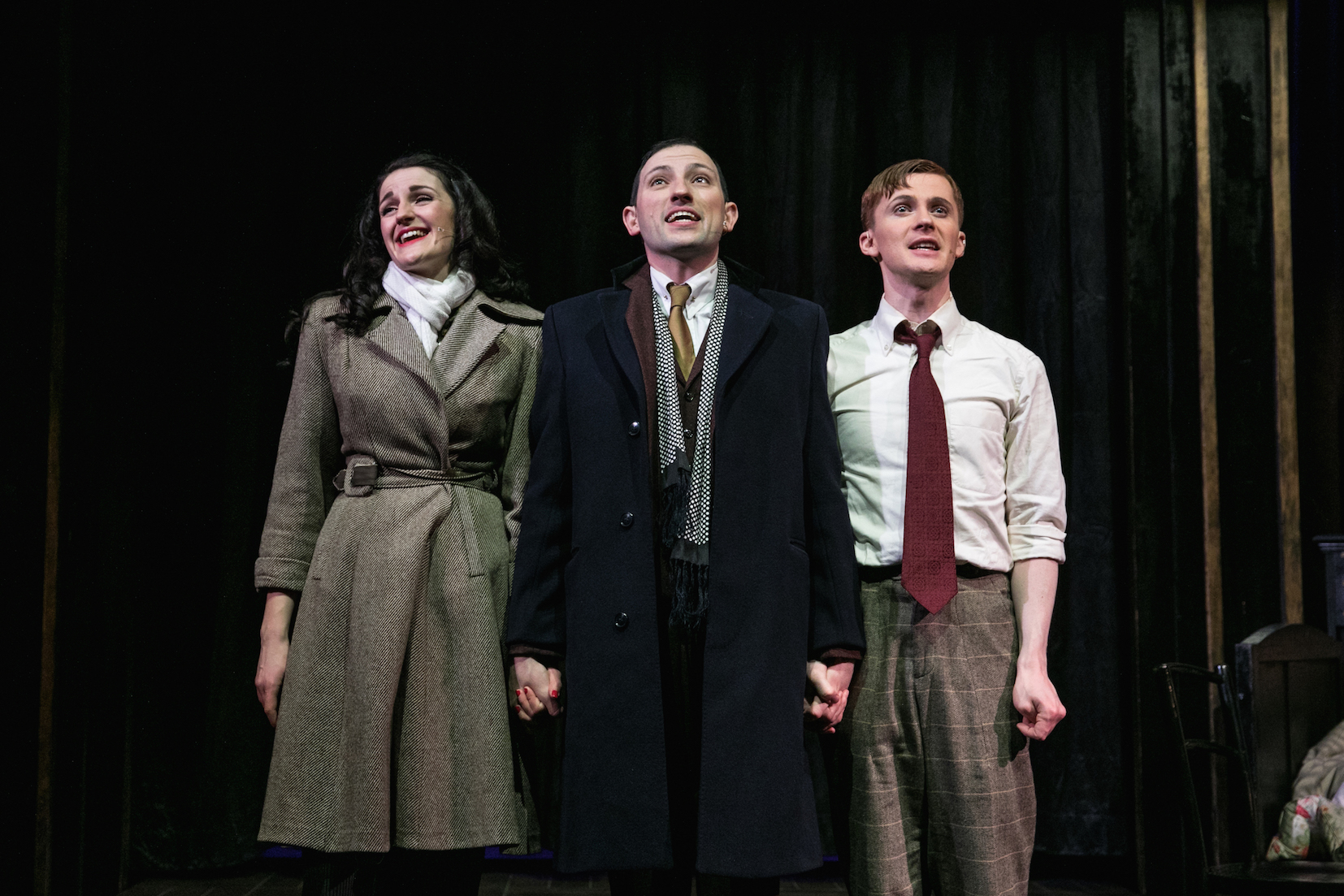 Lauren Chinery as Maggie Brown stands out as the only female and is fantastic, as she dances, sings and carries the narrative of the story, being a young female performer, who is trying to strike out on her own away from the control of her married lover, Tom, and manager, Frank, and she has to deal with discovering her brother is missing in action as well as accepting her friend George's relationship with Frank. There is a lot of backstory too – we discover Maggie's other brother Bill, who was George's previous lover, was killed in Kristellnacht in Germany and Frank was awarded a medal for saving his co-pilot's life while he was shot down while serving in the RAF – for a jolly musical, the characters carry a lot of pain with them, but somehow it works with the story, showing the audience a deeper layer to the characters.
If you're in the mood for an entertaining night out at the theatre, you won't be disappointed – the show holds your interest and attention from beginning to end, there are laughs and tears, great choreography and costumes and you can watch it all from the comfort of the table booths while sipping on a cocktail – what more could you wish for?
Miss Nightingale is on until 6 May 2018 at the London Hippodrome Casino. Tickets cost from £10 from missnightingale.co.uk or call the box office on 020 7769 8888. Follow the show on Twitter @Nightingale1942 and on Instagram @mrbuggpresents
Watch the trailer here:
Photographs: Darren Bell