Tea for two: Low Tea at the Luggage Room
Psychologies' Art Director, Heather Heward, caught up with an old friend and enjoyed a 'low tea' at The Luggage Room in London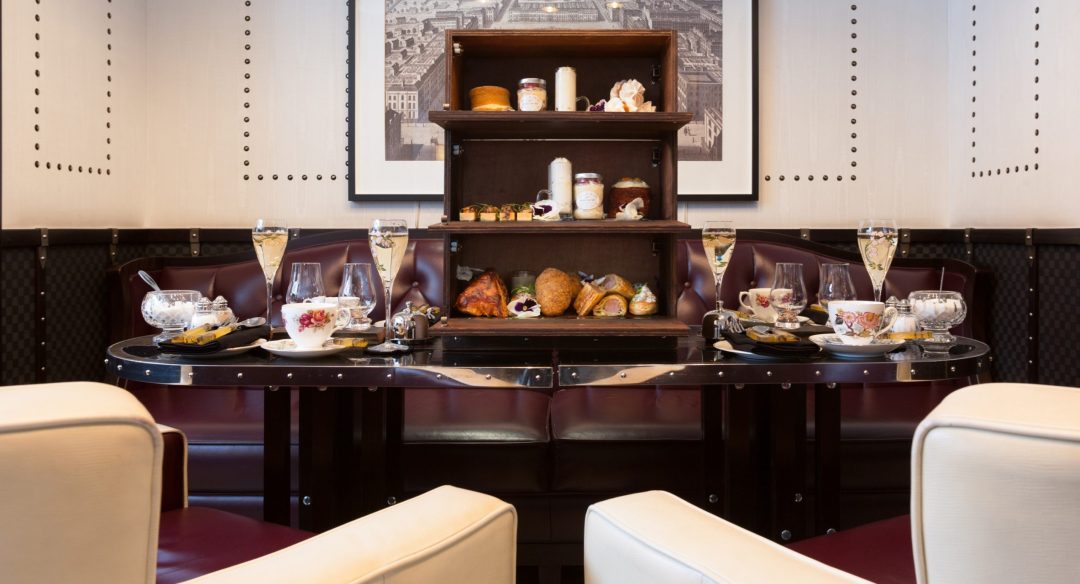 With busy lives, families and jobs, it's not often my friend Katy and I get a chance for a proper catch-up, so we jumped at the chance to treat ourselves to an afternoon away from it all and indulge in some delicious food too. For a good old chinwag and a proper cuppa (and/or cocktail) surrounded by beautiful leather chairs, unique furniture and jazz from the 1920s, The Luggage Room is the perfect place to enjoy 'Low Tea'.
'Low Tea' originated from the Duchess of Bedford who used to eat tea and biscuits from a low side table to stave off hunger in the afternoon before it was time for a late supper. The ritual was adopted by wealthy people who entertained friends with their best china in their sitting parlours. It evolved into the still-popular 'Cream Tea' and 'Afternoon Tea', but what set 'Low Tea' apart was that it was a socially comfortable experience.
The 'Low Tea' menu at The Luggage Room combines English cream tea traditions with a nod to the bar's American speakeasy heritage, plus the cocktails have been inspired by the lost drinks of the 1920s era. We were in for a special experience!
My friend Katy and I turned up at 1pm, knocked on the grand front door at the side entrance to the hotel and were greeted by our hostess. She showed us to our table, all of which were clad with leather and surrounded by 1920s glamour and presented us with a cocktail list.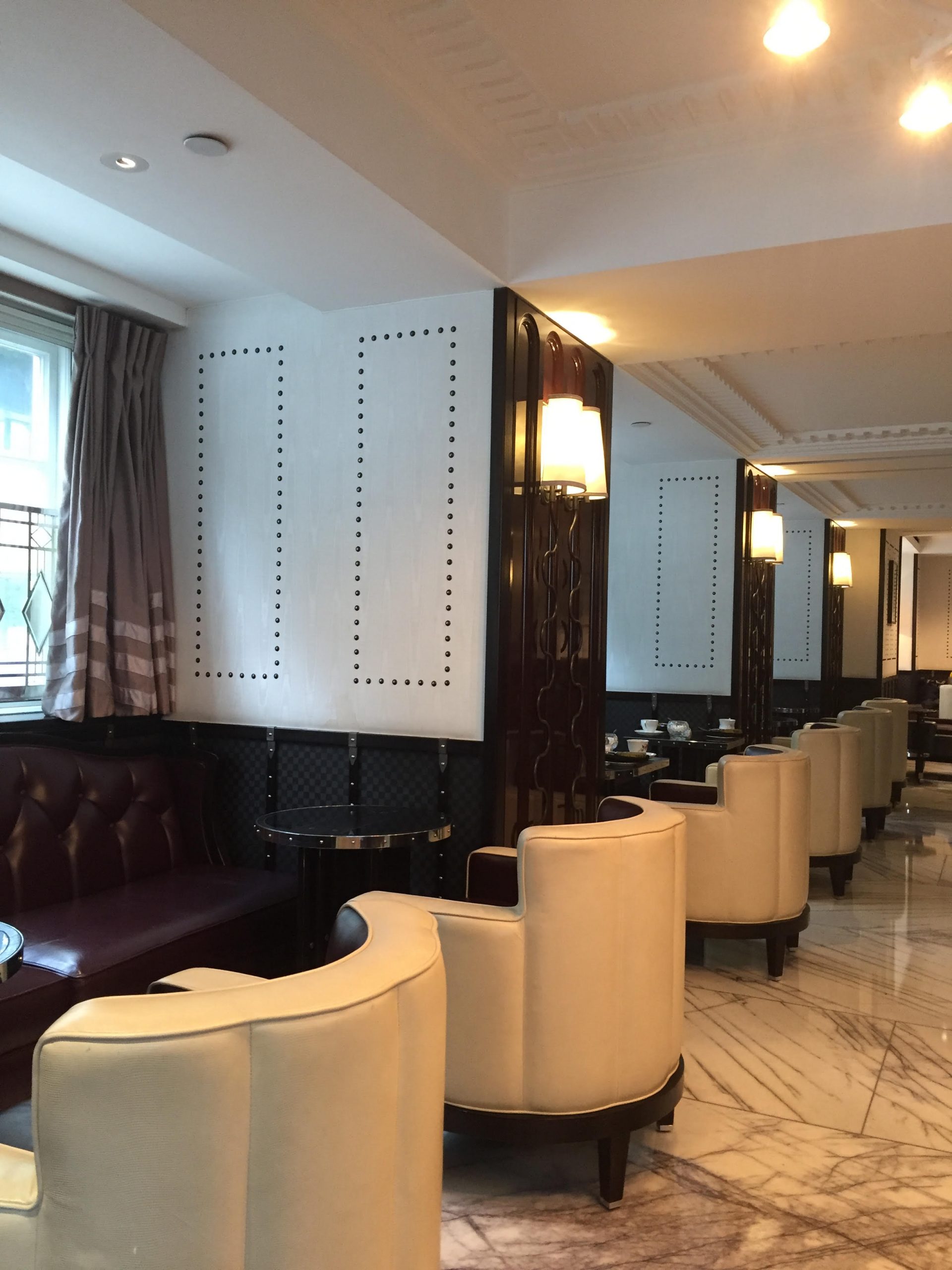 Katy went for a Champagne cocktail originally served on the Titanic. I chose a Cider Cobbler. These were beautifully presented one in an elegant glass with sorbet and a silver spoon, the other in a china tea cup. Both were delicious! In the prohibition days of the 1920s, drinks were taken in quiet places behind the scenes – hence the cocktail served in a teacup.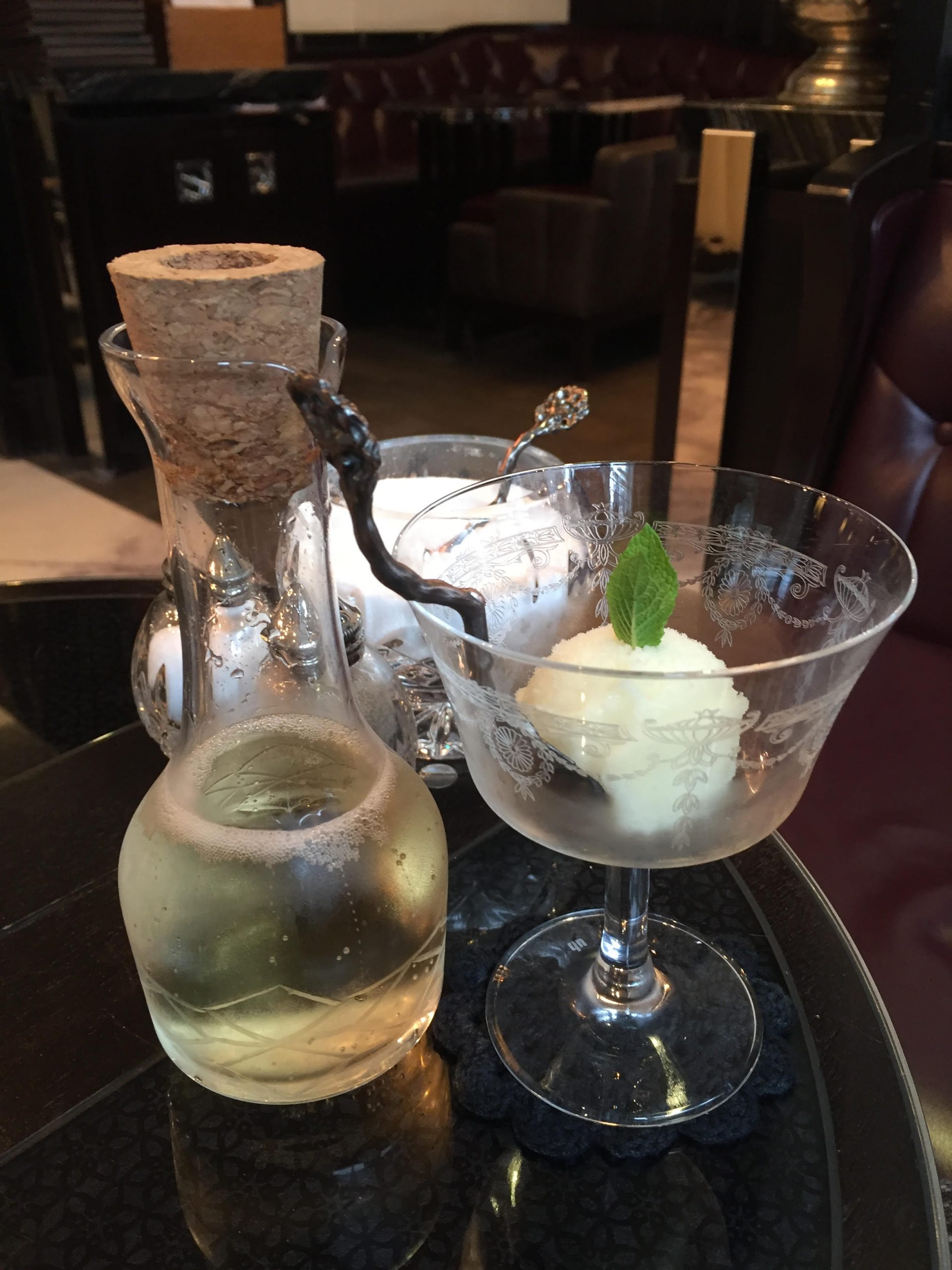 This was shortly followed by a presentation of 8-10 different glass jars filled with various types of loose leaf tea, all of which smelled amazing. Some were strong and intense and others delicate, yet very fragrant. We choose four types. Katy's favourite was a black tea (dark and strong), and mine an apricot tea (lighter and similar to Earl Grey).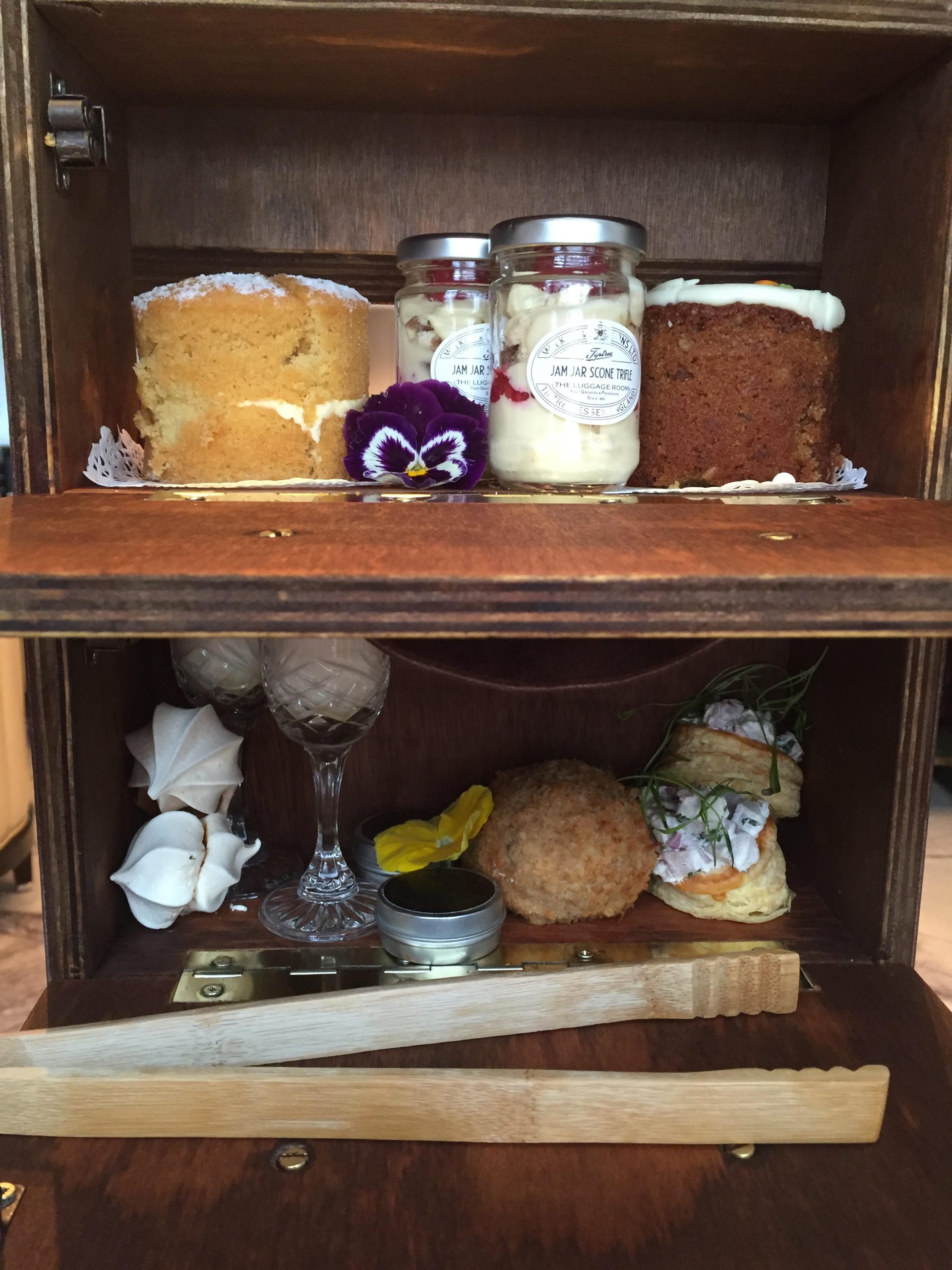 While drinking our tea, we were presented with an old-fashioned cabinet which we opened and discovered three shelves. The bottom shelf had savoury horseradish and crème fraîche vol au vents,
Devonshire wild boar sausage rolls, devilled Balmoral venison and Clarence Court Scotch eggs. The second shelf had Savory Scones, Salmon in a tin and Mushroom Pastries. With a Rum Syllabub to cleanse the palette before the sweet course, the third and probably the most amazing layer to this treat, included Salted Caramel Meringue, Victoria Sponge, Carrot Cake and The Luggage Room's signature Jam Jar Scone Trifle which was amazing. I've never had cream, jam and a scone in a jar before, but golly it was good!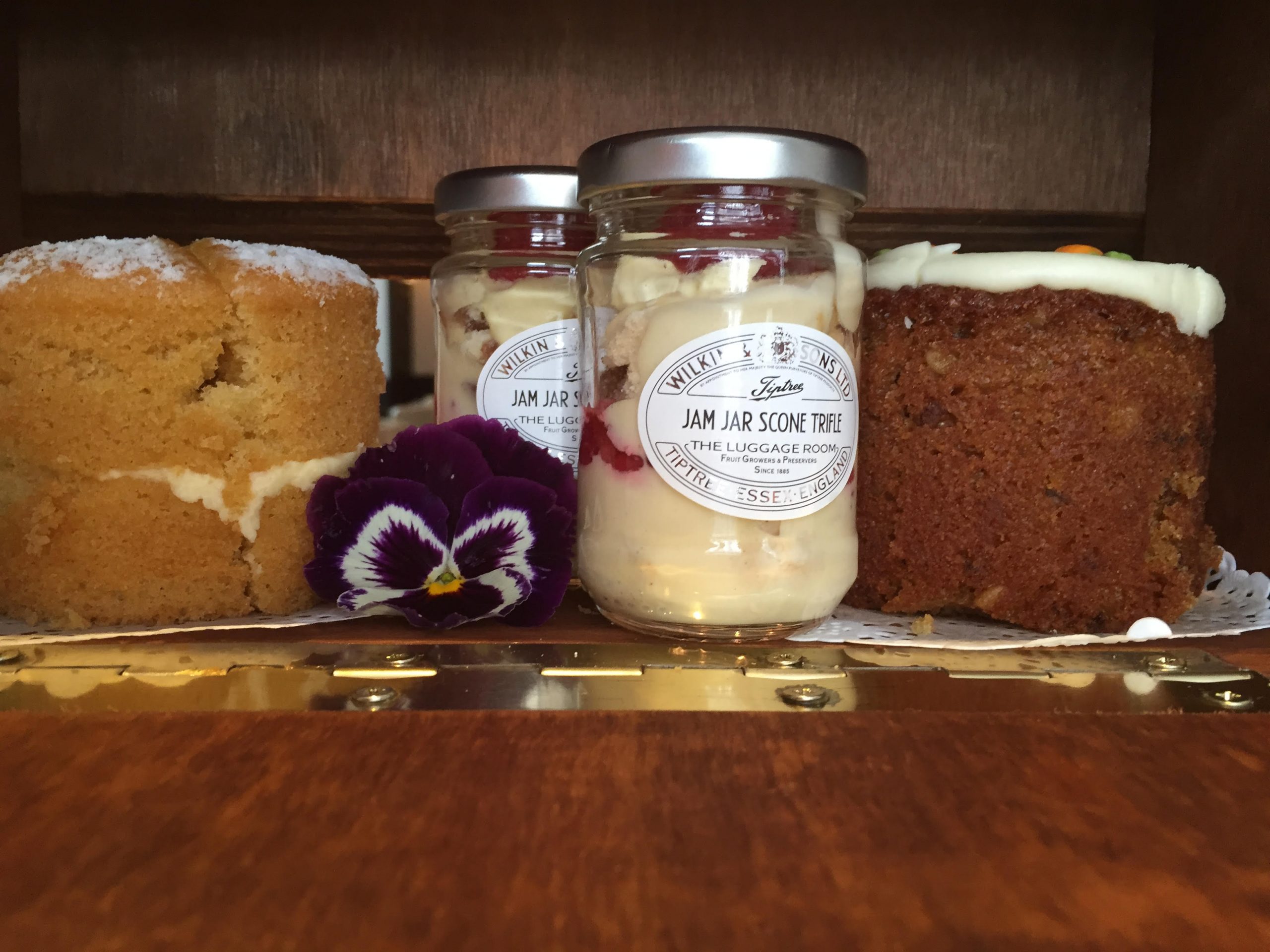 After all the wonderful food, tea and terrific cocktails and before catching the train home, we had to finish with one last final treat: a raspberry cocktail, which was really gorgeous. As was the whole experience. What with the lovely staff, and bar tender, brilliant music and sumptuous surroundings, we were truly rested, spoilt and felt very, very relaxed (if a little stuffed). We also felt like we'd stepped into a different era and learnt about the history of 'Low Tea' and The Luggage Room itself.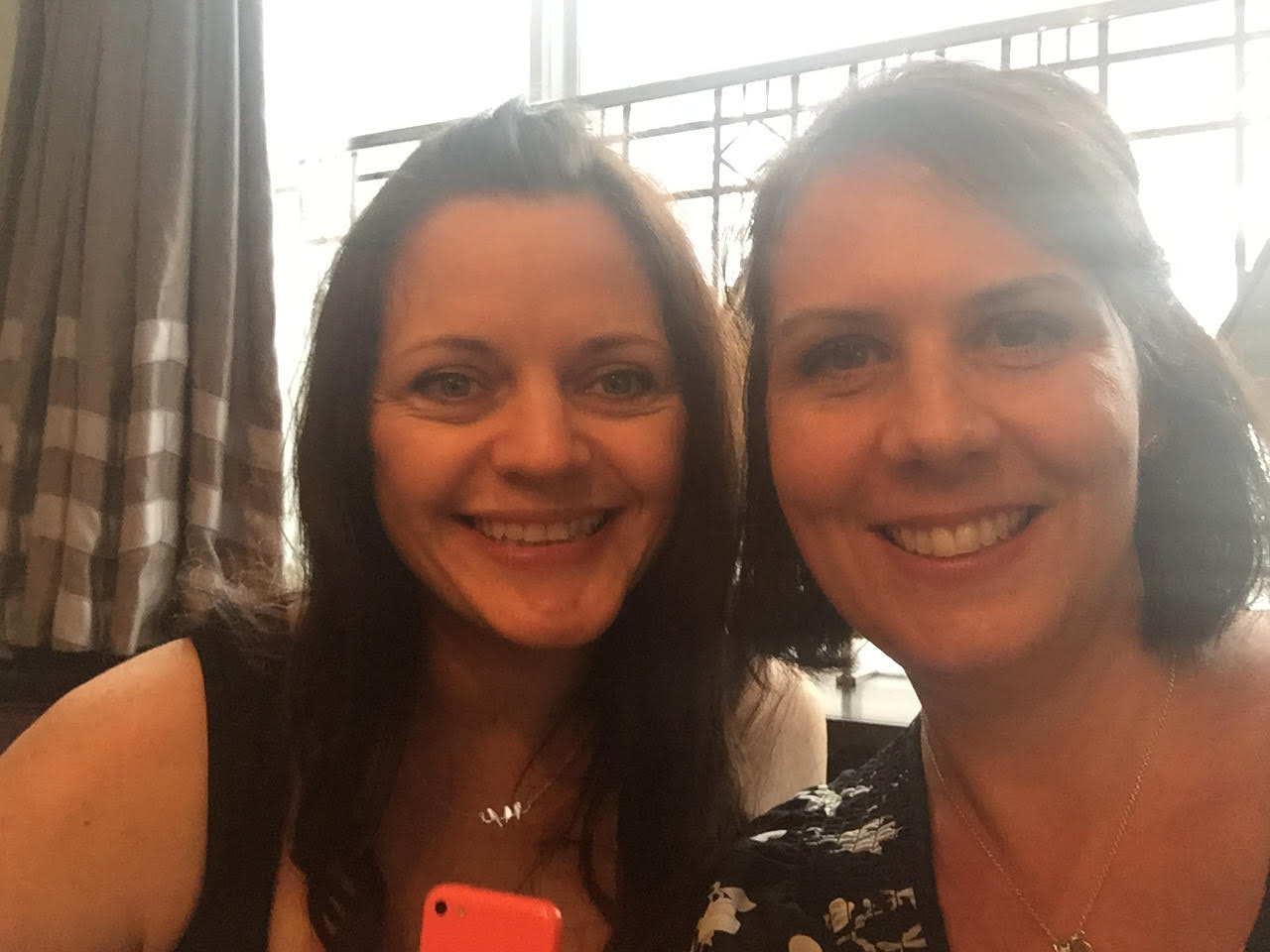 If you want a cosy drink with a romantic date, a get-together with your close friends or just a quiet chillout to mark a special occasion (Katy recently had a milestone birthday!), then I really do recommend this unique place for a special sort of glamorous afternoon tea.
To find out more and book, visit www.luggageroom.co.uk or call 020 7493 1232.
The Luggage Room, Grosvenor Square, London W1K 6JP. To visit the Luggage Room, look for the Black Door next to the Marriott Hotel
OPENING TIMES
Wednesday – Saturday from 12.00, last sitting 15.00. Sunday 12:00 – 17:00