Sustainable fashion: Transforming a vintage coat
Sustainable fashion activist Kate McGuire extends the life of clothes by converting them. Here, she helps actress Alicia Agneson transform a vintage coat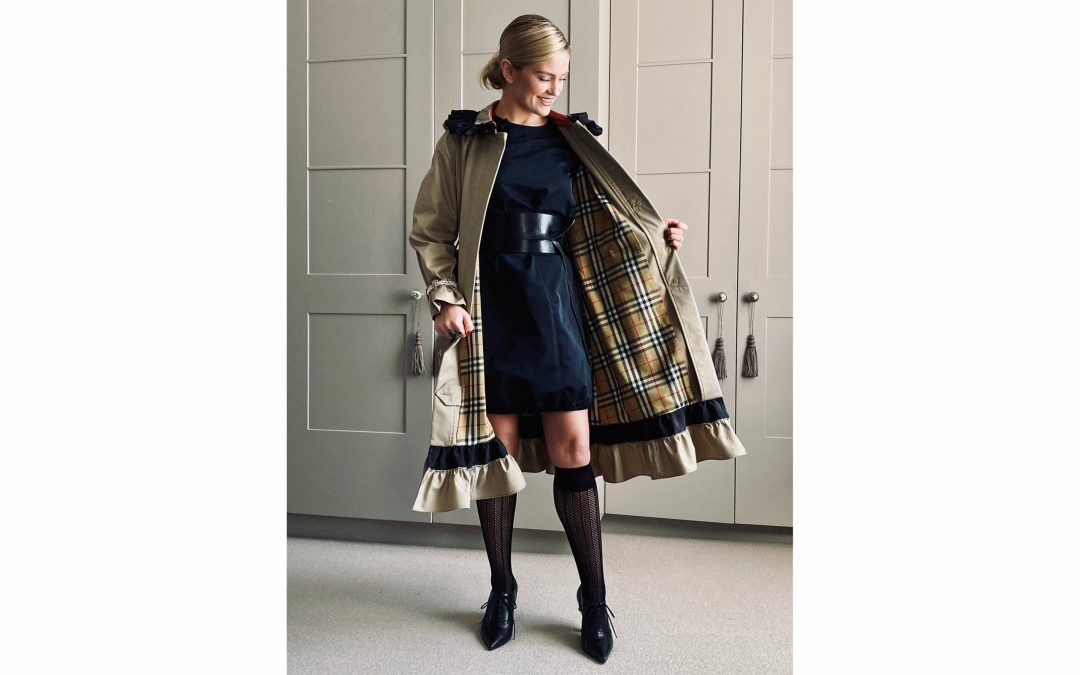 5 minute read
Two years ago, Alicia Agneson, star of TV drama Vikings, decided to stop buying new clothes and only wear second-hand or vintage, all in the name of sustainable fashion. As her stylist, I've been creating converted 'wow' pieces for her red carpet appearances, but this was a new challenge.
'I was given this Burberry coat by my friend's grandmother,' said Alicia. 'She bought it in the 1960s but never wore it – no event was ever special enough. She gave it to me five years ago and I've never worn it either. It's one of my most treasured pieces, but it's too big for me and not really my style. Maybe converting it will mean I can actually wear it?'
I wanted to honour the iconic Burberry style while stitching the essence of Alicia's personality into the coat. It deserved to be worn and I was determined to find a way.
The most immediate issue was the size. I turned the coat from double- to singlebreasted by folding in the excess fabric and sewing it down to reduce the bulk. I narrowed the sleeves, removed a small amount of fabric from the width to enhance the A-line shape and reduced the collar, before adding the gathered thick black grosgrain ribbon as a trim. I used ribbons from VV Rouleaux in Burberry colours to line the collar and embellish the epaulettes and wrist belts.
Yes frills!
Adding a frill is great for giving a coat more shape and structure while softening a mac's slightly masculine feel. I cut out a horizontal section, inserted black grosgrain ribbon to match the collar, gathered the off-cut fabric and attached it as a new voluminous frill.
'It's divine!' said Alicia. 'It still feels like a classic but with a stunningly modern twist. I love that this coat has found its place in the world 60 years after it was bought. It's been treasured for so long and finally it's emerged from the closet! I feel unique when I put it on. This is why I don't buy new clothes – my relationship with my wardrobe has been revolutionised by converting.'
Don't be afraid to experiment. By creating new pieces out of old, you'll feel more connected with your clothes and look truly 'you' in your bespoke wardrobe.
Tips for converting your clothing
Kate McGuire shares her dressmaking secrets
Use embellishments that pick out colours in the lining or from accessories such as scarves.
Change the lining and roll up the sleeves to add a splash of colour.
Change the length – a coat can become a jacket.
Either narrow the sleeves or make them bracelet length for the most flattering look.
Kate McGuire is a sustainable fashion activist and founder of the #conversion movement at convertedcloset.com