Spicy tom yum chicken and coconut soup with carrot noodles
This yummy gluten-free recipe comes from the creators of Mindful Chef, the healthy recipe box delivery service packed with lean and sustainably sourced ingredients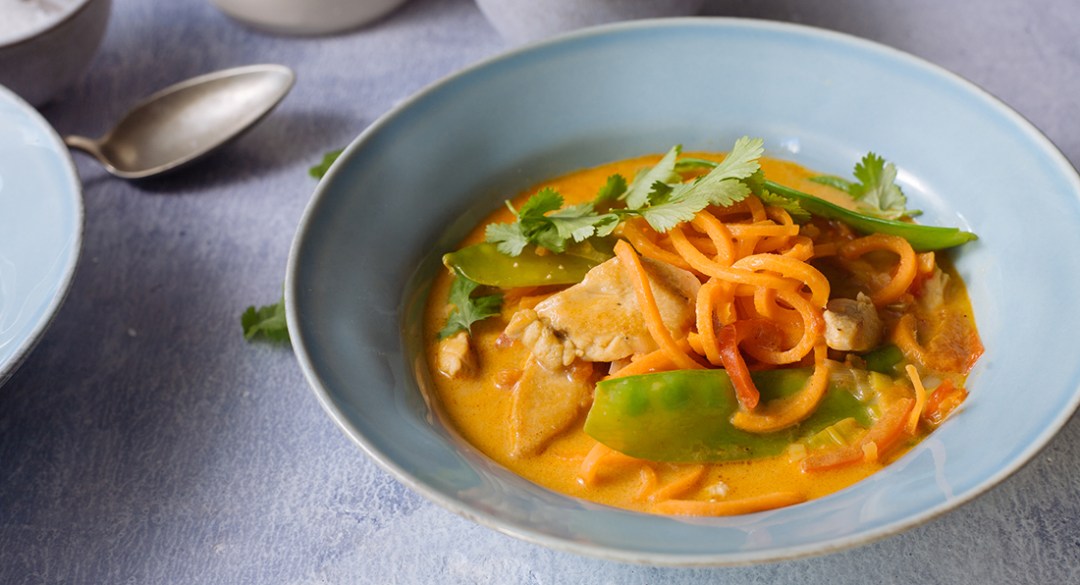 With autumn being the peak carrot season of the year, Mindful Chef has created a series of recipes to make full use of this vitamin-rich vegetable.
The company was created because the founders grew tired of unhealthy, processed meals at the end of a long working day. They created fast, fresh and nutritious meals that are all gluten-free with vegan options too. All ingredients are sourced from small, organic West Country farms.
Here are the ingredients and a step-by-step method for creating spicy tom yum chicken and coconut soup and carrot noodles:
Cooking time: 25 minutes Calories: 578 calories Macros P: 47g / C: 27g / F: 31g
Ingredients
180g free-range chicken breast
140g carrot
2 spring onions
1⁄2 aubergine
40g mangetout
Handful of coriander
100ml coconut milk
1 tsp tom yum paste (crustaceans)
1⁄2 vegetable stock cube (celery)
1⁄2 lime
Sea salt and black pepper
Coconut oil / olive oil
Method
1. Finely slice the spring onions and cut the aubergine into 2 cm pieces. Roughly chop the coriander. Thinly slice the chicken breast.
2. Peel the carrot. Prepare the carrot noodles using a julienne peeler or slice the carrot into long thin strips with a peeler (or use a spiralizer if you have one).
3. In a frying pan, heat 1 tsp oil on a medium heat and fry the aubergine for five minutes until softened. Remove from the pan and set aside.
4. In the same pan, heat 1 tsp oil on a medium heat and add the chicken, cook for eight mins until golden brown. Add the spring onions and mangetout and fry for two minutes until the chicken is cooked through.
5. Meanwhile, boil a kettle. Dissolve the vegetable stock cube in a jug of 150ml boiling water.
6. Add the vegetable stock and coconut milk to a separate saucepan, and stir in the tom yum paste. Bring to the boil, and then stir in the cooked chicken, mangetout, spring onion, aubergine, carrot noodles and juice from the lime. Simmer for three minutes.
7. Serve the Tom Yum soup in a warm bowl and sprinkle over the coriander.