Spa Special 2014: Vana in the Himalayas
It can seem a cliché, but until you've experienced a retreat, resort or spa that really does something to you – be that teaching you to dance under the stars or supporting you through loss – you won't know how good it's possible to feel…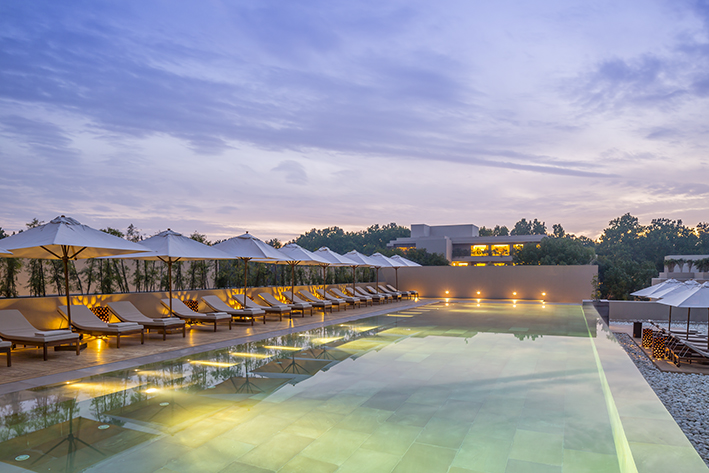 I was slipping in and out of a dreamlike state in the treatment room, as the two female Tibetan therapists chanted a mantra in Sanskrit. A warming aromatic scent hung in the air as the massage continued, with tiny heated oil-soaked pads being gently pressed onto energy points from the top of my head to the soles of my feet.
Only 48 hours earlier I'd left London, carrying a year's worth of stress in my knotted shoulders, neck and spine. By day three at Vana, I'd seen five therapists and three doctors; had Tibetan and Ayurvedic healing massages, as well as acupuncture and cupping (Chinese therapy where glass 'suction pots' are placed on energy points on the back). Tibetan and Ayurvedic medicine share similarities. Both begin from the premise that our state of wellbeing is a product of lifestyle, that our natural constitution can be upset by overloading the senses – relevant in our 24/7 culture. The combination of food, movement, meditation and massage using traditional herbs can bring us back into balance emotionally and physically. Cupping had certain points along my spine jumping with tenderness and throbbing welts, particularly on one area relating to my heart and gall
bladder. It made sense – my heart had felt like it had been broken following recent bereavements. I trusted the process, and soon I was feeling lighter, energised and more my happy self.
Vana, set in a forest, is 360-degree healing via the senses; its modern eco design is built from scratch. You'll find a resident artist and photographer, as well as daily performances every day by the in-house music 'Raag' therapist; and even the rose-scented handmade bathroom goodies are all part of the therapy. I had one-to-one yoga sessions every day (slow, meditative and opening; not the Westernised forms we're used to); fantastic food (three courses, three times a day, locally sourced, beautifully presented – healing in itself); time to relax by the infinity pool with its Himalayan mountain view; and use of the infrared sauna and airy gym.
The word 'holistic' has become a little hackneyed these days, but this place really does address the whole – mind, body and soul.
8 nights full board at Vana, Malsi Estate, costs from £2,060 pp sharing, including a tailor-made wellness programme, use of hot and wet rooms; retreat activities (Raag therapy, morning and evening yoga), return flights from London to Dehradun, and private airport transfers (thehealthyholidaycompany.co.uk).
Words: Catherine Turner