Solo hiking and adventuring in Romania
Psychologies' resident adventurer, Alice Morrison, embarks on a solitary hiking and biking trip through a rugged and romantic landscape – the realm of bears, wolves and vampires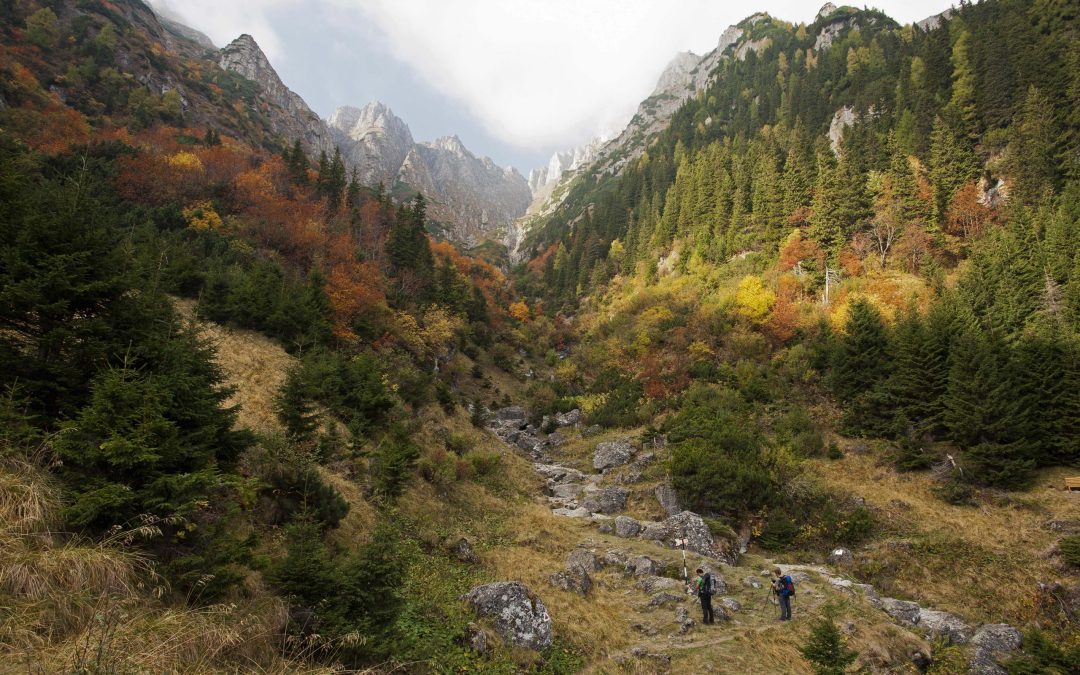 6 minute read
All I knew about Romania was that it's the home of the original sexy vampire, Count Dracula. I had booked a self-guided trip combining hiking and biking – and I was doing it solo. Travel company Whereabouts supplied the route, maps, transport and made hotel bookings – and took my luggage from place to place. All I had to do was find my way and enjoy my days. The first part was not a given. I have an appalling sense of direction, non-existent in fact – which, believe me, is a massive handicap when you have chosen adventurer as a profession – so I needed those maps to be good.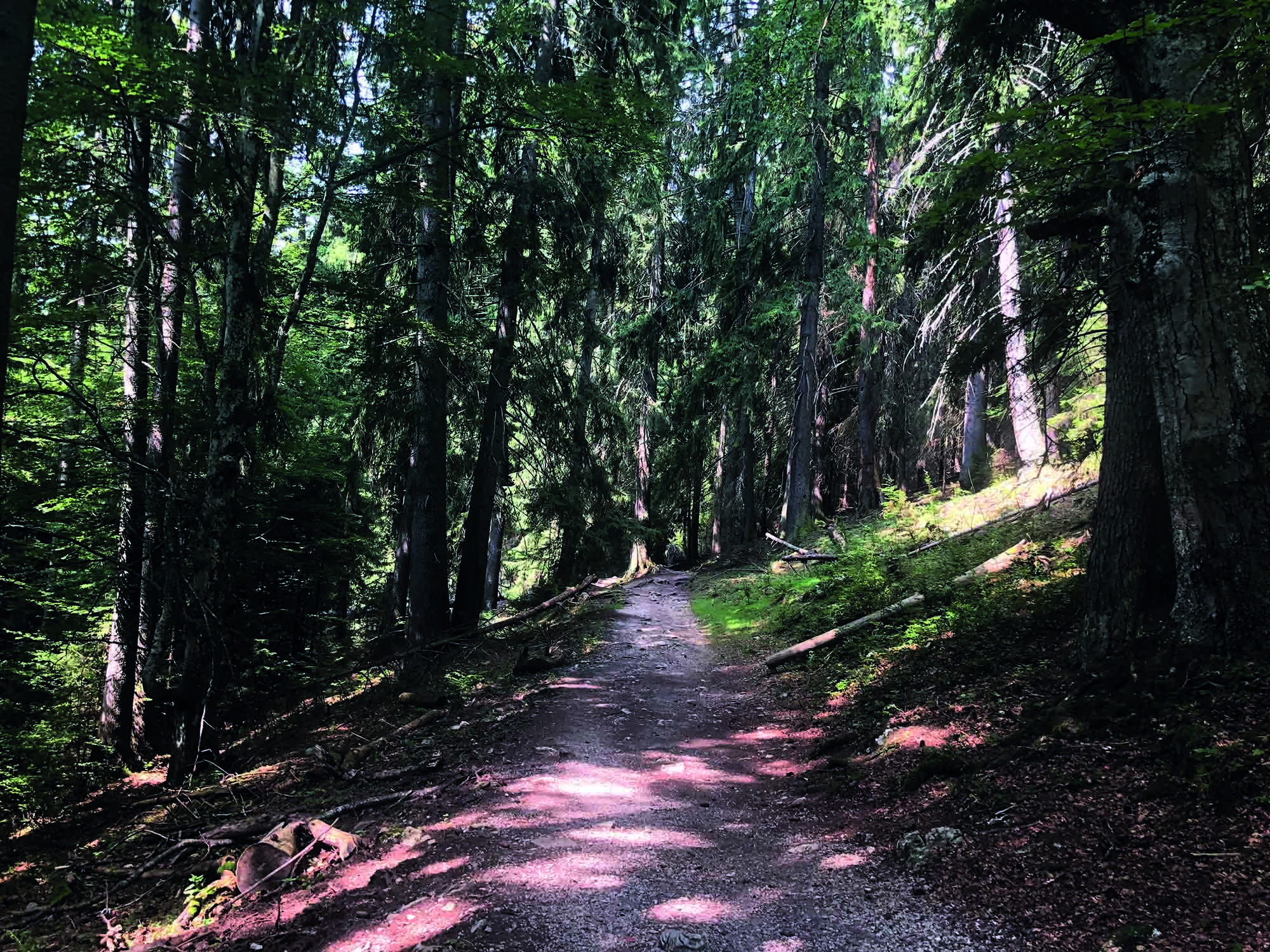 Once upon a time, deep in the forests of Transylvania…
A quick stop in Bucharest, and a lemonade at a supercool hidden garden bar, then off to the mountains by train, where I spent the very last part of the journey in the guards' carriage, hanging my feet out of the back of the open doors with the smoking boys and learning my first couple of words of Romanian (buna dimineata – good morning), which sounds like Italian.
The following day, it was time to test the maps and my prowess, and I set off early into the wilds of the Bucegi Mountains. My two days of hiking were around 13 kilometres a day with about 1,000 metres of climbing – enough to make you work but not enough to exhaust you – and my route was Zarnesti-Magura-Bran. The weather was incandescently perfect; cerulean skies and hot sun piercing through the shade of the ancient woodland.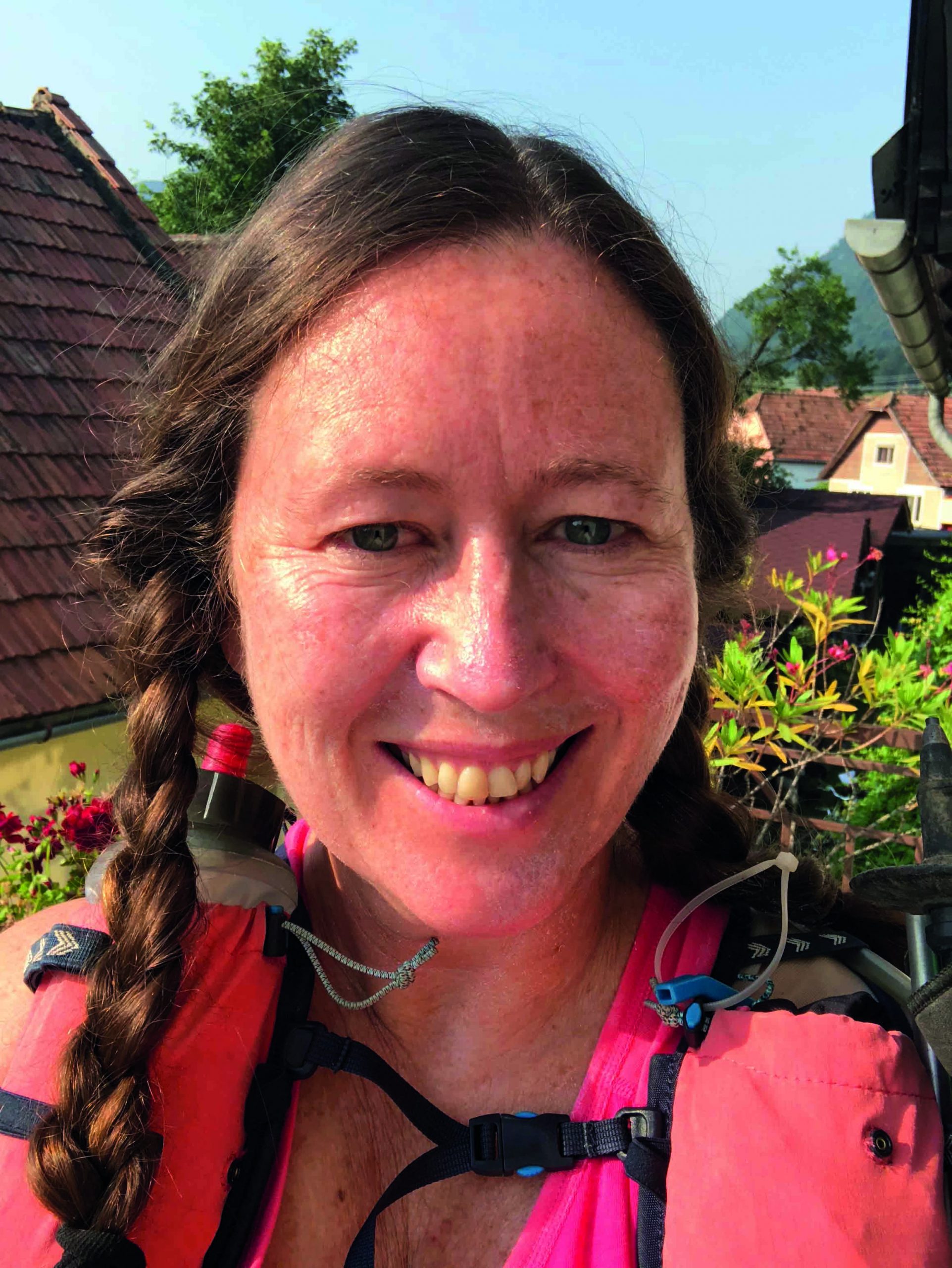 Adventurous Alice in high spirits – and hi vis – in Romania
Romania is home to about 50 per cent of Europe's remaining bear population and 20 per cent of its wolves, and they live in those woods! Of course, they keep away from humans but, just in case, I'd read up on my bear-attack strategy. There are three steps if you see a bear. One, back away slowly and quietly and then get out of there, pronto. Two, if the bear is charging you, use bear spray (which I didn't have). Three, if it's right there about to attack, roll onto your front and make like a starfish. Don't let it tip you over whatever happens, because it will disembowel you.
I love mountains, and the Bucegi have gone onto my top-three list. Deep, ancient woodland dominates the slopes, with all the quiet magic and sweet smells of pine and loam that brings. You're alerted to the end of the forest and the beginning of high pastures by the sound of bells. The pastures are straight out of Heidi; with wooden chalets, green, green grass edged by masses of purple and white wild flowers, and herds of fat sheep with the occasional contented cow clanging its bell. From the top, you can see right across the range of jagged peaks and rolling hillsides, punctuated by shepherd's huts and gingerbread-like houses. There is no one in sight, so you are queen of the mountains – benefit number one of exploring by yourself.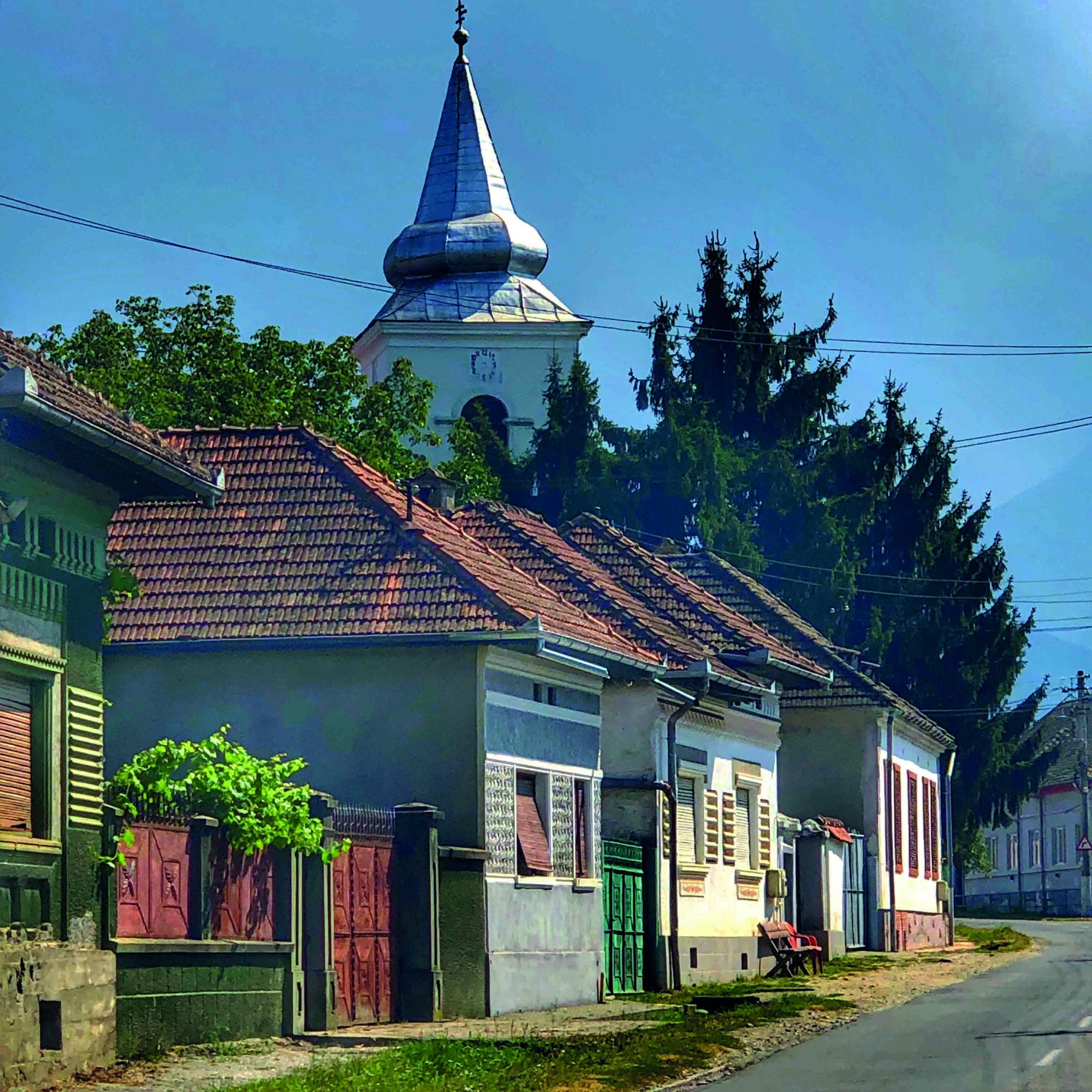 Pretty village houses and an historic church, where locals congregate on Sundays
Free, up close and personal
The cycling part of the trip was, fortunately, not up and down mountains but across a wide plain, in the shadow of the adjacent range, the Fagaras. The two days were around 60km a day and more down than up – which is proof of a well-planned route, in my opinion – from Bran to Bucium to Cartisoara. I'd forgotten how fantastically liberated you feel when biking. You can cover quite a lot of distance but, equally, stop wherever you like to take photos or have a drink – score two for travelling solo. Again, perfect weather. In the mountains, it had rained in the afternoons; on the plains, it was blue sky all day.
Biking is a nosey parker's charter, as you're high enough to peer into people's gardens and generally see what's what. This bore out what I had already experienced. Romanians grow a lot of their food at home. Tomatoes, lettuces, courgettes and peppers in carefully tended rows, backing onto orchards where plums and apples were ripening. Chickens and the odd goat scratched around in the back yard and the front gardens were full to bursting with every kind of rose, geraniums, cosmos and even orchids.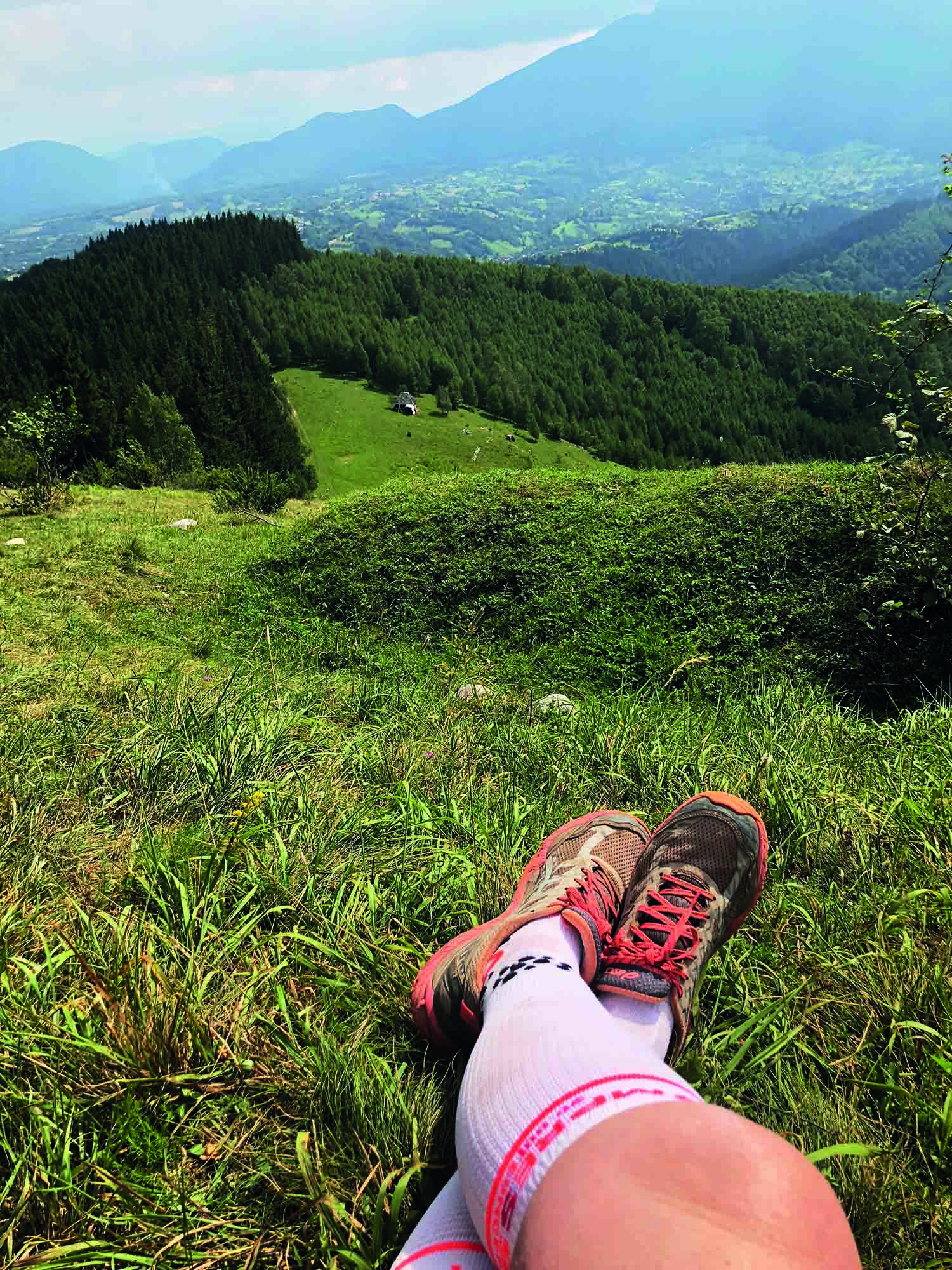 Freedom to stop for a rest wherever and whenever
In the charming pensions where I'd been staying, every meal had been hearty and simple, made from local produce. My hostesses would bring out their home-cured hams and home-made jams and cheeses. I really liked one cured with pine tree bark. All the fruit and vegetables came from the garden and the eggs from their own hens. Cheese, ham and bread was the staple during the day and, in the evening, pork or veal with cabbage and potatoes, which sounds grim but was full of flavour and just what I needed. On a very positive note, every meal ended with freshly baked cake.
A time traveller's welcome
Freewheeling down the hills in the sunlight past fields of golden corn, watching men scything by hand and building perfect haystacks straight from a Constable painting, I felt as though I had gone back in time. Horses and carts are still used and, on the Sunday, I saw smartly dressed families trotting along to church in horse-drawn buggies. The pace of life is slower, people have time to sit outside and watch the world go by of an evening, to prepare food they have grown themselves and to spare a word for a stranger. Bonus number three for travelling alone is that you can chat to everyone and most people were warm, kind and friendly. They made me feel so at home.
Romania was a revelation. The scenery was a mix of mountain magnificence and traditional villages, with wild flowers bursting from every hedgerow, filling the air with scent. This is the kind of holiday I would absolutely recommend if you need a break from a busy job or a hectic home life. Do it alone (I felt perfectly safe), do it with friends, or do it with family – reconnect with nature, get your body moving and be reminded of the true pleasure to be found in the simple things.
Alice's holiday was courtesy of Whereabouts Holidays. Similar adventures start from £529pp for eight days.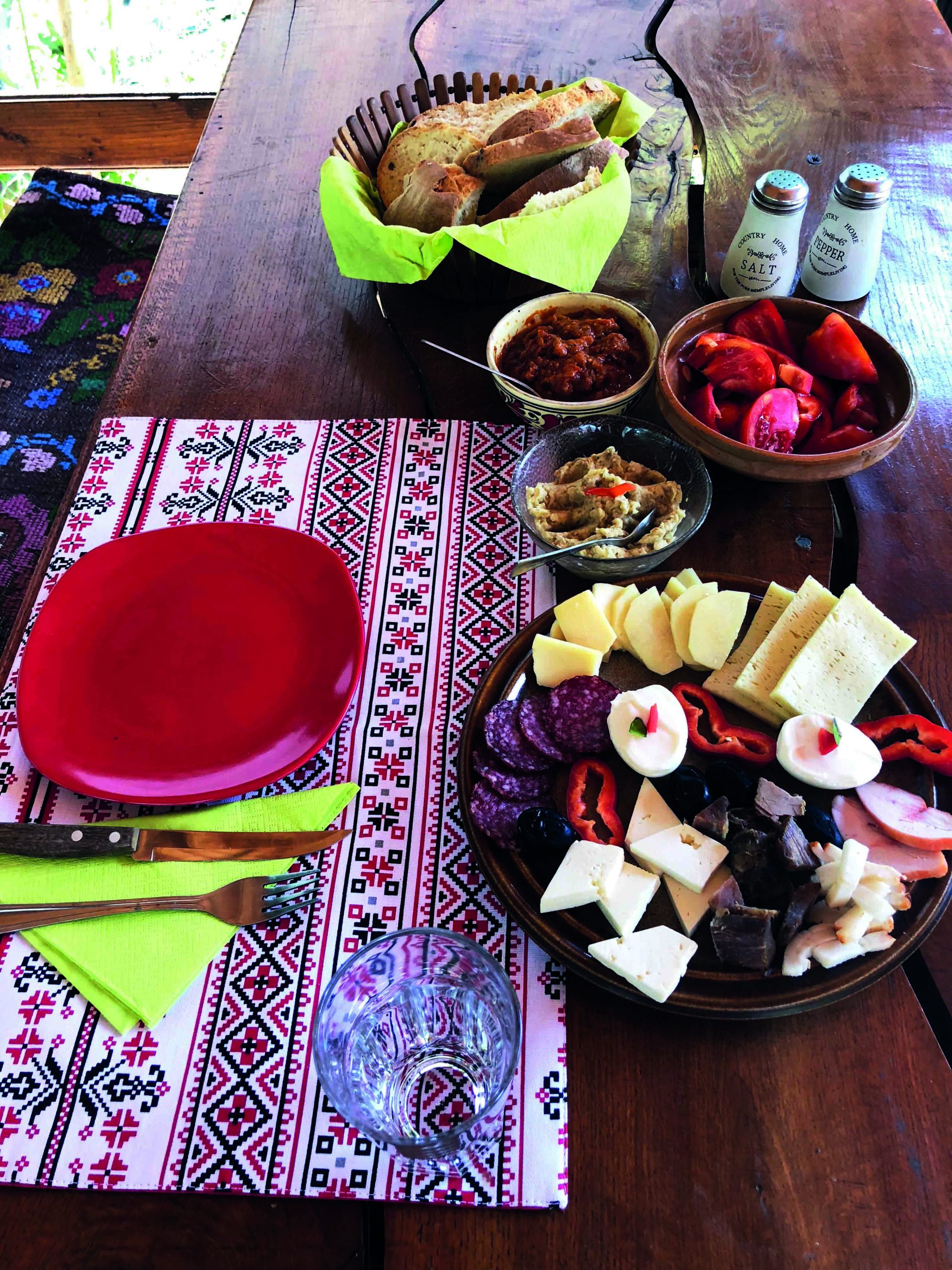 Nutritious, home-grown and home-made deliciousness
Alice's solo hiking and biking tips
Have a detailed, up-to-date map and plan your route well.
Always let someone know where you are going and when you are expected to arrive and give them your number. Check in with them when you arrive.
Put emergency numbers for ambulance/mountain rescue/police on speed dial and google translate, 'I need help. I speak English. I am in…' into the local language and store it in your notes.
Make sure your phone is charged. I always buy a local SIM card, too.
Pack a basic safety kit, which should include: a whistle (for an SOS) and a mirror to flash upwards if necessary, an emergency foil blanket, enough warm and wet-weather clothing, a first aid kit with antiseptic wipes, a small bandage, plasters and painkillers, and a penknife.
Take walking poles if you are hiking – you can use them as a crutch if necessary.
If someone/something feels wrong, trust your instincts and get yourself out of there calmly and quickly, or join up with other travellers.
Photographs: Getty Images; Courtesy of Alice Morrison