Seabass swaddled in courgette ribbons
Try this great lean, carb-free, summer supper from Sydney-born food and travel writer Tori Haschka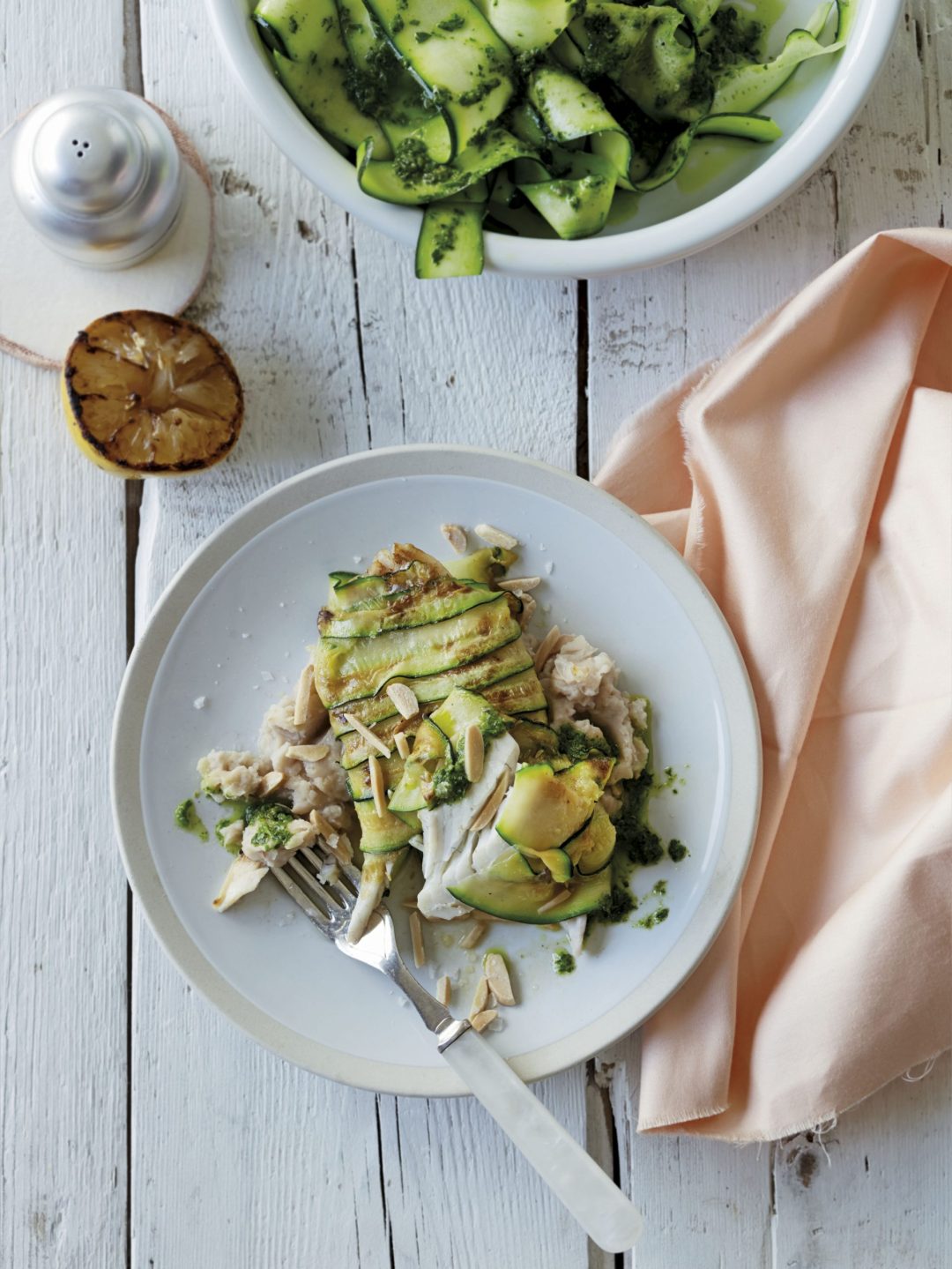 Those with a plot of land will understand the plight: what do you do with the end-of-season glut of courgettes? Once, you might have snuck them into cakes or breads. Certainly, you can saute slices by the stack, or practise your pickles. But might I suggest you put them to work here? Swaddling a skinless fillet of fish in overlapping strips of green and white calls for just a few minutes of craft with a vegetable peeler, but leaves a lasting visual impression. One other bonus is how it protects the delicate flesh of white fish fillets from the heat of a grill or a pan.
I find it's worth getting a good char on the crust to contrast with the pliant 'noodle salad' on the side, which is made from the remaining ribbons of courgette and glossed with a perky salsa verde. Additionally, ribbons of courgette make an excellent substitution for noodles in many dishes – try them wafting in chicken or miso soup, or dressed with pesto for a lighter version of pasta.
Serves 2
Ingredients:
2–3 medium courgettes
2 fillets of skinless seabass or other white-fleshed fish, about 100 g each
1 lemon, halved
1 tbsp olive oil
A handful of flaked almonds, toasted
Sea salt
For the parsley and tarragon salsa verde:
A small handful of fresh tarragon leaves
A large handful of fresh flat-leaf parsley leaves
60 ml olive oil
½ garlic clove, peeled and grated
2 marinated anchovy fillets in oil, drained
1 tsp capers, drained
Juice of ½ lemon
Method:
1. Using a vegetable peeler or mandolin, shred the courgettes lengthways into ribbons.
2. Pat the fish fillets dry with kitchen paper. Take a piece of baking paper and lay out 12 overlapping ribbons of courgette side by side on the paper. Place a fish fillet horizontally across the courgette ribbons and use the paper to help swaddle the fillet in the ribbons. Turn the fish seam side down. Repeat with 12 more ribbons and the second fish fillet. Place the fillets in the fridge until you are ready to cook them.
3. To make the parsley and tarragon salsa verde, whizz all the ingredients together in a food processor. Taste and season with salt and whizz again until you have a zippy slurry you are happy with. Combine the remaining courgette ribbons with the salsa verde and divide between 2 plates.
4. To cook the fish, place a large frying pan over medium–high heat. You can test if the pan's surface is hot enough by placing the lemon halves, cut side down, in the pan. When it is ready, they should sizzle.
5. Drizzle the olive oil in the hot pan, then add the fish fillets, seam side down. Cook them for 3–5 minutes, until the ribbons have taken on some char. Gently flip them over, trying not to unravel the ribbons, and cook them for 2 minutes on the other side until the fish has cooked through.
6. Serve the grilled fish with the burnished lemon halves, dressed courgette ribbons and flaked almonds. If you need something else on the side, some steamed green beans would do nicely.
Cut The Carbs! 100 Recipes To Help You Ditch White Carbs And Feel Great by Tori Haschka is published by Quadrille, and costs £20
Photograph: Chris Chen