Salt crust fish stuffed with lemongrass
This is a really fun dish, perfect for a summer BBQ. Once cooked the salt crust just peels off, leaving moist flesh infused by the fragrant Thai stuffing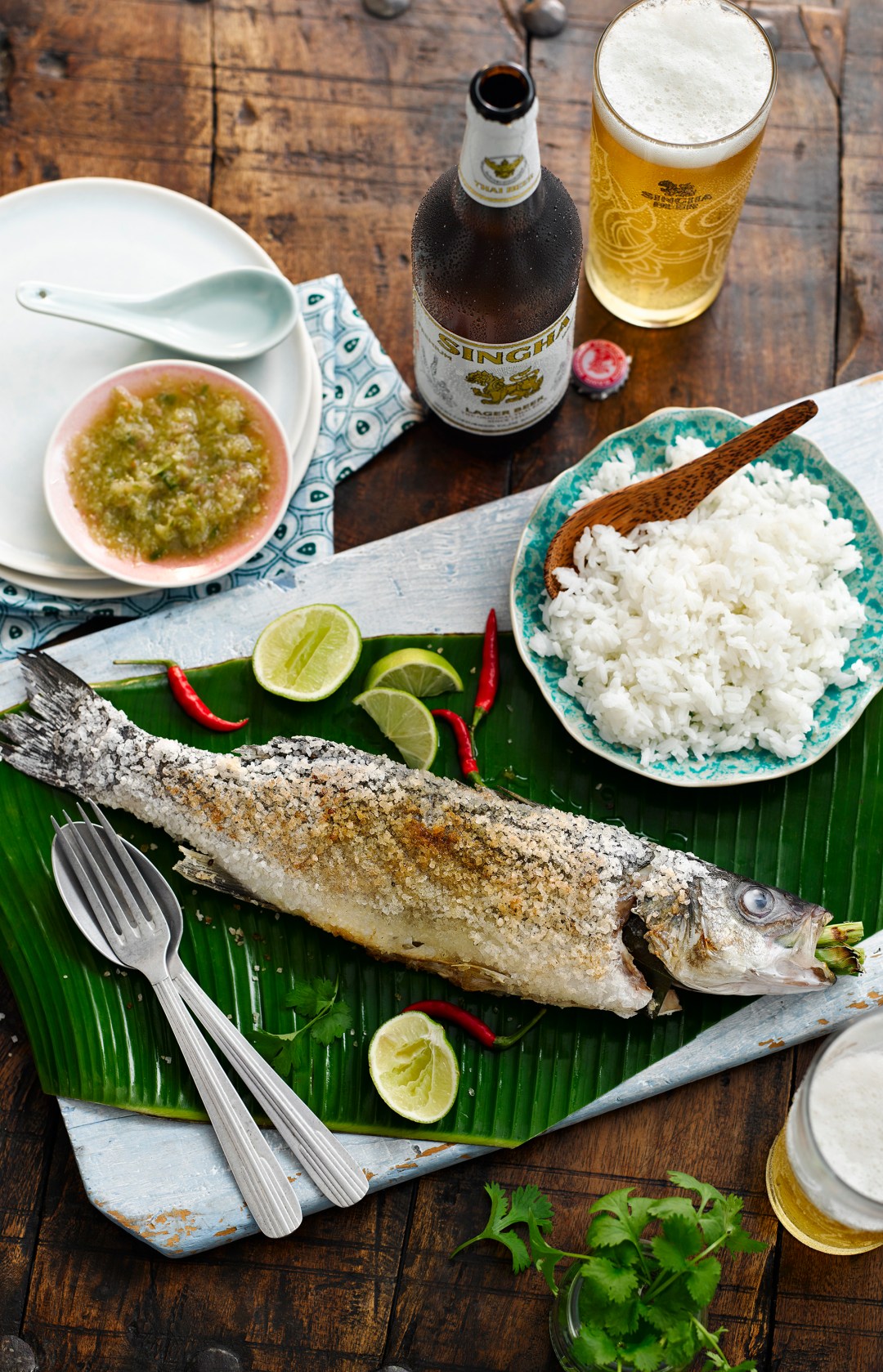 Serves: 2-4 as part of a shared Thai meal
Preparation time: 10 minutes
Ready in: 20 minutes
Ingredients:
1 whole seabass (600g), gutted and scaled with the fins and tail left on
2 lemongrass stalks
3-4 kaffir lime leaves (fresh or frozen, rather than dried)
1 pandanus leaf (optional)
250g of coarse sea salt
2 tbsp of rice flour or corn flour
1-2 tbsp of water
1 bamboo skewer to pin
1 banana leaf for presentation (optional)
For the dipping sauce:
3 coriander roots or stalks
4 cloves of garlic
5 green bird eye chillies
1 thin (5mm) slice of galangal (optional)
3 tbsp lime juice
3 tbsp fish sauce
1 tbsp golden or white caster sugar
Juice of one mandarin or tangerine (optional)
Method:
Stuff the seabass cavity with lemongrass, pandanus leaf and kaffir lime leaves, (you can even poke some lemongrass out through its mouth if you like) and pin closed with skewer.
In a bowl, make a fairly thick paste by mixing the rice flour (or corn flour) with two tablespoons of water.
Rub the skin of the fish on one side with the paste, then pour over the salt generously, patting it down to stick.
Leave for five mins, turn over the fish and then repeat the paste and salt on the other side.
Grill the fish on a medium temperature BBQ for around 6-8 minutes on each side or until cooked. You can use a griddle pan to do this if you don't have a BBQ.
In the mean time, make the dipping sauce by pounding the coriander roots or stalks, garlic, chillies and galangal (if using) in a pestle and mortar until fairly smooth. Then mix in the lime, fish sauce and sugar (plus mandarin juice, if using).
Serve the fish on the banana leaf with a small bowl of the dipping sauce.
This recipe is from Singha beer and Andy Oliver, the chef behind the critically acclaimed East London restaurant Som Saa. The recipe aims to bring a taste of Thailand to your garden this summer.