Rhubarb, apple and berry slow crumble
Tori Haschka offers up a recipe for a delicious dessert with an autumnal feel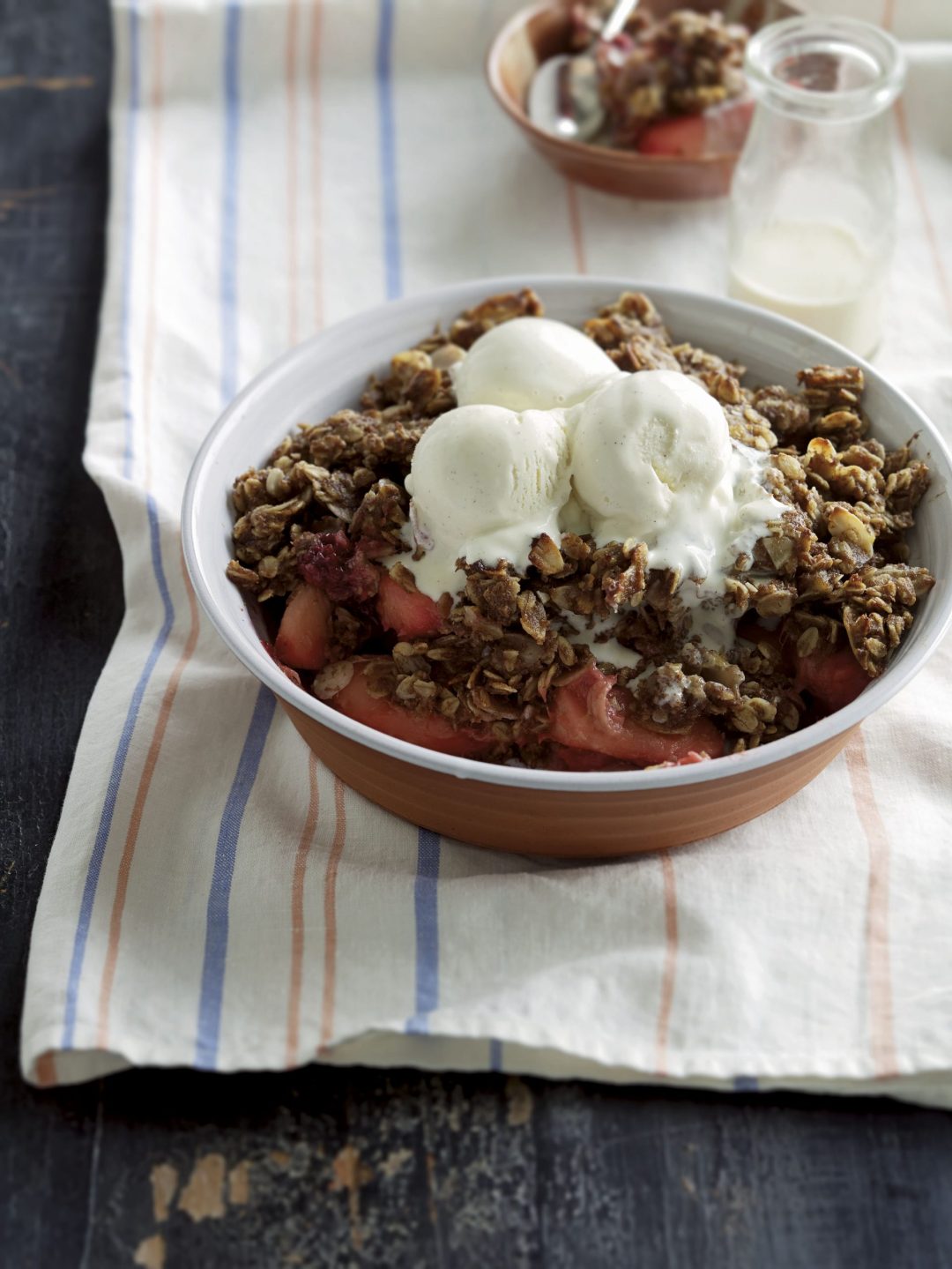 The boundaries between a crumble, a crisp, a buckle and a slump are blurry. All seem to involve poached or baked fruit and a topping usually melding sugar, butter and a grain. When it comes to my pudding I'm less interested in definitional purity and more intrigued by having something that tastes terrific.
The golden thing about this crumble isn't just the way that the tartness of the rhubarb is mellowed by segments of apple and oozing berries. Nor is it the wink of spice in the cinnamon or ginger, or the crunch from the flaked almonds and toasted oats. It's the other bits that make you feel good: the ground flaxseed and the sneaky smashed banana. An over-ripe banana mushed into the topping helps pull down the quantity of raw sugar and contributes both a delicious caramel sweetness and a rustic chew to the topping.
This may be categorised as a 'slow crumble', but in our house, it never lasts long. Once again, while this is a delicious dessert, it's also worth considering as a celebratory brunch or breakfast option, with Greek yoghurt instead of ice cream.
Serves 4
Ingredients:
100g unsalted butter, chilled and cubed, plus 30g for the fruit
90g rolled oats
50g ground flaxseed/linseed
75g flaked almonds
25g muscovado sugar
1 ripe banana, mashed
2 tsp ground ginger
2 tsp ground cinnamon
5 sticks (250g) of rhubarb, cut into 4-cm batons
4 Pink Lady apples, peeled, cored and cut into eighths
125g blackberries
Greek yogurt, creme fraiche, double cream or ice cream, to serve
Equipment:
A large, shallow baking dish, greased
Method:
1. Preheat the oven 180˚C/350˚F/Gas 4.
2. To make a crumble topping, put the 100 g butter, oats, flaxseed/linseed, almonds, sugar, banana, ginger and cinnamon in a bowl. Use your fingers to mash everything together into a rustic tumble. It should be rough and lumpy. Refrigerate the topping until ready to bake.
3. Put the rhubarb and apple and half the blackberries in a saucepan with the 30g butter and cook over medium heat for 10-15 minutes until the rhubarb and apple have begun to soften.
4. Transfer the softened fruit to the prepared baking dish and dot with the remaining berries.
5. Scatter the crumble topping over the fruit, ensuring there are lots of craggy edges.
6. Bake the crumble in the preheated oven for 30 minutes, or until the top is bronzed and crisp. Serve hot with Greek yogurt, crème fraîche, double cream or ice cream. Or enjoy cold, for breakfast.
Cut The Carbs! by Tori Haschka (Quadrille, £20) is out now
Photography by Chris Chen