Recipe: Soured Cream, Pecan & Cinnamon Mini Loaves
The ultimate morning coffee sidekick – recreate this recipe from a new book by the owners of much-loved London restaurant, Honey & Co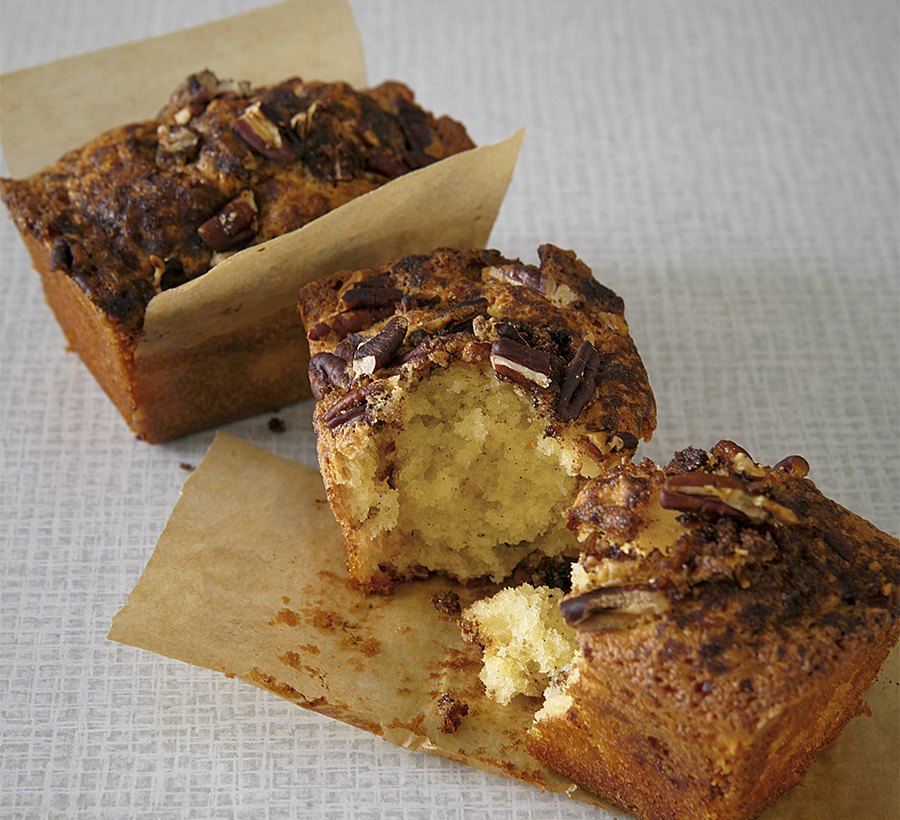 This is an easy mix-and-bake number. It is not the star of the show, just the ultimate sidekick for your mid-morning coffee. It is best eaten warm (or dunked in your morning drink).
Serves 8. Makes 8 small loaves or bake in a 2kg loaf tin and slice.
Ingredients
1 vanilla pod
125g soft butter, plus extra for greasing
zest of 1 orange
275g caster sugar
3 eggs
140g/ml soured cream
160g self-raising flour
a pinch of table salt
To sprinkle
50g dark brown soft sugar
1/2 tsp ground cinnamon
1/4 tsp ground cardamom
90g roasted pecans, roughly chopped
Method
1 Preheat the oven to 190˚C/170˚C fan/gas mark 5. Grease eight small loaf tins (or one 2kg one) with butter and, if you wish, line each with a strip of baking parchment to cover the base and long sides, allowing a little to overhand so that this can be used to help lift the loaves out later.
2 Scrape the seeds out of the vanilla pod. Beat the butter, vanilla seeds, orange zest and sugar until just combined. The mixture should come together in a ball, but take care not to overbeat or cream. Add the eggs one at a time, incorporating each one fully so that the mixture is competely smooth before adding the next.
3 Mix in the soured cream, then the flour and salt (if you are using a mixer, you can work at full speed for a few seconds to make sure everything is well combined).
4 Mix the sugar, spices and pecans together. Divide half the batter between the loaf tins and spread to cover the bases. Then divide half the nut mixture between the tins, sprinkling it over the batter. Divide the remaining batter between the tins and top with the rest of the sugar-and-spice nuts.
5 Bake for 10 minutes, then turn the tins for an even bake. Leave for a further 10 minutes before removing from the oven. (If you are baking this in one large loaf tin, you will need to leave it for another 15-20 minutes to cook through.) Eat warm.
Find more recipes like this in Itamar Srulovich and Sarit Packer's Honey & Co: The Baking Book (Saltyard Books, £25), out now.
Photograph: Patricia Niven