Recipe: panzanella bruschetta
From new release Posh Toast comes delicious ideas for making everyone's favourite comfort food extra special. Try this fresh, herby tomato topping inspired by the Italian bruschetta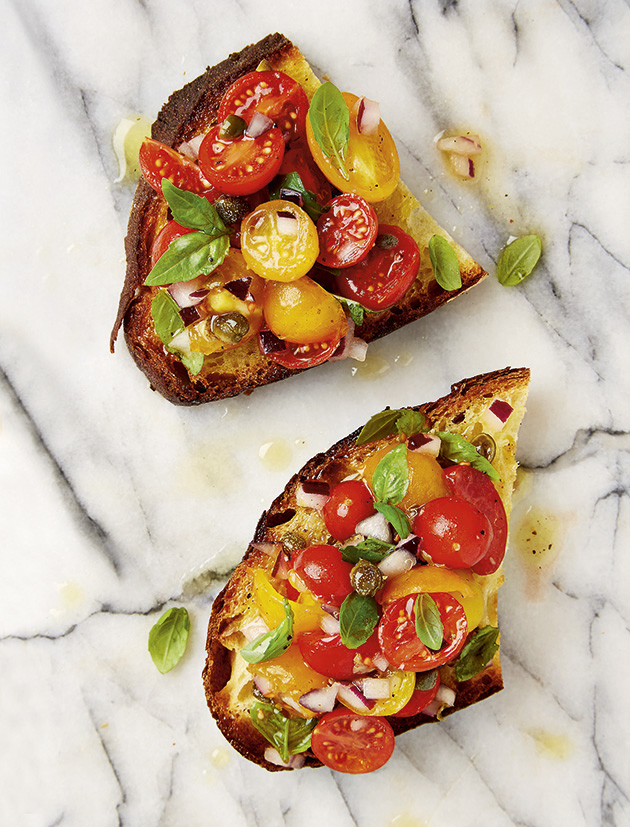 The secret to a panzanella – Italian bread salad – is to salt the tomatoes in advance so that they give up their juices, which are then soaked up by the chunks of stale bread. Here, the bread is replaced with oily, garlicky toast – delicious and more portable.
MAKES 12 bruschetta
TAKES 35 minutes
350g/12oz red and yellow baby tomatoes
½ small red onion, finely sliced
12 slices pane pugliese
2 tbsp extra virgin olive oil, plus extra for drizzling
2 garlic cloves, halved
2 tsp capers, roughly chopped
2 tsp red wine vinegar
pinch sugar
handful basil leaves, large ones torn
salt and freshly ground black pepper
1 Halve or quarter the tomatoes. Tip them into a bowl and sprinkle with a little salt. Place the sliced onion in a bowl, sprinkle with a little salt and cover with cold water. Set the tomatoes and onion aside for 15 minutes.
2 Meanwhile, heat the oven to 160°C fan/315°F/gas 4. Drizzle the slices of bread with a little oil and bake for 6–8 minutes, until golden and crisp. Rub with the cut side of the garlic.
3 Drain the tomatoes, reserving the juices, and tip into a bowl. Drain the onions and add these to the tomatoes, along with the capers. In another bowl, whisk together 1 tbsp of the reserved tomato juices, the vinegar, sugar and the oil. Season and pour this over the tomatoes. Set aside for 15 minutes to let the flavours develop.
4 Stir through most of the basil then pile onto the pieces of toast letting the juices soak through. Scatter over the remaining basil before serving.
Recipe: Emily Kydd Photograph: Louise Hagger
Recipe taken from Posh Toast (Quadrille, £12.99)