Recipe: cumin-spiced Jersey Royals with mint and chive dip
It's Jersey Royals season! The tasty tatties are a great British homegrown product that we should all champion. Try them in this sensational snack recipe with an aromatic, spicy kick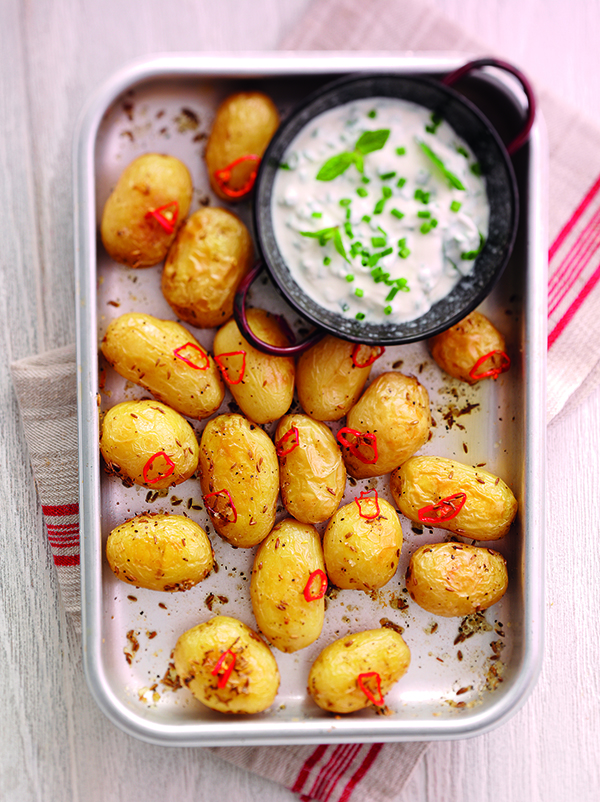 An ideal starter or party dish to serve when entertaining.
Serves 4
Preparation time: 15 minutes
Cooking time: 45 minutes
Ingredients
1kg Jersey Royals, scrubbed
2 tbsp olive oil
1 tsp cumin seeds
Sea salt and freshly ground black pepper
FOR THE DIP
200g low fat Greek-style yogurt
2 tbsp chopped fresh mint
2 tbsp chopped fresh chives
STEP ONE Preheat the oven to 200°C, fan oven 180°C, Gas Mark 6. Cook the Jersey Royals in lightly salted boiling water until almost tender – about 10-15 minutes. Drain well.
STEP TWO Tip the Jersey Royals into a roasting pan and add the olive oil and cumin seeds. Season with a little salt and black pepper, then toss to coat. Roast for 25-30 minutes, until browned.
STEP THREE While the potatoes are roasting, make the dip by mixing together the yogurt, mint and chives. Serve with the Jersey Royals.
Cook's tip: If you like, use 2 tbsp chopped fresh coriander in the dip instead of mint.
For more recipes and ideas, visit www.jerseyroyals.co.uk