Rawvolutionary carrot cake
Following the enormous success of her debut cookbook, 'The Extra Virgin Kitchen', Susan Jane White is back with a brand new collection of recipes and advice, 'The Virtuous Tart'. Get stuck into her carrot cake recipe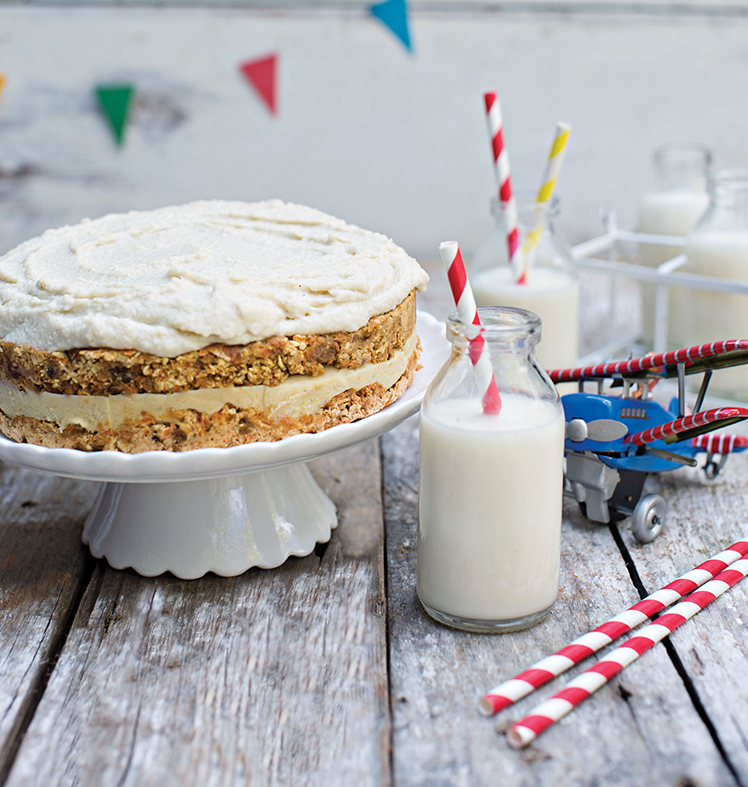 I freeze the entire cake in nifty slices, ready for their call of duty. One slice will fill your sails. Expect an afternoon glow to rival that of Saoirse Ronan at the Oscars.
Insoluble fibre has the crafty ability to police our bowels, improving congestion and reducing transit time like a tenacious traffic warden. Oats and dried fruit contain astral amounts of the stuff. Oats have additional bragging rights – all those B vitamins will help recharge spent batteries and frayed nerves, while slow-release carbs will have your toes cha-cha-ing all day long.
For more rawesome inspiration, check out Emily von Euw faster than immediately.
Makes 20 servings
Ingredients:
FOR THE FROSTING:
135g cashews
70g pine nuts (or more cashews)
125ml light agave nectar or raw honey
3 tbsp freshly squeezed orange juice
2 tbsp freshly squeezed lemon juice
1 tbsp finely minced fresh ginger
A scrape of orange zest
Pumpkin seeds, to decorate
FOR THE CAKE:
275g carrots, peeled and grated (2 big carrots)
135g oat flakes
140g regular pitted dates, chopped
50g unsweetened dried pineapple
40g desiccated coconut
A palmful of raisins
2 tbsp maca
1 tbsp water
1 tsp ground cinnamon
1 tsp ground turmeric pinch of sea salt flakes
A squeeze of lemon juice
Method:
1. The frosting comes first. Soak the cashews and pine nuts in a large bowl of filtered water for 6 hours or overnight.
2. In the morning, drain and rinse the soaked nuts. Tumble into a blender with the remaining frosting ingredients (except the pumpkin seeds) and purée until smooth. You may need an extra bit of juice to loosen it up to a spreadable consistency. Leave aside for now.
3. Then make the cake. Grate the carrots into your food processer (blenders are too powerful), then tip in the remaining cake ingredients. Pulse until it starts sticking. Taste and high five Mother Nature.
4. Scrape half of the cake mixture into an 18cm springform tin and press down firmly. Spread half of the frosting on top. Freeze for 30 minutes, until firm. Now spoon in the remaining carrot mixture on top of the frozen cake, press down and top with the remaining frosting. Freeze again.
5. Store in the freezer in its tin until ready to serve. At this point, carefully remove the cake from the springform tin by manipulating the sides and the base. I sometimes double up on frosting and cover the entire beast, parachuting some pumpkin seeds on top. Fandabbydoozy.
The Virtuous Tart by Susan Jane White is published by Gill & Macmillan and costs £21.99.
Photograph: Joanne Murphy