Pumpkin, oregano & garlic soup with crispy bacon crumbs
Nourishing and heartwarming, this soup from 'My Family Table' will warm a cold winter's day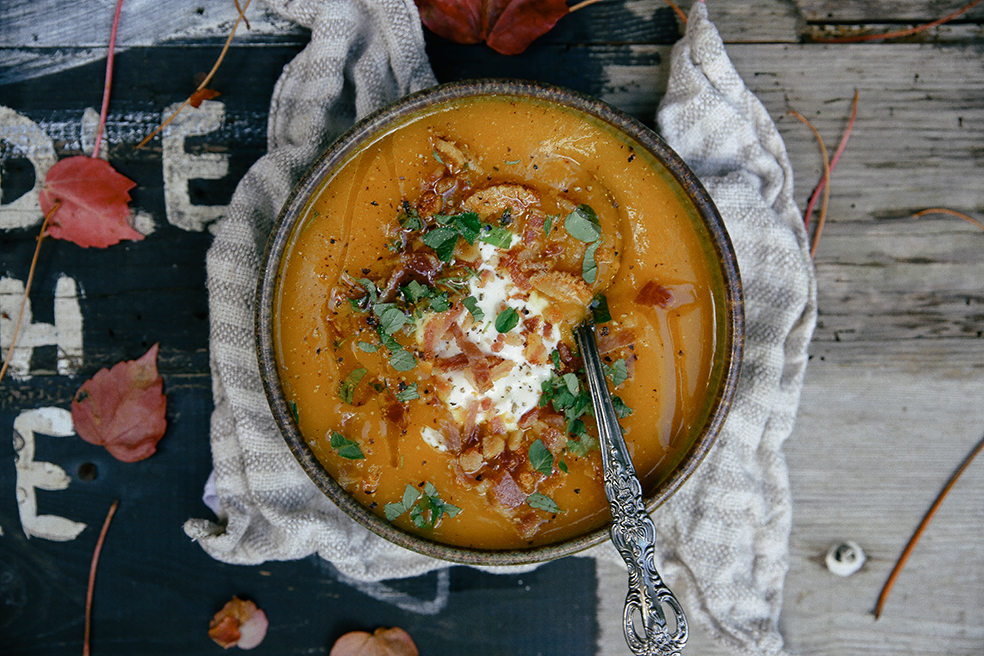 This golden, velvety pumpkin soup is wonderfully nourishing and heartwarming. Roughly torn oregano gives a fantastic fragrant and earthy touch, and the garlic at the end adds a lovely kick. Topped with this, creamy yoghurt and a generous sprinkle of deliciously crispy, salty bacon crumbs, it is perfection in a bowl.
Serves 6
Gluten-free, and dairy-free (using olive oil and no yoghurt, sour cream or crème fraiche)
Ingredients:
1 pumpkin (winter squash), peeled and chopped into thick pieces
1.5-2 litres (52-70 fl oz/6-8 cups) good-quality vegetable or chicken stock
2 tbsp ghee, butter or extra virgin olive oil
2 garlic cloves, peeled
To serve
6 free-range bacon rashers, rind removed
4 large tbsp Greek-style yoghurt, sour cream or crème fraiche
A large handful of fresh oregano leaves, roughly chopped
Extra virgin olive oil, for drizzling
Method:
1. Put the pumpkin in a stockpot or large saucepan and cover with the stock. Bring to a gentle boil, then reduce the heat to a simmer and cook for 30 minutes, or until the pumpkin is tender and the liquid has reduced slightly.
2. Leave to cool for 5 minutes, then transfer to a blender, one ladleful at a time. Add the ghee and garlic cloves and blend until smooth. Season to taste with sea salt and freshly ground black pepper.
3. Grill, fry or bake the bacon until crispy, then roughly chop into crumb-sized pieces.
4. Gently re-heat the soup and ladle into bowls. Top with a dollop of yoghurt, then the bacon crumbs. Sprinkle with oregano and some extra pepper. Drizzle with olive oil and serve.
My Family Table by Eleanor Ozich (Murdoch Books, £18.99). Photography by Eleanor Ozich