Prepare your skin for winter
Enjoy the winter season with healthy, nourished skin.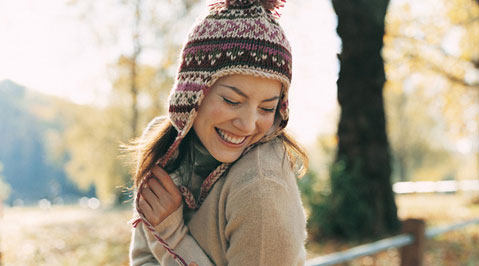 A drop in temperature can wreak havoc with our skin's hydration levels and it's not just the icy weather; the transition from blustering winds to artificial central heating can make sensitive skin extremely irritable.
During the winter months it's important to supe-up your skincare routine using nourishing products that penetrate as deeply as possible. To achieve this, it's essential to cleanse thoroughly and exfoliate regularly to allow your products to penetrate the skin's most inner layers. Nars Gentle Cream Cleanser, £20, eliminates impurities while its soothing camomile helps to maintain the skin's moisture balance.
For a mild, purifying exfoliant, try stila Gentle Skin Renewal Scrub, £16; not only does it work as a gentle buffer, but the blend of essential fatty acids helps to nourish the skin, while hyaluronic acid hydrates and reduces inflammation.
For seriously parched skin, add an extra step to your routine and try a lotion (an alcohol-free alternative to toner that's kinder to skin). Origins Make a Difference Skin Rejuvenating Treatment Lotion, £18, boasts extracts of cactus and rose of Jericho, used for their water-retaining abilities. The formula both hydrates and reduces the appearance of environmental damage, plus you'll find the fresh, citrusy smell refreshing and uplifting.
If you're not keen on the texture of oils, try Caudalie Vinosource S.O.S. Thirst Quenching Serum, £29, to match them in hydrating properties.
Oils do help to balance skin, so if you're a fan, choose Balance Me Extra Care Radiance Face Oil, £15. Rich in replenishing, thirst-quenching ingredients, this oil balances and conditions to enhance skin's radiance. There's something indulgent about an oil, and this sweet almond scent is so comforting. Application for both oils and serums should be performed in a circular motion, with slight pressure to boost circulation. Use either beneath your day cream or as a stand-alone treatment.
To wind up your winter skincare routine, apply Perricone Deep Moisture Therapy, £69.50. A rich and velvety antioxidant-rich cream that nourishes and repairs dry, dehydrated skin, and can be used day and night.