Pomegranate halva
'The Virtuous Tart' author Susan Jane White wants you to have your cake and eat it too by turning pesky sugar cravings into a nutritional slam-dunk. Try this great pomegranate recipe for starters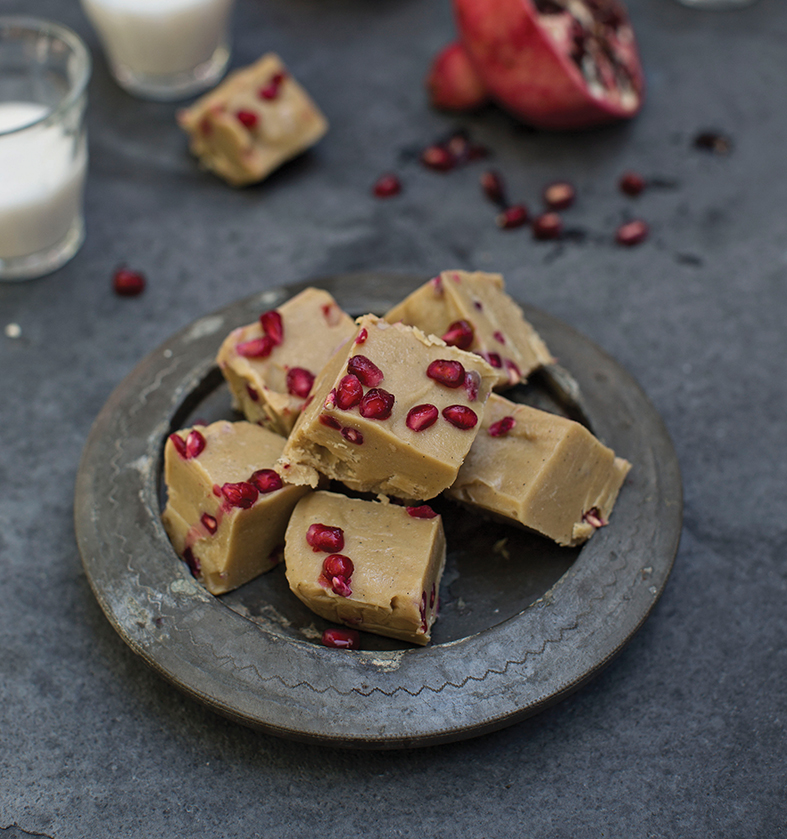 Good enough to make a devout friar feel like John Travolta. Buying 36 individual portions of halva will cost you the same price as an inkjet printer. My version costs way less than a cartridge. Pomegranate halva is as close as you'll come to an orgasm with your clothes on.
Makes 36 portions
Ingredients:
3 tablespoons extra virgin coconut oil
Up to 125ml maple syrup, coconut nectar, agave or raw honey
1 tsp vanilla extract
A pinch of sea salt flakes
340g light tahini
4 tbsp pomegranate seeds
2–3 tbsp runny raw
Honey
Method:
1. On a very timid heat, gently melt the coconut oil in a small saucepan. Let your preferred choice of syrup, the vanilla and a pinch of salt join the party. With a fork, beat through the tahini and pomegranate seeds. Keep back some ruby red seeds to tickle the top.
2. Scrape half the mixture into a small rectangular container lined with cling film. Dribble some runny honey over it and scrape the remaining mixture over it. Prod it with a fork and give it a swirl to move the honey about without incorporating it into the tahini. These will taste like caramel swirls. Decorate with some more pom seeds.
3. Freeze for 4 hours. Just like ice cream, the halva must be stored in the freezer or else it will melt into a holy mess. Slice big cubes from it and marvel at its virtuous decadence.
The Virtuous Tart by Susan Jane White is published by Gill & Macmillan and costs £21.99.
Photograph: Joanne Murphy