Pissaladière
Try this great French dish from Jordan Bourke - a pizza-style recipe that replaces cheese with slow-cooked onions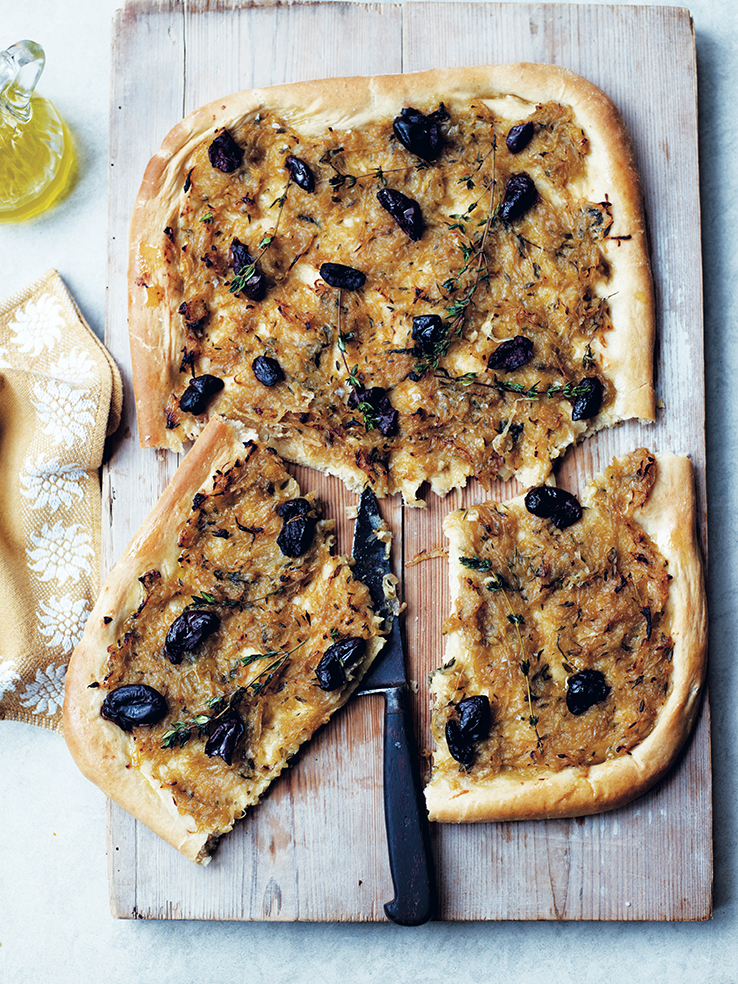 We've been trying out all-natural chef Jordan Bourke's latest cookbook, The Natural Food Kitchen (Ryland, Peters & Small, £16.99) and were intrigued by this delicious looking pizza-style recipe that is made with spelt flour and replaces cheese with slow-cooked onions.
Jordan says: 'Pissaladière, like socca, is a favourite recipe of mine from the south of France. The base is made with bread or pizza dough, except not rolled out quite as thin. It is the ultimate example of how glorious a pizza-type dish can be without the use of cheese. The slow-cooked onions are essential for a good pissaladiére, so don't be tempted to whack up the heat to try and speed things up; this is one of those things that you just can't cheat.'
Serves 4–6
Ingredients:
250g white spelt flour
1 tsp easy blend dried yeast (about half a 7g sachet)
1 tbsp coconut palm sugar
Extra virgin olive oil
1 tsp sea salt, plus a little extra to serve
5 large onions (about 1 kg), peeled and sliced thinly
A few sprigs of thyme
2 garlic cloves, crushed
25 stoned black olives
Method:
1. Place the flour, yeast, coconut palm sugar and salt in a large mixing bowl. Add in 125ml of warm-hot water and 2 tablespoons of olive oil. Bring together and then with one hand, lift the entire dough into the air and slap it very firmly back down into the bowl. Repeat this movement 10 times. It will be sticky at this point, but tip it out onto a lightly floured work surface and knead for 6-8 minutes until it is no longer as sticky and has become smooth in appearance. Use a little more flour as you go to keep it from sticking, but make sure you use the minimum possible. Place in a lightly oiled bowl and leave to rise in a warm place (near a turned-on oven or radiator is best) for an hour, or until the dough has doubled in size.
2. Place the onions, thyme and 4 tablespoons olive oil in a large heavy-based frying pan and place over a low heat. Cook very gently for 30 minutes, add in the garlic and cook for another 10 minutes, stirring now and again until the onions are very soft and sweet, but not brown. Set aside.
3. Beat back the dough, tip out onto a lightly floured surface and roll into either 4 small or 1 large rectangular shape. Carefully move onto a lightly oiled baking sheet. Leave to rise for another 30 minutes.
4. Preheat the oven to 245°C (475°F) Gas Mark 9. After the second rising, dimple the dough with your fingertips, leaving the edges as they are. Cover with the onions and the olives. If you are not vegetarian, pissaladiére is often topped with anchovies, traditionally in a criss-cross pattern. Personally, I don't really like my pissaladiére looking like a stained glass window so I leave it more rustic-looking.
5. Bake in the oven for about 20 minutes, until the dough is cooked and the edges are crisp and golden. Drizzle over a little olive oil, a sprinkling of sea salt and serve immediately.