Pan-dressed noodles with crunchy cabbage and crispy tofu
You can't beat this Anna Jones recipe for a healthy hearty vegetarian supper that takes barely any time to prepare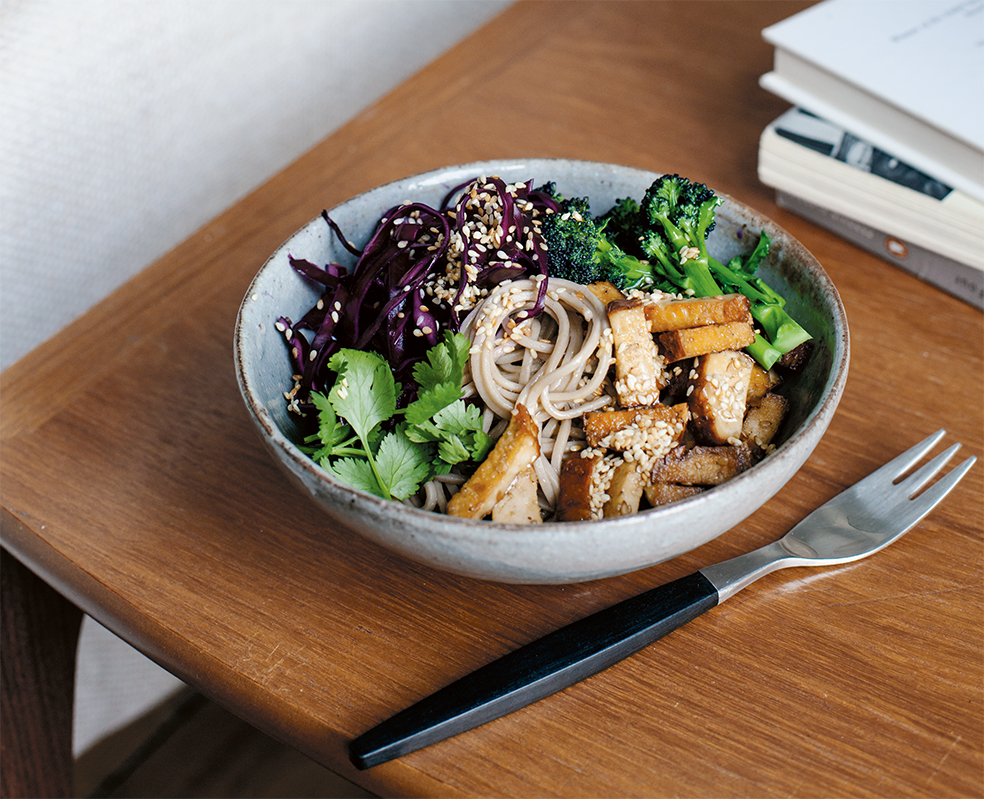 To me, this supper hits the right note, a clean-eating, tasty but hearty bowl of colours and flavours, just what the people I know want to eat. Another really quick supper that goes from board to table in 15 minutes if you move quickly, 20 if you take it easy.
I use smoked tofu in this noodle bowl. I also use it in sandwiches, and to add to brown rice and stews. The smoky sesame flavour will get the tofu-haters on side. But what I like most about it is that it is reliable and easy to cook. It's hard to find good tofu in the UK, which puts people off, as most of it is hard to cook successfully. This tofu is easy to slice and fries to a satisfying crisp in a non-stick pan in a minute or two.
I favour 100 per cent buckwheat soba noodles here. They can be pretty pricey though, so I often use regular soba noodles, which are a blend of buckwheat and wheat four. Buckwheat is not a grain at all, but the seed of a plant and a cousin of rhubarb. You can buy it whole to make porridge or use it as a grain in soups and salads, and of course you can use the four in pancakes, baking and most famously blinis. It has a wholesome nutty favour, slightly malty and altogether delicious. Buckwheat, like quinoa, is high in protein.
Serves 2
1 bunch of purple sprouting broccoli (about 200g), spears trimmed, or other green veg
200g soba noodles
¼ of a small red cabbage, finely shredded
Sea salt
2 tablespoons brown rice vinegar
3 tbsp maple syrup or agave syrup
Olive or rapeseed oil
1 × 200g block of smoked tofu (I use the almond and sesame one), cut into 1cm pieces (The Psychologies team likes the one from Cauldron, available in Sainsbury's, Waitrose and Tesco)
1 tbsp sesame seeds
6 spring onions, finely chopped
1 tsp sesame oil
1 tbsp soy sauce or tamari
Juice of 1 lemon
A small handful of toasted sesame seeds
A small bunch of fresh coriander, roughly chopped
Method:
1. Bring a pan of water to the boil, then drop in the broccoli and allow to simmer for a couple of minutes, just until it has lost its rawness. Don't cook for any longer, as it's good with a bit of a bite.
2. Remove your broccoli with a slotted spoon, keeping the pan of water on the heat. Drop in your noodles and cook for 6–8 minutes, until they are soft, with a tiny bit of bite. Drain, then run cold water over them to cool them and stop them sticking.
3. Put the shredded cabbage into a bowl and add a big pinch of salt, 1 tbsp of rice vinegar and 1 tablespoon of maple syrup. Scrunch it all together with your hands for a minute, then put to one side. Wash your hands, as they will be purple from the cabbage.
4. Heat a non-stick frying pan and add a splash of oil. Once it's hot, add the tofu and let it sizzle, turning it until every side is crisp. Toss in the sesame seeds and stir to coat, then take the tofu out of the pan, set aside for later and put the pan back on the heat.
5. Add another little splash of oil and the spring onions, and cook for a few minutes until softened. Add the remaining tablespoon of vinegar and 2 tbsp of maple syrup along with the sesame oil, soy sauce and lemon juice. Leave on the heat for 30 seconds or so, until it thickens to a sweet, warm dressing.
6. Pop the drained noodles into the pan and stir around to coat them in the sticky dressing. Divide between two bowls and top each one with a handful of pickled cabbage, half the tofu and broccoli, a sprinkling of sesame seeds and some chopped coriander.
Recipe from A Modern Way To Eat by Anna Jones (Fourth Estate, £25)