Malabar prawn curry
Try this great recipe from former Masterchef champion Dhruv Baker, from his new book, 'Spice: Layers Of Flavour'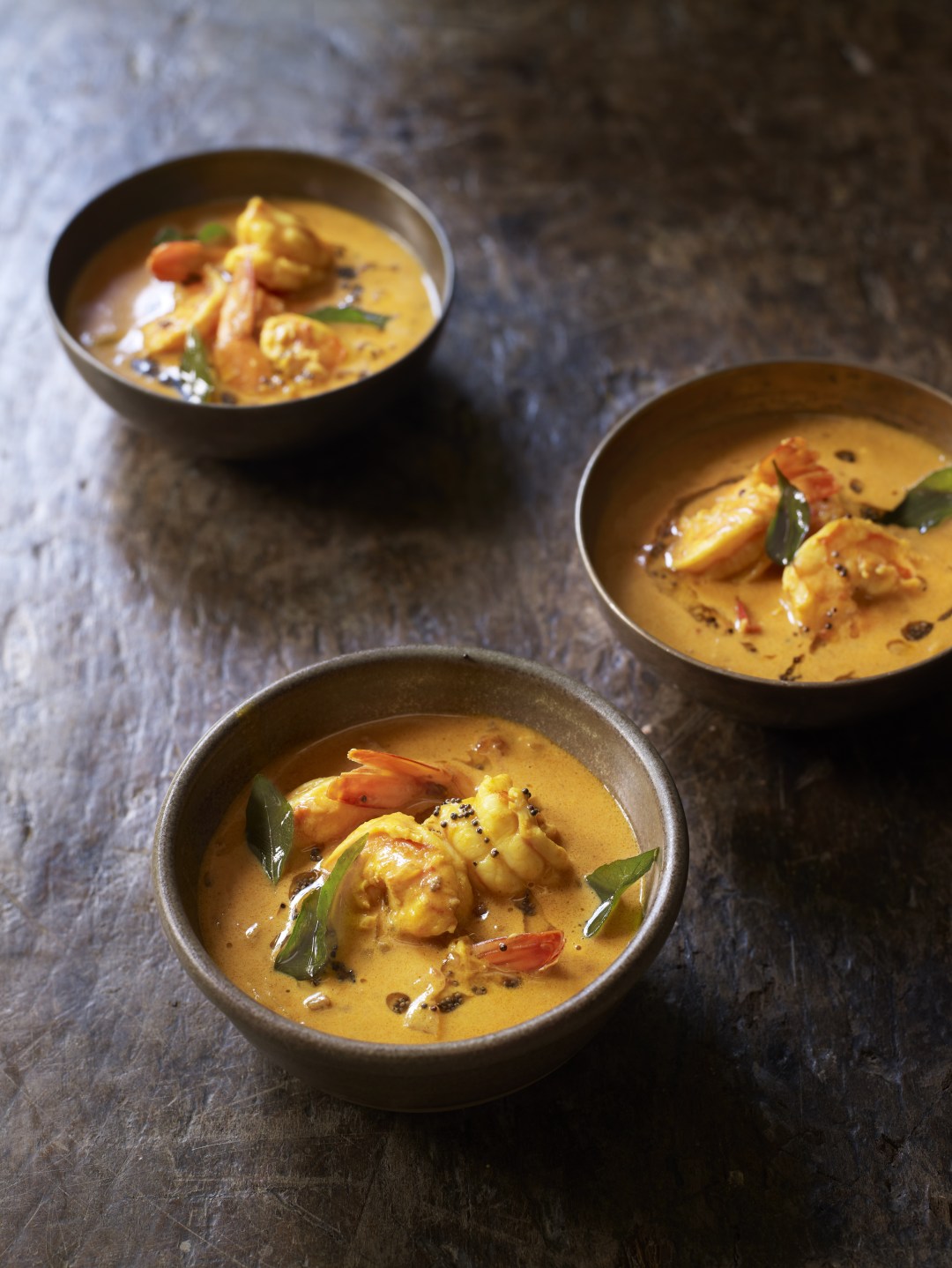 This is one of those dishes that is as close to perfection as you can imagine. The balance of flavours is just right – coconut, mustard seed, curry leaves, ginger and tamarind – all working in harmony with the prawns. Just imagine eating this on a Goan beach with an ice-cold beer, wiggling your toes in the sand as you look out over the Arabian Sea. Heaven.
Serves 4
Ingredients:
1 tsp tamarind pulp
2–3 sprigs fresh curry leaves, picked
1 tsp black mustard seeds
3 tbsp vegetable oil
½ tsp fenugreek seeds
2cm piece fresh ginger, peeled and grated
1 onion, finely chopped
¼ tsp chilli powder
1 tsp ground coriander
1 tsp ground turmeric
4–5 tomatoes, whizzed in a blender or ½ x 400g tin chopped tomatoes
100ml chicken or fish stock
600g raw prawns, peeled
400ml tin coconut milk
1 tbsp unsalted butter
Salt
Method:
1. Mix the tamarind pulp with a teaspoon of boiling water and pass through a sieve. Set aside.
2. Divide the curry leaves and mustard seeds equally between two separate bowls and set one of these aside for later.
3. Heat the oil in a pan and add one bowl of the curry leaves, the mustard seeds, fenugreek seeds and ginger and stir-fry for 30 seconds. Add the onion and cook, stirring regularly, for about 8–10 minutes, or until the onions start to turn a lovely golden colour.
4. Add the chilli powder, coriander and turmeric and stir-fry for another minute or two. Stir in the tomatoes and the tamarind paste and continue to cook for 10 minutes. Add the stock and simmer for about 20 minutes over a medium heat, until the liquid has reduced by half.
5. Add the prawns and cook for 5 minutes then reduce the heat to low. Add the coconut milk, cook for a further 2–3 minutes and then take off the heat.
6. Heat the butter in a small pan over a high heat. Once the butter is hot to the point of starting to smoke, add the remaining curry leaves and mustard seeds, which will instantly sizzle and pop. Tip the whole lot into the curry and stir through immediately – this is known as tadka or tempering, a widely used technique that adds flavour to finished dishes. Taste and adjust the seasoning and serve.
SPICE: LAYERS OF FLAVOUR by Dhruv Baker is published in hardback by Weidenfeld & Nicolson at £25/eBook £12.99
Photograph: Simon Derviller