Learn to ski in Germany
Can you be too old to learn how to ski? Suzy Greaves straps on some skis and heads to the Bavarian Alps to find out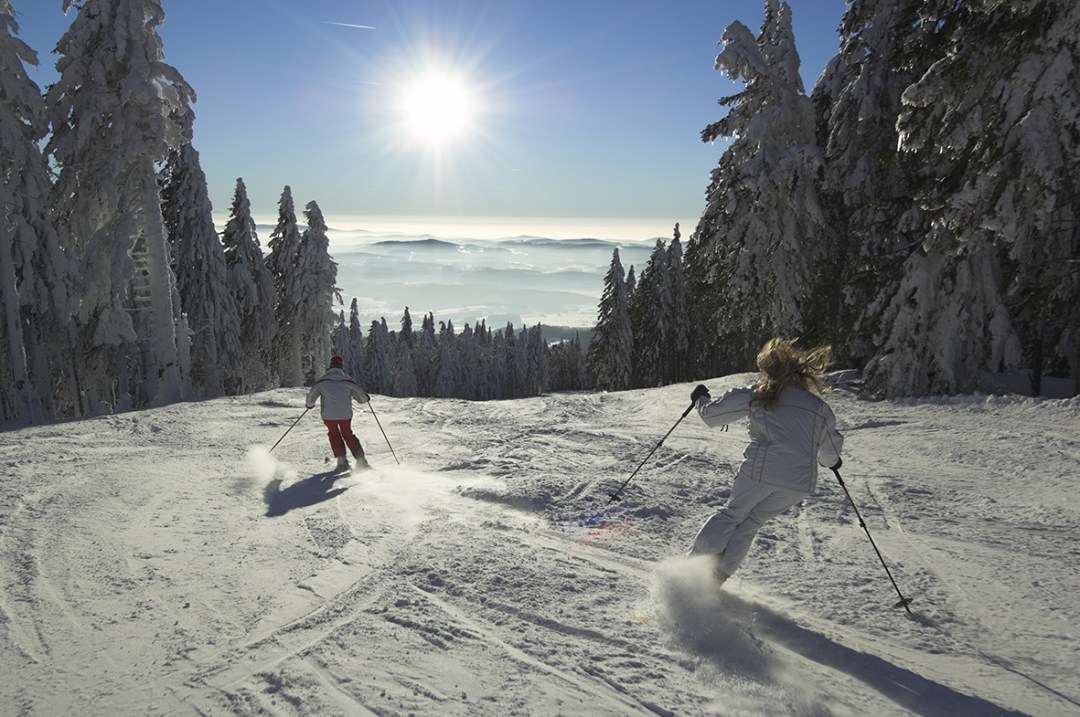 The sun was setting as I hurtled around the last bend. I could just about make out my son and our friends waiting for me at the bottom of the mountain. Slightly out of control but still upright, ski-poles tucked behind me, tongue between my teeth, I swished my way down the last 100 yards as my little welcome party cheered loudly. 'You did it, mum,' my son Charlie, 11, said. 'I thought we were going to have to air-lift you off that mountain.'
Just an hour earlier, I was lying face down in the snow, every bone in my body screaming in pain, face like a beetroot, cursing and crying like an insane woman shouting, 'I just can't do it'. At that moment, I was wondering what on earth had possessed me to think I could learn to ski at the age of 47. My friend Lissen had agreed to meet me with her two boys in the Bavarian Alps for an affordable skiing holiday during half-term. All accomplished skiiers, they promised to help us as we made our first foray onto the snow.
All great in theory, but as I wedged on a pair of huge, uncomfortable boots and six-foot skis, I started to have second thoughts. By the end of my first three-hour ski lesson, spent mostly on my backside, I was tearful and exhausted and really just wanted to go home.
We were skiing in the beautiful Bavarian mountains. Our hotel was located in Schliersee, a Heidi-esque village with cute cabins and houses that looked like they'd been made out of gingerbread. In the surrounding area, there were ski slopes aplenty, with direct access to 25km of downhill skiing, with 12 individual pistes, served by 19 ski lifts.
A one-hour flight from London and an hour on the train from Munich, we were practically on the slopes within four hours of leaving our house in Britain. Enjoying one of the longest ski seasons with snow from December to April, and seemingly different school holidays to the UK ones, it wasn't as crammed as some of my seasoned ski-buddies warned it might be.
Our hotel, the AlpenClub, was wooden-clad, modern, clean and comfortable – with a swimming pool and a waterfall to keep the kids happy, as well as a spa with hot tub and a poolside bar to keep the grown-ups happy. With a sweet, old-fashioned bowling alley in the games room, it was the perfect place to lodge when travelling with teenagers.
Despite my first-day doubts and bruised bum, I wasn't going to be beaten by the skiing. We booked more lessons at Martina Loch's Snow Camp, which is a 20-minute bus ride from the hotel. It has 80 instructors; you can show up on the day and they'll fix you up with a lesson (around €90), no need to book, though AlpenClub organised ours in advance. The kids join Ski Club where they can learn from the age of three. At one point, I remember sliding down the mountain on my backside as a tiny tot with a dummy in her mouth whizzed past me on the slope.
It is a humbling experience to be a beginner again. With age, I suppose, I'm used to being more confident about who I am and what I do. On the slopes, I was out of control, unsure of myself and scared. It's good for the soul to remember what it's like to feel that way. By day three, I could ski slowly down the nursery slopes without running over small children, and could ride the ski-lift without garrotting or embarrassing myself. It was then I decided to leave the nursery slopes to try to ski down the mountain.
But then I looked down the first slope, completely freaked out and started to cry. I was scared that it was too steep; that I would fly off a slope and wouldn't be able to stop. I had not felt that physically scared for a very long time. So I was so proud of myself as I slowly made my way down the mountain, mentally coaching myself around each bend. The kids whizzed up and down the mountain three times in the hour it took me to finally get down. But as the sun was setting behind my band of cheerleaders as I finally swished my way to the bottom, I felt a euphoria that I suspect a beach holiday could never deliver.
This was an unforgettable trip – for all the right reasons. It was challenging and fun, and with just enough fear to make you feel glad to be alive at the end of each day.
A two-night Early Bird ski package at the AlpenClub costs from €358 (£279), including double room, daily breakfast buffet, dinner, ski pass for the duration of the stay, usage of spa and wellness area, transfers from the hotel to the ski lift, wifi and welcome drinks. Valid for all dates until 1 March 2015. Subject to availability.